Amazon FBA Guide – How To Sell on Amazon For Beginners
What is Amazon FBA?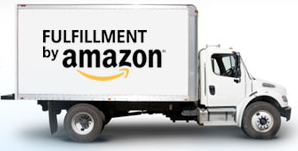 FBA means Fulfillment by Amazon. It is a program where you are able to sell items you bought on Amazon. Essentially, you "borrow" their name to sell your items. They handle all handling and shipping for you to their customers. You also do not have to worry about customer service as well.
In return for handling all the "headaches" that most sellers don't want to deal with, they take a percentage of the sale plus some fees of your item.
All you are doing is to get the item to the warehouse located all over the United Stats. Basically, it allows you to mainly focus on retail arbitrage, where you buy low and sell high. The key thing is to make sure the items you send to Amazon are in good condition.
How Money is Made on Amazon FBA
It is really simple. You buy an item for a low price from places such as wholesalers, thrift shops or estate sales. Then, you package them and ship it to the Amazon warehouse. You are done and from that point onward Amazon will deal with the rest.

For example, if you managed to get a pack of 4 for $4, then your profit margin would be $3.95 per pack of 4. Below is a sample calculation without including what you paid for.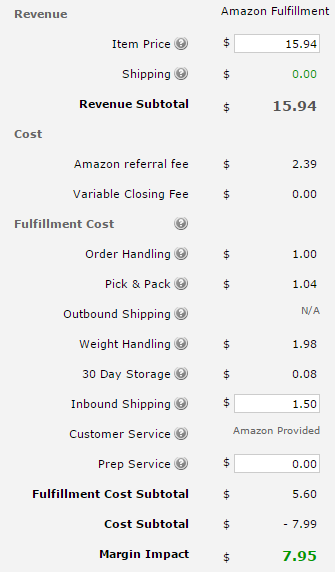 Your profit margin would be the margin impact minus the price you bought it at($4). So, your profit is $3.95. That might not sound like a lot, but when you are able to sell at a decent volume(5+), the profits start adding up!
Amazon will also notify you once an item is sold.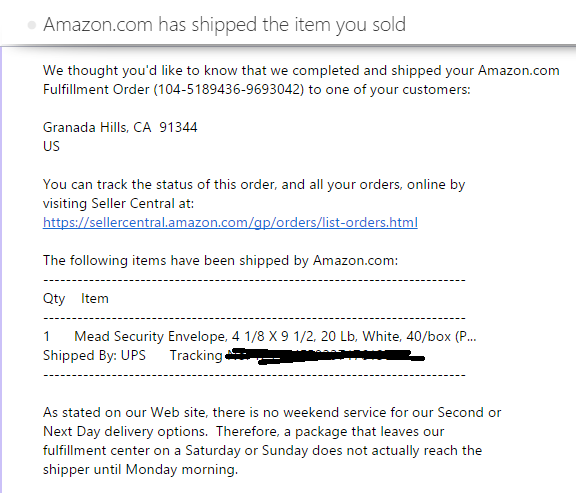 The cool thing about this is you can literally get this done in under an hour once you know where to find your products! It does take some practice, which you will get used to it quickly after doing in for a week or 2.
How Much Can One Make?
This will depend on your budget and how many items you are selling. I personally only generate about $120/month as I only go find bargains once a month. You can scale this as much as you want to generate a 6 figure income. The selling family does 6 figures a year. However, I do recommend you start out small and see whether this is a business that you want to get into.
Why Would People Buy From Amazon When They Can Get It For Much Cheaper?
This is a common question I see all the time. If someone can get it cheaper from a store, why would they get it online? The answer is simple.
Most people are busy and they value their time, so they are not going spend 1 hour digging around looking for the cheapest deals. A lawyer or doctor don't have 3 hours going shopping for some daily products. They know their time is valuable, so they are willing to "outsource" it just buy it online. The items get delivered to their doorstep and they get to do their important tasks.
Also, some items that are only available in a certain state while others don't have it. People are always willing to pay extra for something that is "rare" or not easily available to them.
Having said that, you should not worry about it to much. People LOVE to buy stuff, especially Americans. 🙂
How to Get Started
Getting started is really easy. You will need 4 things:
Sign Up for an Amazon Seller Account – You can either get the individual seller account(free) or the professional account($39.95/month). I recommend you stay with the individual seller account unless you sell more than 40+ items, in which you will want the pro account.
A Place to find Bargains – Big Retailers, wholesalers, thrift Shops, estate and garage Sales, dumpster diving and more. This is also known as sourcing.
Amazon Seller App – This app will tell you what your profit margins are after scanning the UPC code of the item using your smartphone. You can download them on either iOS or Android.
Transportation – You just need to get to where the bargains are.
This is the bare minimum to get started. There are also some other necessary items that you will need when you ship your items to Amazon, but that will be covered later on.
Places to Source
I have compiled a list of great places that I frequent to find bargains.
1) Big Retailers
Target, Walmart, Walgreens, Rite Aid, Dollar Tree and Toys R' Us are great places to find bargains. What I would do is to go over to their clearance section and start scanning using the Amazon Seller App. I have found some good items using this method. The rule of thumb is to find profit margins that is at least 35%.
2) Thrift Shops
These are the best places for me, as they are often poorly priced, you can find some gems there. To find your local thrift shops, use Yelp or ask around your neighborhood.
3) Wholesalers
These are a little harder to find. I personally use Salehoo, which is an online platform that connects with tonnes of wholesalers which you can buy from.
4) Dumpster Diving
If you are able to drop your ego and go to local colleges and dig the trash, you can often find really good condition items that people throw away for god knows what reason. These kids have sold many items from their dumpster dives. Check it out here.
5) Online Retail Arbitrage
Another great way to find bargains if you do not like to go out that much. I don't do this often as I like to go outdoors to find bargains. eBay is a great place to start.
6) Estate and Garage Sales
These are some of the best places to find bargains and is one of my favorite methods. Every Friday or Saturday, I would drive to these places to find items to source on Amazon. I use this site called Estate Sales to find one near my neighborhood.
Packaging Your Items
Once you have gotten your items, it is time to ship them to the Amazon Warehouse. But to do that, you will need some of the following items:
Polywraps(Bubble Wraps or Stretch Wraps)
You need to wrap all items that are loose or not protected. The wraps also have to be at least 1.5 mils. Food wraps will not work. Below are 2 that I recommend and use.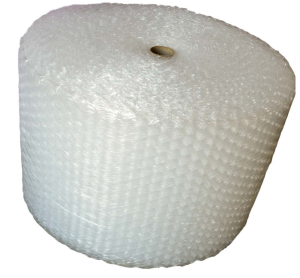 Bubble Wraps – These are perfect for smaller items. They will protect your item from getting squashed.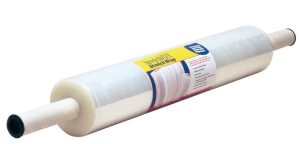 Stretch Wraps – These are used to wrap items such as office products or loose items. They will protect your items from getting dusty. The amazon warehouse is very dusty, so make sure you wrap your items to prevent dust from getting into it. The last thing you want is your customers getting a dusty item. This is the one that I use.
Scotty Peeler – This will easily remove price tags for you easily from the products without damaging the item.
Boxes – You can either get new ones from Uline or just go to your local grocery store and ask for it. All grocery stores have free boxes that they are more than happy to get rid of.
Once you have packaged your item, you will then send it to the warehouse. That is about it!
Conclusion
Hopefully that has given you a very good idea of what Amazon FBA is all about. All you need to do now is take action!