Amazon Prime Instant Video vs Netflix [Review]
What Is Amazon Prime Instant Video?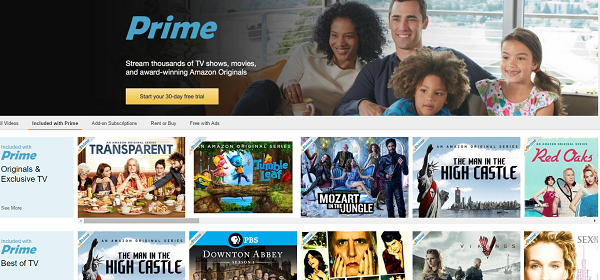 Amazon Instant Prime Video is one of the giant providers of video streaming services worldwide. People just love to watch videos they like anywhere and anytime. With the boom of mobile phones, watching videos via streaming has become part of our digital lifestyle. It was recently reported that there are actually 100 million people who stream video on demand using different devices all over the world. Well, that's a lot of subscribers. It's only wise to ask which video streaming company is worth to spend with your every dollar of subscription fees.
What are the Features and Benefits of Amazon Prime Instant Video?
Amazon Prime Video offers a wide content of selection. You can choose to your eyes' content. This service is offered for free as a benefit of a Prime membership.
What's even better, Amazon now offers exclusive content. They created original programs and are now available in the myriad of movie choices in their vault. These original projects were even recognized at the Emmy's, where they received five distinguished awards.
Through Amazon's state-of-the-art technology, Amazon delivers a high dynamic range (HDR) content and also ultra HD streams. This makes your watching experience really satisfying, without delays and with powerful, realistic visuals.
If you're the type who likes to use smart phones in watching videos, you'll surely love Amazon Prime Video. It's easily accessible and convenient. You can take advantage of its offline features. Just add the shows you're interested in to your watch list and that's it. You can watch it whenever you like. You can even access it in your device through voice command. It comes handy and fast when you're trying to find a specific movie or show.
Amazon Prime Video vs Netflix
One good common factor between Amazon and Netflix is, they both allow you to test them out through the free trials they offer. You have one month of free subscription. As for Amazon, it comes free with the Prime membership which also allows you to enjoy, without any charge, Amazon's other services such as its Music streaming service, Kindle eBook lending library and free delivery for retail orders. Practically speaking, you can try them out. Before the trial ends, make a good judgment which service is better.
Amazon Prime Instant Video costs $99 a year. They don't charge on a monthly basis. As mentioned, the video service is part of the Prime membership which comes valuable if you shop with Amazon regularly.
Netflix charges $7.99 a month, which totals $95.88 a year. With it, comes a single standard definition (SD) stream. If you want the HD streaming, you need to avail of the $9.99 a month or the $11.99 a month subscription.
If you try to survey most people, they prefer Netflix for the bigger selection of shows and movies, and for its accessibility on any platform. There's even a Netflix App for the iPhone users. It's also simple to use and has a good recommendation system.
If you've read the features of Amazon Prime Instant Video, you might prefer it over Netflix because of the high quality of the videos shown when viewed in different devices. It's not only about accessibility, but the video quality that makes the user experience memorable.
Why You Should Choose Amazon Prime Instant Video
If you don't want to overspend for video streaming service and make every dollar count for your payment, you have to choose a provider where you can get more for the least amount. That's why you can count on Amazon Prime Instant Video.
If you pay the Prime membership of $99 charged once a year, you get the Amazon Prime Instant Video for free. You also get to enjoy other perks of being a Prime member. That price is still cheaper than what Netflix charges. You're able to watch as many movies and shows as you like, and be happy about it.
As a consumer, you benefit and get more value from Amazon Prime Instant Video. It's budget-friendly. You get to see newer titles and you're able to connect to a big library without charge. You don't need to miss any episode of your favorite show or movie. You can watch it, whether you're at home or out there waiting for a plane to catch. You can stream it with HD quality, never settle for less. Try out Amazon Prime Video(affiliate).