7 Anime Like Assassination Classroom [Must Watch]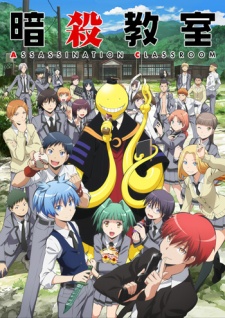 Here are my favorite picks for anime like Assassination Classroom, also known as Ansatsu Kyoushitsu. Keep in mind the list is in no particular order.
Onizuka Eikichi is an ex-bike gang leader who has but one goal, to become the greatest teacher. While doing his teaching internship as part of his studies to become a qualified teacher, he ends up in a delinquent class and learns of the possibility and necessity of the power and respect gained from one's students. Due to a mishap, after graduating, he gets a job at a prestigious private school to handle their 'problem class' that made the past few teachers quit.
He must now handle a different kind of trouble when the trouble-makers include some of the smartest kids in Japan who prefer a more "intellectual approach" to torturing their teacher. Onizuka must slowly win his students over and deal with their distrust and hatred towards teachers and adults while handling the distrust of his fellow teachers who feel him unworthy of being a teacher.
Advanced placement into a school of higher grade proof-reading is determined by the results of the Promotion Test strictly for class type. Ranging from A class with the best facilities anyone can offer all the way down to F Class which is composed of low dining tables, rotten tatami mats and other worn out facilities. Students can change classes by competing using the Examination Summons Battle system or ESB. Students summon characters with their equivalent test mark scores and use them to compete with other classes.
Junichirō is a young man obsessed with manga, anime, and games. He was a young genius who published papers in the journals Nature and Science when he was only 17. However, after graduating college, he became a NEET (Not in Education, Employment, or Training) absorbed in his anime blog. Unable to watch Kagami throw away his life, his sister Suzune gets him to work at the Ichō Academy she attends. The head of the school's board, Koyomi Hiiragi, assigns Kagami to his new life as a teacher.
Twenty years ago, Edo-period Japan suffered a great cultural shock—the aliens called Amanto invaded the Earth, overpowered the nation's government, and outlawed the carrying of swords by the once proud samurai. Moreover, the aliens took the people's jobs and are currently running Japan as a sweatshop using the natives as laborers.
In this strange new era are Gintoki Sakata, an eccentric samurai whose personal trademarks are his naturally permed silver hair, his love of anything sweet, and his addiction to Shonen Jump; Shinpachi Shimura, the teenaged heir of the Kakido-Ryu style; and Kagura, an incredibly strong alien girl from the powerful Yato clan. The trio are self-employed in an odd jobs shop called Yoruzuya Gin-chan, which offers to do almost anything for a price, from finding lost kittens to saving the world. Unfortunately, the jobs rarely go as planned, or pay enough to cover the pain and suffering the employees encounter—never mind their rent.
The story takes place at a certain middle school where several murder cases take place. Kobayashi, a boy who goes to this school, meets genius detective Akechi, who comes to the school to investigate. Kobayashi takes an interest in Akechi and, in spite of his friend Hashiba's worries, he volunteers to be Akechi's assistant.
Kumiko "Yankumi" Yamaguchi enters Shirokin Gakuen Private School to become a math teacher. She's assigned as the homeroom teacher for class 2-4, populated by a gang of delinquents. At first, the class tries everything to rattle her cage, but to no avail. In a short period of time, Yankumi gains the respect of the class. But what the school doesn't know is that she's the heir to the Oedo Group, a powerful Yakuza clan. So while Yankumi struggles to excel in her career as a teacher, she must also keep her Yakuza background a secret.
Oz Vessalius, heir to one of the duke houses, has just turned fifteen. His life is rich and carefree, darkened only by the constant absence of his father. At his coming-of-age ceremony, however, everything changes. For no reason that he can discern, he's cast into the prison known as the "Abyss", only to be saved by a "chain" known as Alice, the bloodstained black rabbit. It is unknown why was he cast into Abyss, how does Alice factor into it all, and what does the organization known as "Pandora" want with him.
References: ANN, MyAnimeList, Wiki