8 Anime Like Aoharu x Kikanjuu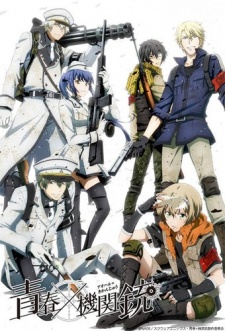 Here are my top picks for anime like Aoharu x Machinegun. Keep in mind the list is in no particular order. Enjoy!
Haruhi is a poor tomboyish student at a school for the ultra-wealthy, able to attend because of a scholarship, and unable to even afford a uniform. One day, she stumbles across the decidedly peculiar but very popular Ouran Host Club. She tries to leave, but accidentally breaks a vase, and unable to pay for it, she's told that she'll have to stay and do odd jobs.
That is, until they decide she would be more valuable as a club member. Not realizing she's female due to her appearance, they fix her up and give her a male uniform. She's an instant hit, so they decide to have her keep up the charade even after they find out the truth. Haruhi, being average almost to a fault, doesn't know what to make of the unconventional activities of the Host Club (or of the even more unconventional members), but having little choice, she plays along. Before long, real bonds are formed, friends made, and Haruhi finds herself accepted in a way she could never have been otherwise in this affluent school.
Momoka is a high school student who's mastered the art of blending in after transferring from one school to another several times. Despite her ability to fly under the radar, she finds herself recruited by her new school's survival game club. Most of the other girls in the club are a bit eccentric in one way or another: there's the wealthy gun nut, the cosplaying otaku, and the seemingly cute girl with a terrifying dark side. Momoka, however, is just as eccentric herself.
Nobunagan
Shio Ogura is a Japanese high school student, who is visiting Taiwan on a school trip when she is suddenly attacked by monsters. Agents known as "E-Gene Holders" from the government agency DOGOO also arrive, who wield weapons infused with the spirits of historical figures. Shio is revealed to also be an E-Gene Holder when the soul of Oda Nobunaga awakens after she tries to rescue a friend.
The players of a virtual reality MMORPG, Sword Art Online, are trapped and fighting for their very lives. After it is announced that the only way to leave the game is by beating it, Kirito—a very powerful swordsman—and his friends take on a quest to free all the minds trapped in Aincrad.
Felicitá is the one-and-only daughter of the Papa of the organization, maybe even mafia, known as the Arcana Famiglia. The Famiglia is made up of people who have made contracts with the Arcane cards, and have received special abilities due to this. The Papa has decided it's time for him to retire and give up his seat to a new male who has control over an Arcane. To decide who in the "family" gets this seat, he calls for a tournament between Arcane users. To the winner, he promises the "Papa" seat, a wish of the winner's choice…and his daughter's hand in marriage. Refusing to accept this, Felicitá decides to fight to choose her own path, with her friends Liberta and Nova fighting for her freedom by her side.
Ryota Sakamoto is an unemployed 22-year-old who lives with his mother and spends his days doing nothing but playing video games. In the real world there may be nothing special about him, but online he's one of the world's top players of the combat game called Btooom. One day he awakens on what appears to be a tropical island, though he has no memory of how he got there or why.
While exploring the island Ryota runs into a stranger who attacks him by throwing a strange looking bomb at him. Ryota then realizes that his life is in danger, and that he has somehow become trapped in a real-life version of his favorite game. Ryota and the other "players" must now survive through the nightmare to figure out the reason why they ended up in the game in the first place.
Megumi-chan is a girl with a secret past. She used to be a boy until she met a person she thought was a magic user. This person gave him/her a magical book from which a genie appears to grant one wish when blood is applied to it. Megumi made the wish to be a man in a man's body but the genie has a twist: he grants wishes backwards so he turns Megumi-kun aged 9 to Megumi-chan. Years pass and Megumi enters High School where she immediately beats up the school bully who of course falls in love with her. She is looking for that book again to be able to reverse the spell placed upon her.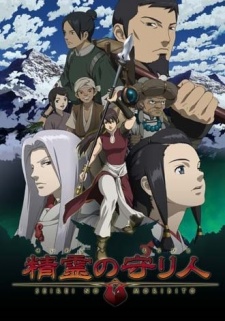 Balsa, the spear wielder and bodyguard, is visiting the New Yogo Empire. She is hired to protect the Second Prince, Chagum, who is endangered because he is possessed by a being despised by his father, the Emperor, who ordered his assasination. The two go on a perilous adventure for the survival of the prince. Throughout the story, Balsa's past will come to light and they will uncover mysteries about Chagum's condition while developing a family-like relationship with each other and others.
References: Wiki, ANN, MyAnimelist