9 Anime Like Arslan Senki [The Heroic Legend of Arslan]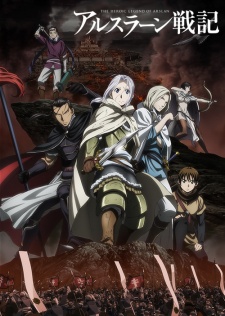 Here are my top picks for similar anime like The Heroic Legend of Arslan, also known as Arslan Senki in Japanese. Keep in mind the list is in no particular order. Enjoy!
King Il of Kouka, a land said in legends to have been founded by four dragons, has only one remaining heir, a daughter named Yona. She lives a happy life in the palace with her cousin Soo-won, who she loves in spite of her father's opposition to them marrying. Her life is turned upside down when Soo-won murders her father and steals the throne. Yona, with her childhood friend and bodyguard Hak, must retreat to gather allies and reclaim her place as ruler of the kingdom.
In the Warring States Period of ancient China (475-221 BCE), Shin and Hyou are war-orphans in the kingdom of Qin. They dream of one day proving themselves on the battlefield. One day, however, Hyou is taken to the palace by a minister. Winding up on the losing side of a power-struggle, Hyou manages to return to the village, barely alive. Shin then meets a boy who closely resembles Hyou, Ei Sei. For now he is the king of Qin; later he will become the emperor Shi Huangdi.
In a fantastic middle-age world where slavery is very common, there are mysterious tall towers named "Dungeon" which mysteriously appeared out of nowhere fourteen years before the story line. Someone who conquers a Dungeon becomes very powerful and wealthy. Our hero Ali Baba is a teenager who works for merchants to support himself. He dreams for conquering a lot of Dungeons and becoming a very rich person. One day, he comes across with a strange young boy named Aladdin who carries a mystical flute with supernatural powers in it. Ali Baba and Aladdin agree to travel their first Dungeon together.
Two brothers lose their mother to an incurable disease. With the power of "alchemy", they use taboo knowledge to resurrect her. The process fails, and as a toll for using this type of alchemy, the older brother, Edward Elric loses his left leg while the younger brother, Alphonse Elric loses his entire body. To save his brother, Edward sacrifices his right arm and is able to affix his brother's soul to a suit of armor. With the help of a family friend, Edward receives metal limbs – "automail" – to replace his lost ones. With that, Edward vows to search for the Philosopher's Stone to return the brothers to their original bodies, even if it means becoming a "State Alchemist", one who uses his/her alchemy for the military.
As a soldier of Brune, Count Tigre of Alsace was sent to war against Zhcted. Although Brune outnumbers Zhcted, the presence of the 7 War Maidens of Zhcted completely turned the tide to their favor due to their battlefield strength, tactical superiority and magical weapons. Count Tigre was captured and became the prisoner of War Maiden Eleonora, but fate might just be smiling upon him and Alsace through this incident.
Guts, a man who calls himself "The Black Swordsman" looks upon his days serving as a member of a group of mercenaries, the Band of the Hawk, nicknamed "the Grim Reaper of the Battlefield." Led by an ambitious, ruthless, and intelligent man named Griffith, together they battle their way into the royal court, and are forced into a fate that may change their entire lives.
A gate appears in Tokyo's Ginza district sometime in the 21st century. From the gate pours out monsters, knights from middle-age Europe, and other fantasy-like beings, and they kill many of the citizens of Tokyo. This event is known as the Ginza Incident. The government sends a small group of soldiers from the Japanese Self-Defense Forces to the alternate world beyond the gate. Led by otaku soldier Yōji, they find that the villages in the world are being attacked by a dragon. An elf girl who is a survivor from the dragon's rampage joins the group in their travels across the dangerous new world.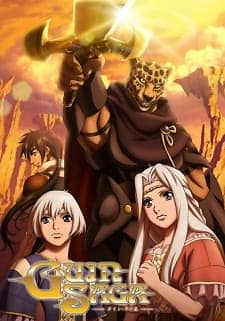 The ancient kingdom of Parro has been invaded by the armies of Mongaul, and its king and queen have been slain. But the "twin pearls of Parro," the princess Rinda and the prince Remus, escape using a strange device hidden in the palace. Lost in the Forest of Rood, they are rescued from Mongaul soldiers by a strange leopard-headed man named Guin, who has no memories except for the word "Aurra."
Yoko Nakajima, an unhappy high school student, is one day suddenly faced with a strange man who swears allegiance to her. After a battle with demon-like beasts, he then takes her to another world along with two of her classmates. There, her appearance has changed and she can understand the language even though her classmates cannot. But their status as "Kaikyaku" (people who come from Earth) makes them hunted fugitives, so they wander the land of the 12 countries, simply trying to survive and to figure out the reason why they were brought to this world.
References: ANN, MyAnimeList, Wiki