7 Anime Like Denpa Kyoushi [Ultimate Otaku Teacher]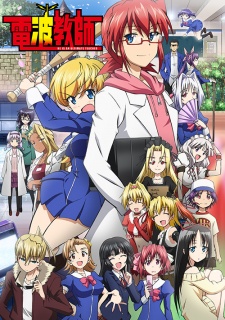 Here are my favorite picks for anime just like Ultimate Otaku Teacher. Keep in mind the list is in no particular order. Enjoy the recommendations!
Onizuka is a reformed biker gang leader who has his sights set on an honorable new ambition: to become the world's greatest teacher… for the purpose of meeting sexy high school girls. Okay, so he's mostly reformed.
However, strict administrators and a class of ruthless delinquents stand between Onizuka and his goal and they will use any means, however illegal or low, to drive the new teacher away. Perfect, because Onizuka's methods won't be found in any teaching manual; he cares about the difference between legal and illegal activities about as much as he cares for the age difference between himself and a high school girl. So get ready for math that doesn't add up, language you'd be slapped for using, and biology that would make a grown man blush… unless of course, you're the Great Teacher Onizuka.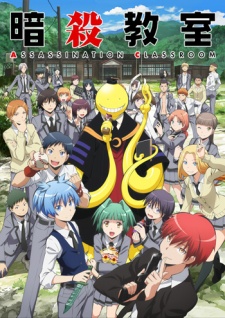 When a mysterious creature chops the moon down to a permanent crescent, the students of class 3-E of Kunugigaoka Middle School find themselves confronted with an enormous task: assassinate the creature responsible for the disaster before Earth suffers a similar fate. However, the monster, dubbed Koro-sensei (the indestructible teacher), is able to fly at speeds of up to Mach 20, which he demonstrates freely, leaving any attempt to subdue him in his extraterrestrial dust. Furthermore, the misfits of 3-E soon find that the strange, tentacled beast is more than just indomitable—he is the best teacher they have ever had!
Adapted from the humorous hit manga by Yuusei Matsui, Ansatsu Kyoushitsu tells the story of these junior high pupils as they polish their assassination skills and grow in order to stand strong against the oppressive school system, their own life problems, and one day, Koro-sensei.
Keima Katsuragi, known online as the legendary "God of Conquest," can conquer any girl's heart—in dating sim games, at least. In reality, he opts for the two-dimensional world of gaming over real life because he is an unhealthily obsessed otaku of galge games (a type of Japanese video game centered on interactions with attractive girls).
When he arrogantly accepts an anonymous offer to prove his supremacy at dating sim games, Keima is misled into aiding a naïve and impish demon from hell named Elucia "Elsie" de Lute Ima with her mission: retrieving runaway evil spirits who have escaped from hell and scattered themselves throughout the human world. Keima discovers that the only way to capture these spirits is to conquer what he hates the most: the unpredictable hearts of three-dimensional girls! Shackled to Elsie via a deadly collar, Keima now has his title of "God of Conquest" put to the ultimate test as he is forced to navigate through the hearts of a multitude of real-life girls.
No Game No Life is a surreal comedy that follows Sora and Shiro, shut-in NEET siblings and the online gamer duo behind the legendary username "Kuuhaku." They view the real world as just another lousy game; however, a strange e-mail challenging them to a chess match changes everything—the brother and sister are plunged into an otherworldly realm where they meet Tet, the God of Games.
The mysterious god welcomes Sora and Shiro to Disboard, a world where all forms of conflict—from petty squabbles to the fate of whole countries—are settled not through war, but by way of high-stake games. This system works thanks to a fundamental rule wherein each party must wager something they deem to be of equal value to the other party's wager. In this strange land where the very idea of humanity is reduced to child's play, the indifferent genius gamer duo of Sora and Shiro have finally found a real reason to keep playing games: to unite the sixteen races of Disboard, defeat Tet, and become the gods of this new, gaming-is-everything world.
In August of 20XX, a portal to a parallel world, known as the "Gate," suddenly appeared in Ginza, Tokyo. Monsters and troops poured out of the portal, turning the shopping district into a bloody inferno. The Japan Ground-Self Defence Force immediately took action and pushed the fantasy creatures back to the "Gate." To facilitate negotiations and prepare for future fights, the JGSDF dispatched the Third Reconnaissance Team to the "Special Region" at the other side of the Gate.
Having a light novel author father and an eroge illustrator mother, Kanou Shinichi is a thoroughbred otaku. However he does not have any special power except for his broad knowledge, sharp insight, and impeccable instinct about "MOE" and its products, from manga to anime to games to light novel to figures. One day he found himself transported to a fantasy world where elves live and dragons fly. And he is given a task—not to fight monster or embark on a quest, but to enhance cultural exchange by becoming a "moe missionary" in this fantasy world! He meets a palace guard who has a bit of fujoshi taste, a half-elf maid, and the empress who is a little girl. He comes up with the idea of building a school. At first it runs as a comedy but later there are serious matters that Shinichi needs to face: ethnic discrimination, social problems, conflict with neighboring countries, sabotage by opposition elements including Japanese government, etc. Can he overcome the obstacles, successfully bring "moe" culture to the fantasy world, and help the people there as well?
Battle Programmer Shirase, also known as BPS, is a free programmer with super hacking abilities who doesn't work for money. What he does work for is certainly something that only people like him would appreciate. But, his demeanor certainly doesn't suit the jobs he is hired for. With the evil King of America causing trouble via the internet, Shirase is nothing but busy as each new adventure brings even more interesting people into the picture.
References: Wiki, MyAnimeList, ANN