10 Anime Like Durarara!! x2 Ten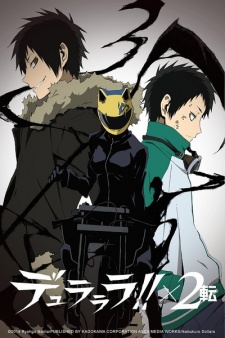 Here are my top picks for similar anime like Durarara!! x2 Ten. The list is in no particular order and this could not have been possible without the help of knowledgeable anime fans.
Each of the stories in the series involves several unrelated plots intersecting and crossing each other as events spiral farther and farther out of control. Immortal alchemists, mafia operated speakeasies, and many other elements of pulp fiction mashed together for a world straight out of the movies.
On November 22, 2010 ten missiles strike Japan. However, this unprecedented terrorist act, later to be called as "Careless Monday," does not result in any apparent victims, and is soon forgotten by almost everyone. Then, 3 months later… Saki Morimi is a young woman currently in the United States of America on her graduation trip. But just when she is in front of the White House, Washington DC, she gets into trouble, and only the unexpected intervention of one of her fellow countrymen saves her.
However, this man, who introduces himself as Akira Takizawa, is a complete mystery. He appears to have lost his memory. and he is stark naked, except for the gun he holds in one hand, and the mobile phone he's holding with the other hand. A phone that is charged with 8,200,000,000 yen in digital cash.
Narumi Fujishima is an ordinary high school boy who remains isolated from his fellow classmates. One afternoon fellow classmate Ayaka Shinozaki invites Narumi to join the gardening club and introduces him to a reclusive detective named Alice. Alice hires Narumi as an assistant and puts him to work solving the strange mysteries of Angel fix, an illegal drug. Little does he know it could put him and Ayaka in serious trouble.
Yagami Light is an ace student with great prospects, who's bored out of his mind. One day he finds the "Death Note": a notebook from the realm of the Death Gods, with the power to kill people in any way he desires. With the Death Note in hand, Light decides to create his perfect world, without crime or criminals. However, when criminals start dropping dead one by one, the authorites send the legendary detective L to track down the killer, and a battle of wits, deception and logic ensues…
Ashinaka High School is known for its unique setting: the entire campus is built on an island. Yashiro Isana, aka Shiro, is having lunch with a cat on one of the school rooftops. After his lunch break, Shiro goes on an errand for his classmate Kukuri to prepare for their upcoming school festival, only to be chased by some intimidating-looking men.
In Tokyo, an impenetrable field known as "Hell's Gate" appeared ten years ago. At the same time, psychics who wield paranormal powers at the cost of their conscience also emerged. Hei is one of the most powerful of these psychic agents, and along with his blind associate, Yin, works for one of the many rival agencies vying to unlock the mysteries of Hell's Gate.
Rintaro Okabe is a self-proclaimed "mad scientist" who believes that an international organization is conspiring to reshape the world according to its own interests. He and his friend Itaru Hashida inadvertently create a gadget able to send messages to the past. The discovery and experimentation of this instrument become the catalyst of fundamental alterations to the present.
Oblivious of the consequences of their actions, Rintaro and his friends end up creating modifications of grievous proportions. He must then try to find a way to return as close as possible to the original timeline in order to save his precious lab members.
The city of Tachikawa is protected by super fighting humans known as Gatchaman, warriors equiped with special reinforced suits that are powered by NOTE; spiritual powers manifested from living beings. Hajime Ichinose, a 16 year old energetic high school girl who is obsessed with collecting day planners and stationary, is selected to become a Gatchaman.
She is tasked with fighting against a mysterious alien life form known as MESS, but due to the nature of her personality she doesn't take her duties seriously. Yet her irresponsible actions end up doing more good than harm, much to the dismay of one other Gatchaman fighter.
On one hot summer day in 1983, a transfer student named Maebara Keiichi comes to a peaceful rural village in Hinamizawa. There, he befriends his classmates Rena, Mion, Rika, and Satoko. Accepted as a full-fledged member of the "club," Keiichi and the gang plays all sorts of activities ranging from card and board games to hide-and-seek. But just as Keiichi was beginning to be assimilated in simple rural life, he stumbles upon the dark history of Hinamizawa. As Keiichi dives deeper into the mystery, he finds that his new found friends may not be all what they claim to be.
One day, New York City as we know it vanished overnight into a mysterious fog. Now known as Hellsalem's Lot, it has become a place where another world beyond imagining is connected to our reality. The balance within this new world is protected by a secret society known as Libra. Leo, a journalist and photographer who arrives in the city, is unexpectedly recruited to join their ranks.
The incidents which occurred on August 14th and 15th bring a group of young boys and girls together… They are members of a group they call themselves the "Mekakushi Dan" (Blindfold Organization) and each member possesses a strange power involving their eyes.
References: ANN, Wiki, MyAnimeList