Anime Like Fate/Stay Night and Fate/Zero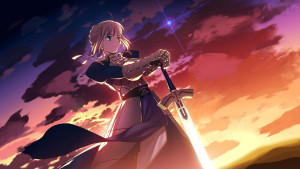 Here are my top picks for animes similar to the Fate series. The list I have for you is in no particular order.
Sakai Yuuji, a high school student who expected his normal life to last forever, is dead. When he was on his way home he witnessed a shocking view as the world suddenly froze: people were engulfed by blue flames and a monster resembling a large doll swallowed them. Just as the monster prepared to consume Yuuji, a sword-wielding girl in black attire with flaming red eyes and hair that burns like embers saved him from the monster.
The girl called herself a "Flame Haze" who hunts the "Guze no Tomogara", creatures from another world. As Yuuji noticed a blue flame in his chest, she called him a "Torch", a temporary replacement, saying that the "real" Yuuji's existence had already ended. Unfazed, Yuuji befriended the strange girl, named her "Shana", and joined her fight against Tomogara and other Flame Hazes.
In a world rife with deadly creatures called "youma", a young silver eyed woman, Clare, works on behalf of an organisation that trains female youma halfbreeds into warriors with the ability to destroy these creatures. Considered a rogue for picking up a stray child & almost losing herself to her youma side by "Awakening", she is constantly assigned rather dangerous missions…
Tokiha Mai and her sickly younger brother, Takumi, have received a scholarship to attend the prestigious Fuuka Academy. On the way, the ferry they are travelling on becomes the site of a destructive battle between two girls wielding apparently supernatural powers. This is only the beginning of their troubles, as Mai learns that she herself possesses these powers – the powers of a HiME.
One night, Kazuki Muto jumps in to try to save what he thinks is a girl in distress from a monster and instead gets impaled through the heart. The girl, Tokiko, is actually an alchemic warrior with a Busou Renkin, name of Valkerie Skirt, with the mission to exterminate Homunculi. She implants the only other successful work of alchemy than the Homunculus, the Kakugane, to take the place of Kazuki's heart. The Kakugane resonates with his fighting spirit and forms a Busou Renkin (in his case a spear) so he can fight the Homunculus monsters who prey on humans. Kazuki joins with Tokiko to battle with the Homunculi and protect his friends and his sister Mahiro.
Due to a deep trauma at school Sakurada Jun has refused to return. He spends his time in his room, surfing the web and ordering anything that takes his fancy, only to return the items just before payment is due. One day, he finds a web site that tells him to put his order in a drawer of his desk. He does so thinking it to be a joke, only to find that the letter disappears and a strange package arrives soon afterwards. It contains an exquisite doll, that, when wound, comes to life. She treats him as a servant of little worth, but over time helps him come to grips with his fears and in the life-or-death fights that soon follow her arrival.
Set in a slightly futuristic world where Earth has been invaded and is at war with aliens from another dimension called the Nova, the story follows the adventures of a Japanese boy named Kazuya Aoi who enrolls for training at a special school for genetically modified girls called Pandoras who battle the aliens, and their male partners, called Limiters, who use a special power called "freezing" to limit their opponent's mobility. The protagonist makes the acquaintance of an unusual older girl named Bridgette L. Satellizer who appears to be the most powerful Pandora in her class, but has not yet chosen a male partner to be her Limiter, and in spite of the warnings of all his friends, he decides to be her Limiter.
Godō Kusanagi is a 16-year-old high school boy, who once killed the god "Verethragna" and acquired the title of "Campione" ("God Killer") when he was 15. Erica Brandelli is a 16-year-old Italian girl, who is a "Great Knight" of the magic society "Bronze Black Cross" and had fought together with Godo to defeat Verethragna. Godo doesn't like fighting but his title of "Campione" makes him get involved in battles against other Campiones and uncontrollable gods.
There you have it! Hopefully some of these will appeal to you!
References: