6 Anime Like Demi-chan wa Kataritai (Interviews With Monster Girls)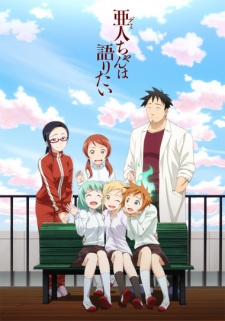 Here are my favorite picks for anime like Demi-chan wa Kataritai. Keep in mind the list is in no particular order. Enjoy!
Monster Musume no Iru Nichijou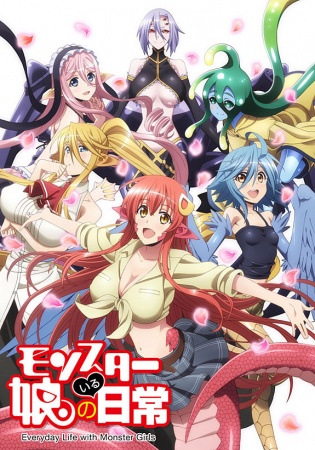 With his parents abroad, Kimihito Kurusu lived a quiet, unremarkable life alone until monster girls came crowding in! This alternate reality presents cutting-edge Japan, the first country to promote the integration of non-human species into society. After the incompetence of interspecies exchange coordinator Agent Smith leaves Kimihito as the homestay caretaker of a Lamia named Miia, the newly-minted "Darling" quickly attracts girls of various breeds, resulting in an ever-growing harem flush with eroticism and attraction.
Unfortunately for him and the ladies, sexual interactions between species is forbidden by the Interspecies Exchange Act! The only loophole is through an experimental marriage provision. Kimihito's life becomes fraught with an abundance of creature-specific caveats and sensitive interspecies law as the passionate, affectionate, and lusty women hound his every move, seeking his romantic and sexual affections. With new species often appearing and events materializing out of thin air, where Kimihito and his harem go is anyone's guess!
Kobayashi-san Chi no Maid Dragon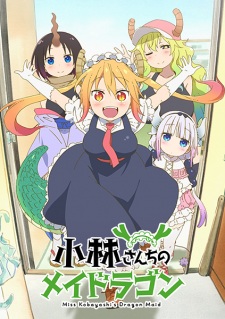 As Kobayashi sets off for another day at work, she opens her apartment door only to be met by an unusually frightening sight—the head of a dragon, staring at her from across the balcony. The dragon immediately transforms into a cute, busty, and energetic young girl dressed in a maid outfit, introducing herself as Tooru.
It turns out that the stoic programmer had come across the dragon the previous night on a drunken excursion to the mountains, and since the mythical beast had nowhere else to go, she had offered the creature a place to stay in her home. Thus, Tooru had arrived to cash in on the offer, ready to repay her savior's kindness by working as her personal maidservant. Though deeply regretful of her words and hesitant to follow through on her promise, a mix of guilt and Tooru's incredible dragon abilities convinces Kobayashi to take the girl in.
Despite being extremely efficient at her job, the maid's unorthodox methods of housekeeping often end up horrifying Kobayashi and at times bring more trouble than help. Furthermore, the circumstances behind the dragon's arrival on Earth seem to be much more complicated than at first glance, as Tooru bears some heavy emotions and painful memories. To top it all off, Tooru's presence ends up attracting several other mythical beings to her new home, bringing in a host of eccentric personalities. Although Kobayashi makes her best effort to handle the crazy situation that she has found herself in, nothing has prepared her for this new life with a dragon maid.
Jitsu wa Watashi wa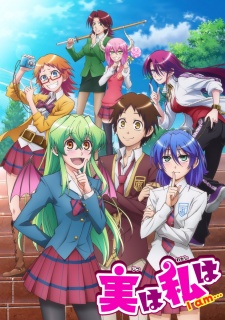 One day after school, Asahi Kuromine stumbles upon the truth that Youko Shiragami, the girl he has a crush on, is actually a vampire. According to her father's rules, Youko must now quit school in order to keep her family safe. However, Asahi does not want her to go and promises that he will keep her true nature secret. Unfortunately, this turns out to be easier said than done, as Asahi is a man who is easy to read and is unable to keep any secrets to himself.
And this is the only the beginning of his troubles—more supernatural beings enter his life, and he is forced to protect all of their identities or face the consequences. Jitsu wa Watashi wa follows Asahi as he deals with his new friends and the unique challenges they bring, struggles to keep his mouth shut, and desperately tries to win Youko's heart in the process.
Centaur no Nayami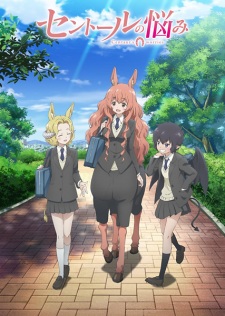 Himeno is a sweet, shy little centaur girl. In her world, everyone seems to be a supernatural creature, and all her classmates have some kind of horns, wings, tails, halos, or other visible supernatural body part. Despite their supernatural elements, Himeno and her best friends, Nozomi and Kyouko, have a fun and mostly normal daily school life!
Gabriel DropOut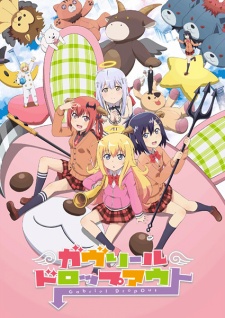 For centuries, Heaven has required its young angels to live and study among humans in order to become full-fledged angels. This is no different for top-of-her-class Gabriel White Tenma, who believes it is her mission to be a great angel who will bring happiness to mankind. However, Gabriel grows addicted to video games on Earth and eventually becomes a hikikomori. Proclaiming herself a "Faillen Angel," she is apathetic to everything else—much to the annoyance of Vignette April Tsukinose, a demon whom Gabriel befriended in her angelic early days on Earth.
Vignette's attempts to revert Gabriel back to her previous self are in vain, as Gabriel shoots down any attempt to change her precious lifestyle. As they spend their time on Earth, they meet two eccentric personalities: the angel Raphiel Ainsworth Shiraha, Gabriel's classmate with a penchant for sadism, and the demon Satanichia McDowell Kurumizawa, a clumsy self-proclaimed future ruler of the Underworld.
Gabriel DropOut follows these four friends' comedic lives as they utterly fail to understand what it truly means to be a demon or an angel.
Barakamon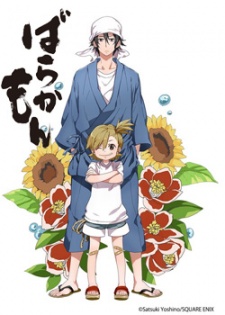 Seishuu Handa is an up-and-coming calligrapher: young, handsome, talented, and unfortunately, a narcissist to boot. When a veteran labels his award-winning piece as "unoriginal," Seishuu quickly loses his cool with severe repercussions.
As punishment, and also in order to aid him in self-reflection, Seishuu's father exiles him to the Goto Islands, far from the comfortable Tokyo lifestyle the temperamental artist is used to. Now thrown into a rural setting, Seishuu must attempt to find new inspiration and develop his own unique art style—that is, if boisterous children (headed by the frisky Naru Kotoishi), fujoshi middle schoolers, and energetic old men stop barging into his house! The newest addition to the intimate and quirky Goto community only wants to get some work done, but the islands are far from the peaceful countryside he signed up for. Thanks to his wacky neighbors who are entirely incapable of minding their own business, the arrogant calligrapher learns so much more than he ever hoped to.
References: Myanimelist