5 Anime Like Castle Town Dandelion [Joukamachi no Dandelion]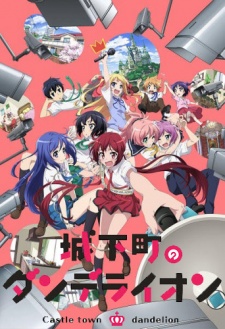 Here are my top picks for anime like Castle Town Dandelion. Keep in mind the list is in no particular order. Enjoy the recommendations!
A story based on the super popular song series from NND. Eruna Ichinomiya, a freshman who dreamed of a school life filled with cuteness, entered a boarding school—Mikagura Private School. In this school, each of the cultural club representatives have to battle each other, with unique powers…!! What will happen to Eruna, who somehow ended up becoming the representative of a certain club?!
Due to his love for small, cute things, Souta Takanashi cannot turn childlike Popura Taneshima down when she recruits him to work for Wagnaria, a family restaurant located in Hokkaido. Takanashi takes particular joy in doting on the older Popura, which only fuels her complex over how young she looks. He also quickly learns he must stay on his toes once he meets the rest of his colleagues, including the katana-wielding floor chief Yachiyo Todoroki, the intimidating head chef Jun Satou, the dangerously well-informed and subtly sadistic sous chef Hiroomi Souma, the adamantly lazy manager Kyouko Shirafuji, and the waitress Mahiru Inami who has a "painful" fear of men.
Powered by an eccentric cast, Working!! is a unique workplace comedy that follows the never-dull happenings within the walls of Wagnaria as Takanashi and his co-workers' quirky personalities combine to create non-stop antics, shenanigans, and hilarity.
Half a year ago, the four members of a literature club, as well as the elementary school niece of their faculty adviser, were bestowed with supernatural powers. The boy in the club, Ando Jurai, became able to produce black flames. The girls acquired a variety of powerful abilities: Tomoyo could slow, speed, or stop time, Hatoko could control the five elements (earth, water, fire, wind, light), little Chifuyu could create things, and Sayumi could repair objects or heal living things.
However, since they gained these powers, nothing has really changed in their everyday life. Why have they been given these powers in the first place? Will the heroic fantasy life they imagined these powers would bring ever actually arrive?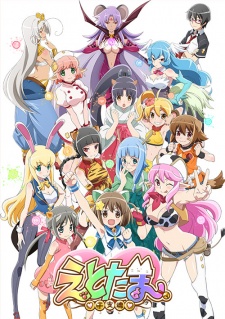 The anime's story revolves around Nyaa-tan, the cat of Chinese astrology who wants to become a member of the Chinese zodiac. Nyaa-tan is simple and suffers from memory loss, and she tries various foolish ways to become a member. She meets Takeru Amato, a high school student who lives alone in Akihabara, and becomes a freeloader at his house. Little by little, she gets closer to her goal.
Azumanga Daioh is about high school life through the eyes of six girls with unusual personalities: Chiyo (the 10-year-old genius), Osaka (the resident airhead), Sakaki (the shy one prone to cat bites), Tomo (the loose cannon), Yomi (the short-tempered one) and Kagura (the resident jock).
References: Wiki, ANN, MyAnimeList