8 Anime Like Kekkai Sensen [Blood Blockade Battlefront]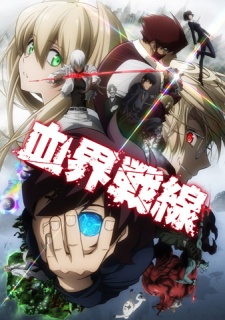 Here are my top picks for similar anime like Kekkai Sensen. Keep in mind the list is in no particular order. Enjoy!
Naota is a normal Japanese 6th grade boy (although a little cynical), but when his older brother leaves for America to play baseball, his brother leaves his homeless 17-year-old girlfriend Mamimi behind. Mamimi is sending mixed signals and advances to Naota, and he doesn't know what to do about her.
But to make matters worse, Naota's world is totally turned upside down when he is run over by a woman on a Vespa. During their first encounter, she hits him over the head with her bass guitar, which then causes a horn to grow out of his forehead. She calls herself "Haruko" and her presence changes Naota's life to even further insanity.
Ryūgamine Mikado is a boy who longs for the exciting life of the big city. At the invitation of his childhood friend Masaomi, he transfers to a school in Ikebukuro. Masaomi has warned him about people he doesn't want to cross in the city: a champion fighter, an informant, and a mysterious gang called "Dollars." Nervous from Masaomi's stories, Mikado witnesses an urban legend on his first day in the city, the Headless Rider astride a black motorcycle. From then on, the existence of supernatural cases and a gang called the Yellow Scarves will rise to the surface, and Ikebukuro will pushed to the breaking point.
Each of the stories in the series involves several unrelated plots intersecting and crossing each other as events spiral farther and farther out of control. Immortal alchemists, mafia operated speakeasies, and many other elements of pulp fiction mashed together for a world straight out of the movies.
Ashinaka High School is known for its unique setting: the entire campus is built on an island. Yashiro Isana, aka Shiro, is having lunch with a cat on one of the school rooftops. After his lunch break, Shiro goes on an errand for his classmate Kukuri to prepare for their upcoming school festival, only to be chased by some intimidating-looking men.
Twenty years ago, Edo-period Japan suffered a great cultural shock—the aliens called Amanto invaded the Earth, overpowered the nation's government, and outlawed the carrying of swords by the once proud samurai. Moreover, the aliens took the people's jobs and are currently running Japan as a sweatshop using the natives as laborers. In this strange new era are Gintoki Sakata, an eccentric samurai whose personal trademarks are his naturally permed silver hair, his love of anything sweet, and his addiction to Shonen Jump; Shinpachi Shimura, the teenaged heir of the Kakido-Ryu style; and Kagura, an incredibly strong alien girl from the powerful Yato clan.
The trio are self-employed in an odd jobs shop called Yoruzuya Gin-chan, which offers to do almost anything for a price, from finding lost kittens to saving the world. Unfortunately, the jobs rarely go as planned, or pay enough to cover the pain and suffering the employees encounter—never mind their rent.
Ryuuko Matoi carries a large weapon shaped like half of a pair of scissors. She's looking for the woman with the other half, who killed her father. Satsuki Kiryuuin, student council president of Honnouji Academy, is said to know the woman's identity, so Ryuuko transfers there. Those who arrive at the school receive a special "goku uniform", and Satsuki has used that power to rule the school in fear.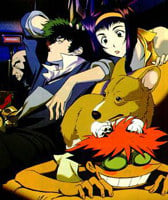 The year 2071 A.D. That future is now. Driven out of their terrestrial eden, humanity chose the stars as the final frontier. With the section-by-section collapse of the former nations a mixed jumble of races and peoples came. They spread to the stars, taking with them the now confused concepts of freedom, violence, illegality and love, where new rules and a new generation of outlaws came into being. People referred to them as Cowboys.
Meet Spike and Jet, a drifter and a retired cyborg cop who have started a bounty hunting operation. In the converted ship The Bebop, Spike and Jet search the galaxy for criminals with bounties on their heads. They meet a lot of unusual characters, including the unusually intelligent dog, Ein, and the voluptuous and vexing femme fatale, Faye Valentine.
Vash the Stampede is a gunman on the run with a 60 billion double dollar bounty on his head which has made it difficult for him to go anywhere without being chased and shot at. Every town he ever visits ends up being destroyed because of his pursuers, but miraculously no one ever gets killed. Meryl and Milly are two insurance agents that have been sent to find Vash the Stampede and keep him under surveillance so no more damage is caused.
Meryl, who leads the pair, refuses to believe that the man they have met can possibly be the legendary gunman. This spikey haired, gangly, young man is extremely friendly, a pacifist, hates blood and suicide, absolutely loves donuts, and is a dork and a crybaby (far from a notorious outlaw). But there is more to Vash and his past than meets the eye.
References: ANN, MyAnimeList