Anime Like Parasyte The Maxim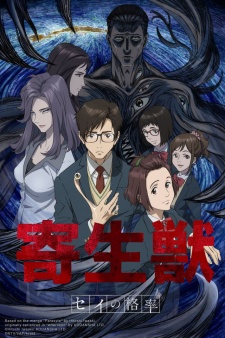 Having watched this crazy show, here are my top picks for anime like Parasyte -the maxim-. The list is is no particular order. Enjoy!
Several hundred years ago, humans were nearly exterminated by giants. Giants are typically several stories tall, seem to have no intelligence, devour human beings and, worst of all, seem to do it for the pleasure rather than as a food source. A small percentage of humanity survived by enclosing themselves in a city protected by extremely high walls, even taller than the biggest of giants.
Flash forward to the present and the city has not seen a giant in over 100 years. Teenage boy Eren and his foster sister Mikasa witness something horrific as the city walls are destroyed by a super giant that appears out of thin air. As the smaller giants flood the city, the two kids watch in horror as their mother is eaten alive. Eren vows that he will murder every single giant and take revenge for all of mankind.
Yagami Light is an ace student with great prospects, who's bored out of his mind. One day he finds the "Death Note": a notebook from the realm of the Death Gods, with the power to kill people in any way he desires. With the Death Note in hand, Light decides to create his perfect world, without crime or criminals. However, when criminals start dropping dead one by one, the authorites send the legendary detective L to track down the killer, and a battle of wits, deception and logic ensues…
High school delinquent Seiji Sawamura is desperate to have a girlfriend, especially after being rejected by 20 girls as of late. He's afraid that he will end his life with his right hand as his only companion. Apparently, that doesn't change when one day when he wakes up and discovers that his right hand has become a girl named Midori Kasugano, who confesses that she has had a crush on him for the last three years.
Sotobamura is a small village with around 1300 residents; so small the village isn't even connected to a single highway. An isolated village in which old customs, such as the burial of the dead, are still practiced. One day, the bodies of three people are found dead. Although Ozaki Toshio, the village's lone doctor, feels uncertain, he treats the deaths as a normal occurrence. However, in the days following, the villagers start to die one after the other.
Ken Kaneki is a bookworm college student who meets a girl names Rize at a cafe he frequents. They're the same age and have the same interests, so they quickly become close. Little does Kaneki know that Rize is a ghoul – a kind of monster that lives by hunting and devouring human flesh. When part of her special organ – "the red child" – is transplanted into Kaneki, he becomes a ghoul himself, trapped in a warped world where humans are not the top of the food chain.
Ganta Igarashi has been convicted of a crime that he hasn't committed, and sent to a new, privately owned and operated prison, where the inmates are the main attraction in a modern day twist to the gladiatorial coliseums of ancient times. Throw in a healthy dose of weird little girl, some new-found super powers, and a little conspiracy theory, and you have Deadman Wonderland.
After death, humans go to either the eternal void or are reincarnated. However, where there's doubt as to were to place some occasional souls, these instead arrive at bar Quindecim, with no memories of having died. Decim, the bartender, challenges them to the Death Game, wherein they wager their "lives" and reveal their true natures. Decim himself is actually an arbiter in charge of deciding the fate of those that arrive at Quindecim – by pulling the darkness from deepest within them, he judges their ultimate fate.
Kei Kurono is a typical high school student in a selfish world, not caring about anyone other than himself. However when, by chance, he was forced to help out his childhood friend, Katou Masaru, rescue a drunkard who fell into subway tracks, both he and Katou were killed… Or not.
After being run over by the train, they were suddenly teleported to an enclosed apartment with others who recently died. And now their lives are controlled by a mysterious black ball inside the apartment called GANTZ, and they are forced to participate in a "game" of unprecedented danger and horror.
References: ANN, MyAnimeList, Wiki