10 Anime Like Sky Wizards Academy [Kuusen Madoushi Kouhosei no Kyoukan]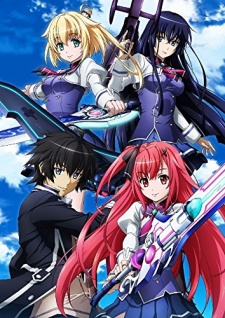 Here are my top picks for anime like Sky Wizards Academy. Keep in mind the list is in no particular order. Enjoy!
In the distant future, a polluted world has been overtaken by havoc-wreaking creatures called filth monsters. Humanity, having been forced to relocate itself, must live in isolated mobile cities called Regios. A mysteriously skilled fighter named Layfon Alseif enrolls in the Academy city of Zuellni and is immediately noticed by Nina Antalk, leader of the 17th Military Arts Unit. He then reluctantly joins her squad, uncertain of what future awaits him and his new teammates within the city as well as the impending dangers in the midst of a plagued world.
Magic Knights are modern magic-users who fight with weapons converted from their souls. Ikki Kurogane goes to a school for these Magic Knights, but he is the "Failed Knight" or "Worst One" who is failing because he has no magical skills. However, one day, he is challenged to a duel by Stella, a foreign princess and the "Number One" student. In this duel, "the loser must be obedient for life."
Bonus Read: 7 Reasons to Watch Gakusen Toshi Asterisk
With the sudden appearance of the monsters that came to be called Dragons, the world had completely changed. Before long, within the human race supernatural girls with the power of the dragons, called D were born. The secret existence of the only male D the boy Mononobe Yuu, was forcefully thrown into the school where the girls of D gathered Midgar, where he saw the naked body of one of the students, Iris.
Furthermore, meeting his long-lost sister Mitsuki, Yuu seems to have been enrolled into this school…"When there's really no other choice, Iris, I will kill you. Can I really… believe you The curtains open as the one and only story about the boy who was supposed to become the strongest assassin and the incompetent girl unfolds.
Kōryō Academy is a school for students who has Blaze, a soul's power to create a weapon. However, Thor's Blaze is irregular. It creates a shield instead of a weapon. The academy uses a special Duo system, at which students forming pairs and living together. Thor ended up being Julie's partner, and it's uncommon for a boy and girl sharing a room together.
The story is set in Areishia Spirit Academy, where girls from noble families are educated to become spirit contractors. A boy named Kamito, a male spirit contractor whose existence Was believed to be impossible, accidentally peeps on a girl named Clair while she was bathing, and forms a contract with the spirit she set her sights on. In order to make up for his mistake, Kamito must become Clair's contracted spirit.
References: ANN, MyAnimeList, Wiki