10 Anime Like The Irregular at Magic High School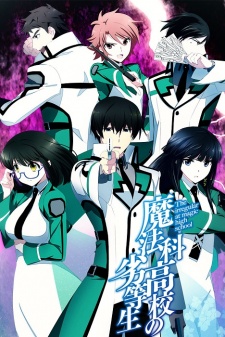 Here are my favorite picks for anime similar to The Irregular at Magic High School. The list is in no particular order!
For decades, the Galactic Empire has been locked in an interstellar war with the Free Planets Alliance, a conflict that involves thousands of spaceships and millions of soldiers on both sides. Two new commanders enter the conflict with great hopes: Imperial Admiral Reinhard von Lohengramm and the FPA's Yang Wen-Li. As they deal with superiors and subordinates, maneuver through complicated political arrangements, plot strategies, and win battles, each will be tested, and ultimately, changed, by the reality of war.
Genius gamer siblings (plus being NEET & hikikomori) Sora and Shiro are known as the undefeatable "__" (blank). Their talents and skills are so good they are considered as urban legend. One day, a young boy named Teto appears before them, claiming to be the "God" of another dimension where Sora and Shiro are summoned to, in which no violence is allowed and everything is decided by a game. Of the 16 different races residing in this world, "Humanity" is the weakest. After having the vast majority of their lands captured by the other races and being driven to the brink of extinction, Sora and Shiro challenge these one-of-a-kind battles of the intellectual powers in order to save Humanity.
Kamijou Touma is a student living in Academy City, a highly advanced place in terms of technology. Despite being gauged as a level zero esper (no powers), he possesses on his right hand the Imagine Breaker, an ability that negates any power whatsoever. Touma finds a young girl named Index who is trying to run away from Necessarius, a powerful magic organization that she is member of. Blessed with the skill of memorizing any sort of information, she holds 103,000 forbidden magical books within her head. As science and magic cross paths, Touma must face several dangers amid espers and magicians who appear at the exciting scientific town.
In the distant future, a polluted world has been overtaken by havoc-wreaking creatures called filth monsters. Humanity, having been forced to relocate itself, must live in isolated mobile cities called Regios. A mysteriously skilled fighter named Layfon Alseif enrolls in the Academy city of Zuellni and is immediately noticed by Nina Antalk, leader of the 17th Military Arts Unit. He then reluctantly joins her squad, uncertain of what future awaits him and his new teammates within the city as well as the impending dangers in the midst of a plagued world.
"The fourth true ancestor" is a legendarily strong vampire that shouldn't exist. Accompanied by the 12 "gun-beasts," this phantom vampire is said to have appeared in Japan. In order to find and kill this "fourth true ancestor," the government and the Lion King Organization order the dispatch of attack mages called "sword-maidens." For some reason an apprentice named Yukina Himeragi was chosen for the task. Wielding the strongest spiritual spear, Yukina comes to the special demon district Itokami City. There she encounters Kojou Akatsuki and learns the true nature of the "fourth true ancestor."
References: ANN, MyAnimeList, Wiki