7 Anime Like Masamune-kun no Revenge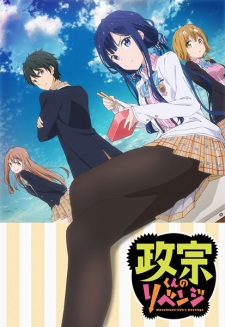 Here are my favorite picks for anime like Masamune-kun no Revenge. Keep in mind the list is in no particular order. Enjoy!
Nisekoi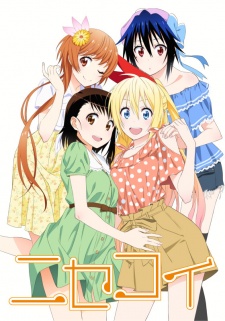 Raku Ichijou, a first-year student at Bonyari High School, is the sole heir to an intimidating yakuza family. Ten years ago, Raku made a promise to his childhood friend. Now, all he has to go on is a pendant with a lock, which can only be unlocked with the key which the girl took with her when they parted.
Now, years later, Raku has grown into a typical teenager, and all he wants is to remain as uninvolved in his yakuza background as possible while spending his school days alongside his middle school crush Kosaki Onodera. However, when the American Bee Hive Gang invades his family's turf, Raku's idyllic romantic dreams are sent for a toss as he is dragged into a frustrating conflict: Raku is to pretend that he is in a romantic relationship with Chitoge Kirisaki, the beautiful daughter of the Bee Hive's chief, so as to reduce the friction between the two groups. Unfortunately, reality could not be farther from this whopping lie—Raku and Chitoge fall in hate at first sight, as the girl is convinced he is a pathetic pushover, and in Raku's eyes, Chitoge is about as attractive as a savage gorilla.
Nisekoi follows the daily antics of this mismatched couple who have been forced to get along for the sake of maintaining the city's peace. With many more girls popping up his life, all involved with Raku's past somehow, his search for the girl who holds his heart and his promise leads him in more unexpected directions than he expects.
Yahari Ore no Seishun Love Comedy wa Machigatteiru.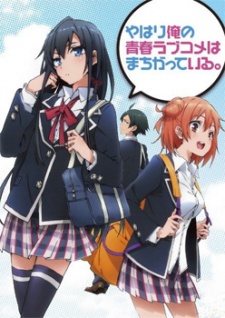 Hachiman Hikigaya is an apathetic high school student with narcissistic and semi-nihilistic tendencies. He firmly believes that joyful youth is nothing but a farce, and everyone who says otherwise is just lying to themselves.
In a novel punishment for writing an essay mocking modern social relationships, Hachiman's teacher forces him to join the Volunteer Service Club, a club that aims to extend a helping hand to any student who seeks their support in achieving their goals. With the only other club member being the beautiful ice queen Yukino Yukinoshita, Hachiman finds himself on the front line of other people's problems—a place he never dreamed he would be. As Hachiman and Yukino use their wits to solve many students' problems, will Hachiman's rotten view of society prove to be a hindrance or a tool he can use to his advantage?
Maid Sama
Being the first female student council president isn't easy, especially when your school just transitioned from an all boys high school to a co-ed one. Aptly nicknamed "Demon President" by the boys for her strict disciplinary style, Misaki Ayuzawa is not afraid to use her mastery of Aikido techniques to cast judgment onto the hordes of misbehaving boys and defend the girls at Seika High School.
Yet even the perfect Ayuzawa has an embarrassing secret—she works part-time as a maid at a maid café to help her struggling family pay the bills. She has managed to keep her job hidden from her fellow students and maintained her flawless image as a stellar student until one day, Takumi Usui, the most popular boy in school, walks into the maid café. He could destroy her reputation with her secret… or he could twist the student council president around his little finger and use her secret as an opportunity to get closer to her.
Skip Beat!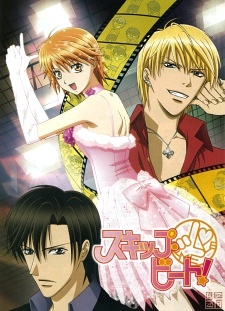 Bright, diligent, and yet naïve 16-year-old Kyouko Mogami works hard to support the career and dreams of her childhood friend, crush, and rising pop icon, Shoutarou Fuwa. Toiling endlessly at burger joints and tea ceremonies, the innocent Kyouko remains unaware that day in day out, all her tireless efforts have been taken for granted, until, one day, she finds out that her beloved Shou sees her as nothing but a free servant. Shocked, heartbroken and enraged, she vows to take revenge on the rookie star by entering the ruthless world of entertainment herself. As she steps into this new life, Kyouko will face new challenges as well as people who will push her out of her comfort zone.
Based on the best-selling shoujo manga by Yoshiki Nakamura, Skip Beat showcases the growth of a young woman who slowly unlearns how to work herself to the bone for the satisfaction of others and takes her future into her own hands instead.
Watashi ga Motete Dousunda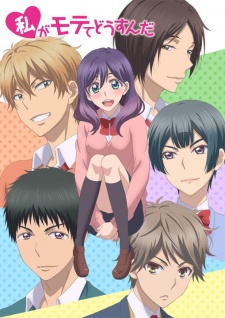 Kae Serinuma is a second year high schooler and an avid fujoshi who secretly ships her classmates, Igarashi-kun and Nanashima-kun. The death of her favorite anime character causes her to become stressed—and loses weight rapidly. Now that Serinuma has become an attractive girl to her classmates, her snarky kouhai Shinomiya-kun, and her senpai Mutsumi, how is she going to deal with them …with her constant BL-filled, fujoshi mind?!
Boku wa Tomodachi ga Sukunai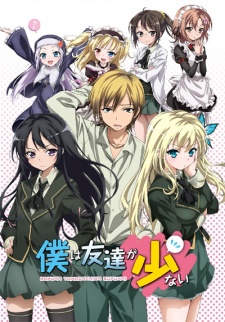 When Kodaka Hasegawa finds out that he will be transferring to a new school, he is determined to make a positive impression, and maybe even some friends. However, Kodaka discovers he is out of luck when he immediately gets labeled as a violent delinquent due to his blond hair and intimidating expression. Although a month has passed, Kodaka is still alone thanks to his notorious reputation. However, his life begins to change when he finds fellow loner Yozora Mikazuki talking to her imaginary friend in an empty classroom.
After sharing stories of their lonely high school life, Kodaka and Yozora decide to overcome the difficulties of making friends together by starting the Neighbor's Club. Created for people who don't have friends, daily activities involve learning social skills and how to fit in, which will hopefully allow them to make friends. Joined by the eroge-loving Sena Kashiwazaki, and other eccentric outcasts, Kodaka may finally have managed to find people he can call friends, in this club filled with hilarious oddballs.
Toradora!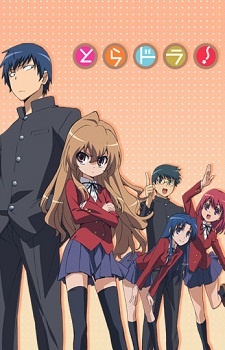 Ryuuji Takasu is a gentle high school student with a love for housework; but in contrast to his kind nature, he has an intimidating face that often gets him labeled as a delinquent. On the other hand is Taiga Aisaka, a small, doll-like student, who is anything but a cute and fragile girl. Equipped with a wooden katana and feisty personality, Taiga is known throughout the school as the "Palmtop Tiger."
One day, an embarrassing mistake causes the two students to cross paths. Ryuuji discovers that Taiga actually has a sweet side: she has a crush on the popular vice president, Yuusaku Kitamura, who happens to be his best friend. But things only get crazier when Ryuuji reveals that he has a crush on Minori Kushieda—Taiga's best friend!
Toradora! is a romantic comedy that follows this odd duo as they embark on a quest to help each other with their respective crushes, forming an unlikely alliance in the process.
References: Myanimelist