8 Anime Like Mirai Nikki(Future Diary)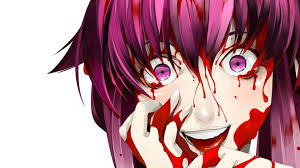 Here are my favorite picks for anime like Mirai Nikki. The list is in no particular order. Enjoy!
The Diclonius, a mutated homo sapien that is said to be selected by God and will eventually become the destruction of mankind, possesses two horns in their heads, and has a "sixth sense" which gives it telekinetic abilities. Due to this dangerous power, they have been captured and isolated in laboratories by the government. Lucy, a young and psychotic Diclonius, manages to break free of her confines and brutally murder most of the guards in the laboratory, only to get shot in the head as she makes her escape.
She survives and manages to drift along to a beach, where two teenagers named Kouta and Yuka discovers her. Having lost her memories, she was named after the only thing that she can now say, "Nyuu," and the two allow her to stay at Kouta's home. However, it appears that the evil "Lucy" is not dead just yet…
Ganta Igarashi has been convicted of a crime that he hasn't committed, and sent to a new, privately owned and operated prison, where the inmates are the main attraction in a modern day twist to the gladiatorial coliseums of ancient times. Throw in a healthy dose of weird little girl, some new-found super powers, and a little conspiracy theory, and you have Deadman Wonderland.
On one hot summer day in 1983, a transfer student named Maebara Keiichi comes to a peaceful rural village in Hinamizawa. There, he befriends his classmates Rena, Mion, Rika, and Satoko. Accepted as a full-fledged member of the "club," Keiichi and the gang plays all sorts of activities ranging from card and board games to hide-and-seek. But just as Keiichi was beginning to be assimilated in simple rural life, he stumbles upon the dark history of Hinamizawa. As Keiichi dives deeper into the mystery, he finds that his new found friends may not be all what they claim to be.
Jū Jūzawa is a delinquent high school boy who just wants to be left alone. One day, he is approached by Ame Ochibana, who claims that she knew him in a previous life, and now wants to serve him as his "knight". At first Jū wants nothing to do with Ame, but after a classmate is murdered, he accepts her help as he looks for the killer.
References: ANN, MyAnimeList, Wiki