7 Anime Like Overlord [Top Picks]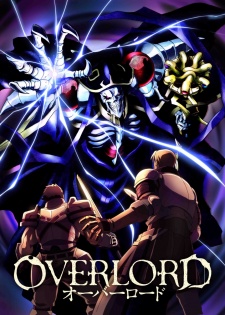 Here are some anime very similar to Overlord. Keep in mind the list is in no particular order. Enjoy!
Elder Tales is an online fantasy RPG that has become popular worldwide. But when its twelfth expansion package, "Cultivate the Noosphere," is installed, thirty thousand players in Japan are trapped inside. Among them is grad student Shiroe, who isn't very good at interacting with others. But to survive in a world full of monsters, he forms a guild called "Log Horizon" with an eclectic group of other players.
Genius gamer siblings (plus being NEET & hikikomori) Sora and Shiro are known as the undefeatable "__" (blank). Their talents and skills are so good they are considered as urban legend. One day, a young boy named Teto appears before them, claiming to be the "God" of another dimension where Sora and Shiro are summoned to, in which no violence is allowed and everything is decided by a game.
Of the 16 different races residing in this world, "Humanity" is the weakest. After having the vast majority of their lands captured by the other races and being driven to the brink of extinction, Sora and Shiro challenge these one-of-a-kind battles of the intellectual powers in order to save Humanity.
As an adventurer living in Orario, Bell Cranel becomes the only member of Hestia Familia. Although he was very weak compared to veteran dungeon crawlers, he gained a special skill that enables him to become stronger quickly as long as his feelings towards Aiz, the Sword Princess whom he looks up to, does not change. With the help of his Goddess, Hestia and other people who cares for him, he vows to be strong enough to stand side-by-side with Aiz and protect everyone important to him.
In a world where magic is not a fairy tale but has existed for one hundred years siblings Tatsuya and Miyuki Shiba prepare to begin their studies at the elite Private Magic University Affiliated High School (Magic High School for short). Entering on different levels of the academic spectrum the two turn the once peaceful campus into a chaotic one.
Detroit Metal City (DMC) is a quickly rising independent death metal band. They garner fame by performing wild live shows and writing songs filled with hate, violence, and rape. The band is fronted by Sōichi Negishi, who takes on the stage name Krauser II. On stage he is a wild, unchained beast. Off-stage he is a tranquil, tender-loving person who enjoys Swedish pop music. He hates himself as Krauser and his two personalities collide, making his private life very difficult.
The players of a virtual reality MMORPG, Sword Art Online, are trapped and fighting for their very lives. After it is announced that the only way to leave the game is by beating it, Kirito—a very powerful swordsman—and his friends take on a quest to free all the minds trapped in Aincrad.
Amidst a popular online role playing game in the near future, characters try to play out the goals they set for entertainment and passing of time. The World as the RPG is called is one with a setting of monsters, player characters and dungeons. Tsukasa is a detached and introverted character that has a number of mysteries about his player character. Many weird happenings seem to suround Tsukasa and his involvement in a rare item called 'The Key Of The Twilight' sparks Tsukasa'a meeting with different online characters and the befriending of their real life counterparts;
All without ever meeting face to face in reality. What is strange about Tsukasa is that he can't seem to log out of The World. Subaru and Silver Knight of The Crimson Knights continue to look for proof of why Tsukasa can not log out or the existance of The Key Of The Twilight. Meanwhile Bear, Mimiru, and BT as Tsukasa's friends try to help him understand who he really is and how he can return to the real world.
There you have it! Pick one and watch it!
References: ANN, MyAnimeList, Wiki