7 Anime Like Rokka: Braves of the Six Flowers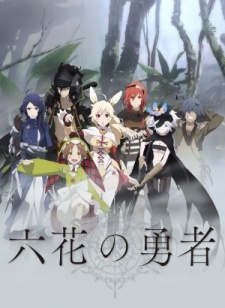 Here are my top picks for similar anime to Rokka no Yuusha, which is the Japanese official title. The list is in no particular order. Check them out and watch those that peak your interest!
Mistarcia is a magical world where humans, gods, and demons mingle together. In the past, the black-and-silver winged Bahamut has threatened to destroy the land, but humans, gods, and demons overcame their differences to fight together and seal its power. The key to that seal was split in two, one half given to the gods and the other to demons, so that they would never be united and Bahamut never released. Now, two thousand years later, the world is in an era of peace – until the day a woman steals the gods' half of the key.
In a world where humans and non-humans have not yet been separated, the kingdom of Leones is protected by the Holy Knights, powerful magic users both revered and feared by the people. Supposedly the strongest, most fearsome of these knights, the Seven Deadly Sins, betrayed the kingdom and made enemies of all the other knights. Queen Elizabeth doesn't believe this story, and sets out to find the Sins – but when she meets the first Sin at a tavern, his name is Melodias, and he's nothing but a boy in charge of the pigs.
Being just a normal student without a special talent, Makoto Naegi wins a lottery to attend the prestigious Hope's Peak Academy where only the top prodigies attend. However, instead of this being the beginning of a wonderful high school life, it's a ticket to despair, because the only way to graduate from Hope's Peak Academy is to kill one of your fellow students or be one of their victims.
King Il of Kouka, a land said in legends to have been founded by four dragons, has only one remaining heir, a daughter named Yona. She lives a happy life in the palace with her cousin Soo-won, who she loves in spite of her father's opposition to them marrying. Her life is turned upside down when Soo-won murders her father and steals the throne. Yona, with her childhood friend and bodyguard Hak, must retreat to gather allies and reclaim her place as ruler of the kingdom.
On 4 October 1986, Kinzo Ushiromiya, the head of a wealthy family, who lives on and owns Rokkenjima, a secluded island, is near death, and eight of his family members arrive on the island to discuss how Kinzo's assets will be divided once he is dead. Also on the island are three family members who live there, five of Kinzo's servants, and his personal physician. After the eight family members arrive, a typhoon traps them on the island and shortly after people begin to be mysteriously murdered.
When Kōichi Sasakibara transfers to his new school, he can sense something frightening in the atmosphere of his new class, a secret none of them will talk about. At the center is the beautiful girl Mei Misaki. Kōichi is immediately drawn to her mysterious aura, but then he begins to realize that no one else in the class is aware of her presence.
Shirou Emiya lost his parents in a fire when he was young and was later adopted by a sorceror by the name of Kiritsugu Emiya. Although he was full of admiration for his adopted father and yearns to become an ally of justice, Shirou has limited powers and was unable to become a strong sorceror like his father. That is until one fateful day, he was drawn into the Holy Grail War and had to summon a female "Servant" known as Saber in order to protect himself.
It turns out that the Holy Grail War involves a series of battles among powerful sorcerors to fight for the possession of a relic that will grant one's wishes, the Holy Grail. There are altogether seven "Masters" who can summon their respective "Servants" from different classes known as Saber, Archer, Rider, Berserker, Lancer, Caster and Assasin. These "Servants" have to hide their names in order not to reveal their weaknesses to the enemies. The story revolves around Shirou and his entanglement in the Holy Grail War.
References: ANN, MyAnimeList, Wiki