6 Anime Like Seiyu's Life [That is a Voice Actor]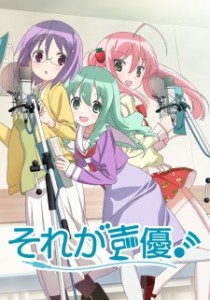 Here are my favorite picks for anime like Seiyu's Life. Keep in mind the list is in no particular order. Enjoy!
A "shirobako" refers to the white box into which a finalized tape of a film is put, full of the effort of everyone who worked on it. Five girls have their eyes set on getting in a white box as they try to find success in the anime industry through writing, production, and voice acting.
Koe de Oshigoto! is a story about Kanna Aoyagi, a sixteen-year-old girl who was asked to become a voice actress for eroge (erotic game) by her older sister on Kanna's sixteenth birthday. Kanna does not want to become a voice actress at first, but after she thinks about all of the things her sister did for her when she was growing up, and knowing that she owes her, she finally agrees.
However, Kanna is still very nervous about being a voice actress for such games. As the story progresses, she becomes more and more comfortable with the requirements of the job. She is helped along by both her coworkers and a classmate who also does work on eroge in his spare time.
Moritaka Mashiro and Akito Takagi are pretty much foils of each other. Mashiro, an average 9th grade student but talented artist, and Takagi, an overall advanced 9th grader and aspiring writer. After great convincing, Takagi convinces Mashiro to join him in becoming the greatest mangakas Japan has ever seen. Takagi, with his gift of writing, hopes to become a successful mangaka, and Mashiro, with his gift of art, hopes to marry the girl of his dreams, Azuki Miho.
Five girls came to a training school to become voice actresses holding each thought in her mind. Momoko – she wanted to be a voice actress to meet her favorite voice actor. Rinka – she is an armature voice actress, but she didn't have special purpose to become voice actress. Yurika – she likes anime very much. Tsubasa – she was a girl in love, and acted only as a boy. Amane – she found a deadlock as a actress and tried to find another way. They managed to get over the difficulty to become voice actress although they couldn't perform as main characters yet. There is a love romance with a boy works for an anime company, and you can catch a glimpse of situations of anime industries.
Fumihiko Matsumaru is an average salaryman with no girlfriend. He invited his colleague Miss Tanaka to a movie but was stood up. Right at the time he was about to toss tickets into a trash can, a cute girl appeared and asked him not to waste those two tickets. After movie and dinner, he escorted her home and found they live in the same neighborhood, yet unfortunately her apartment caught on fire hours later. Having nowhere else to stay, rookie seiyuu Aka Onda moved to Matsumaru's place, and the two had started a "more than friend but not yet lovers" relationship under the same roof while keeping this secret from their employers.
Sasahara Kanji is a college freshman who decides to join a student society to share his hidden thoughts on manga, anime and gaming. When he first visited Genshiken, short for "Gendai Shikaku Bunka Kenkyuu Kai" (Society for the Study of Modern Visual Culture), his groundless pride was destroyed by the plotting of Madarame, a sophomore student in Genshiken, but he still couldn't admit that he is an otaku.
However, as he participates in society activities such as visiting dojin (private publishing) shops and anime festivals, and hangs out with other society members Kosaka (a hardcore otaku despite his extreme eccentricities and good looks), Kosaka's girlfriend Kasukabe Saki (who isn't really an otaku), Ohno (a cosplayer) and the others, he opens his mind and resolves that he will make his way into the otaku world. With their help, Sasahara slowly adjusts to otaku life in Genshiken.
References: ANN, MyAnimeList, Wiki