9 Anime Like The Seven Deadly Sins [Nanatsu no Taizai]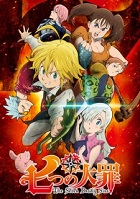 This is one of the more exciting adventure animes. Here are my top picks for anime like The Seven Deadly Sins. The list is in no particular order. Enjoy!
Lucy is a 17-year-old girl, who wants to be a full-fledged mage. One day when visiting Harujion Town, she meets Natsu, a young man who gets sick easily by any type of transportation. But Natsu isn't just any ordinary kid, he's a member of one of the world's most infamous mage guilds: Fairy Tail.
Humans live in the world of Assiah, demons in Gehenna. The two dimensions are not meant to interfere with each other, but demons still possess creatures in Assiah in spite of this. The humans who can fight these demons are known as exorcists. Rin Okumura is a boy who bears the curse of being Satan's illegitimate son. His foster father sacrificed himself to save him from demons. To avenge his foster father's death as well as to prove himself, Rin decides to follow the path of an exorcist.
King Il of Kouka, a land said in legends to have been founded by four dragons, has only one remaining heir, a daughter named Yona. She lives a happy life in the palace with her cousin Soo-won, who she loves in spite of her father's opposition to them marrying. Her life is turned upside down when Soo-won murders her father and steals the throne. Yona, with her childhood friend and bodyguard Hak, must retreat to gather allies and reclaim her place as ruler of the kingdom.
When the Majin awoke from the depths of darkness, the deity of fate chose six heroes and bequeathed them with the power to save the world. Adlet, a boy who proclaims himself the strongest on Earth, was selected among the Rokka no Yūsha (Braves of the Six Flowers), and he goes to the rendezvous point — but seven have gathered there. The heroes suspect that someone among the seven is the enemy, and the initial suspicion falls on Adlet.
Before he was executed, the legendary Pirate King Gold Roger revealed that he had hidden the treasure One Piece somewhere in the Grand Line. Now, many pirates are off looking for this legendary treasure to claim the title Pirate King. One pirate, Monkey D. Luffy, is a boy who had eaten the Devil's Fruit and gained rubber powers. Now he and his crew are off to find One Piece, while battling enemies and making new friends along the way.
In the near future, mankind has suffered from a Third World War, leaving extreme damage all over and forced mankind to become even more distinct from their species. The world was at chaos and from this chaos comes a new species: "Needless". The Needless are humans who have contracted a "disease" as humans may call them, and allow them to wield extraordinary powers far superior to any mankind. Their abilities include telekinesis, elemental powers, gravity control, adaptation, radioactive release, and all manners of scientific impossibility.
After defeating Majin Buu, life is peaceful once again. Ordered by Chi-chi to earn money, Goku works even as he wants to train even more. Meanwhile, Goten, about to become a brother-in-law to Videl, sets out on a journey with Trunks to find her a present.
The story follows Issei Hyōdō, a dim-witted, lecherous second-year high school student who is killed by a girl on his first date ever. Issei is reincarnated as a devil, and from that day forward, he serves as an underling of Riasu, a high-level devil who is also the prettiest girl on Issei's campus.
Ryuuko Matoi carries a large weapon shaped like half of a pair of scissors. She's looking for the woman with the other half, who killed her father. Satsuki Kiryuuin, student council president of Honnouji Academy, is said to know the woman's identity, so Ryuuko transfers there. Those who arrive at the school receive a special "goku uniform", and Satsuki has used that power to rule the school in fear.
References: ANN, Wiki, MyAnimeList