15 Good Anime Like Tokyo Ghoul √A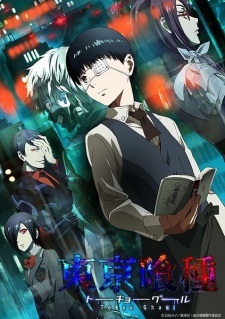 Tokyo Ghoul can be shocking and gory, but it is quite entertaining. Here are my top picks for similar anime to Tokyo Ghoul. The list is in no particular order.
When Kōichi Sasakibara transfers to his new school, he can sense something frightening in the atmosphere of his new class, a secret none of them will talk about. At the center is the beautiful girl Mei Misaki. Kōichi is immediately drawn to her mysterious aura, but then he begins to realize that no one else in the class is aware of her presence.
Hellsing follows the antiheroic vampire, Alucard, and a police girl-turned-vampire, Seras Victoria, two vampires employed by the vampire-extermination group of England, the Hellsing Organization. Slowly but surely, through their active duty, they find a new breed of vampires beginning to arise.
In a world rife with deadly creatures called "youma", a young silver eyed woman, Clare, works on behalf of an organisation that trains female youma halfbreeds into warriors with the ability to destroy these creatures. Considered a rogue for picking up a stray child & almost losing herself to her youma side by "Awakening", she is constantly assigned rather dangerous missions…
Several hundred years ago, humans were nearly exterminated by giants. Giants are typically several stories tall, seem to have no intelligence, devour human beings and, worst of all, seem to do it for the pleasure rather than as a food source. A small percentage of humanity survived by enclosing themselves in a city protected by extremely high walls, even taller than the biggest of giants.
Flash forward to the present and the city has not seen a giant in over 100 years. Teenage boy Eren and his foster sister Mikasa witness something horrific as the city walls are destroyed by a super giant that appears out of thin air. As the smaller giants flood the city, the two kids watch in horror as their mother is eaten alive. Eren vows that he will murder every single giant and take revenge for all of mankind.
Shinichi Izumi is a normal high school boy whose right hand has become infected with an alien parasite that names itself "Migi" ("right"). Migi is the first parasite to develop a symbiotic relationship with its host, as he and Shinichi slowly develop a grudging friendship. Migi isn't the only Parasite on earth, however, and as cases of Parasites killing humans begin to emerge, humans seek to kill off Parasites. Shinichi and Migi find themselves caught in between these two sides of the struggle over planet earth.
Yukiteru Amano (Yuki) is a loner who never really interact with people and prefers writing a diary on his cell phone with his only companion being an imaginary friend named Deus Ex Machina, the God of Time and Space. However, Yuki soon learns that Deus is not a figment of his imagination but real when Deus makes him a participant in a battle royale with eleven others. Within this "Diary Game", the contestants are given special diaries that can predict the future with each diary having unique features that gives them both advantages and disadvantages.
Growing up with an abusive father, Utsutsu is highly protective of his younger sister Yume. One day, Yume sees a red butterfly and contracts the strange Pupa virus. She begins to sprout grotesque wings and to indiscriminately attack both animals and humans. Hoping to find a way to stop the advance of the virus, Utsutsu seeks out Maria, a researcher who knows the secret of Pupa. He decides to sacrifice his own body as live bait for the sake of saving Yume.