8 Anime Like My Teen Romantic Comedy SNAFU Too!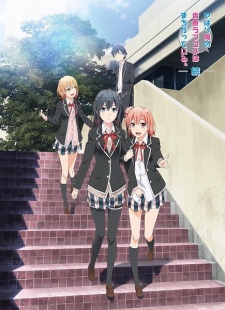 Here are my top picks for anime like My Teen Romantic Comedy SNAFU Too! Keep in mind the list is in no particular order. Enjoy!
Fall, when graduation is only half a year away. Haruki Kitahara, the final member of the light music club that dissolved, plays his guitar by the window after school in preparation for the school festival. It was the one and only adventure of a good student who spent two diligent years on his studies.
But when a flowing piano melody and a voice as a clear as bell harmonize with his guitar… He goes from being alone, to being two, then three in the light music club, as the semester he dreamed of, no, hoped for, began.
Hōtarō Oreki doesn't like to do things that he considers a waste of energy. However, things start to change when he enters high school because even though he does not want to join any non-compulsory school activities, his older sister requested that he join the memberless Classic Literature Club so that it won't get abolished.
Unbeknownst to him, another student, Eru Chitanda, already planned to join; but instead of being free from club obligations, Hōtarō eventually joined as he is strangely unable to refuse or escape from Eru's passionate gaze of curiosity. Together with his friends Satoshi and Mayaka, they began to discuss a variety of mysteries in school that only Hōtarō seems to be able to solve, including the mystery that lingered on from Eru's childhood memory.
Kodaka Hasegawa is a recent transfer student to St. Chronica's Academy, a Catholic high school. As with every other school he has ever attended, he finds it difficult to make friends there because of his naturally-blond hair and fierce-looking eyes, which make him look like a dangerous "yankee" to his prejudiced schoolmates.
One day, Kodaka accidentally comes across the equally solitary and very abrasive Yozora Mikazuki while she converses with her imaginary friend Tomo. Realizing that neither of them have any social lives, they decide that the best way to improve their situation is to form a club: the Neighbor's Club precisely intended to make friends and learn social skills.
Despite Ryuji Takasu's gentle personality, his eyes make him look like an intimidating delinquent. Class rearrangements on his second high school year put him together with his best friend, Yusaku Kitamura, and his hidden crush, Minori Kushieda. Along with these two comes Kushieda's best friend, Taiga Aisaka. Her delicate appearance contrasts with her brutal personality. Secretly in love with Kitamura, Taiga agrees to help Ryuji with his love interest as long as he helps her get closer to hers.
Kokoro Connect revolves around the daily, not so normal lives of Taichi, Iori, Himeko, Yoshifumi and Yui and their encounters in the Cultural Research Club. Up until recently they thought that they and their friends lived normal happy lives, but now the Heartseed is pulling their lives apart and exposing their inner secrets through body switching, urges and age regression.
Dating sim master Keima Katsuragi wants nothing more than to immerse himself in the 2D world, chasing digital girlfriends. But when the so-called "Capturing God" answers a mysterious email from an unknown sender, Keima finds himself chasing down real-life ladies in an attempt to help the peppy demon Elsie de Lute Irma capture "lost souls" escaped from the depths of hell. Now, lest the explosive collar around his neck detonate, Keima must convince various girls to fall in love with him in order to scare out the souls hiding in their hearts.
On the first day of high school a beautiful girl named Haruhi Suzumiya introduces herself as having "no interest in ordinary humans". She asks for any aliens, time travelers, sliders or espers to join her. Watching her weird behaviour is Kyon who sits in front of Haruhi and is the only person who talks to her. When Kyon comments about Haruhi's joining every club in school and then quitting he unwittingly gives Haruhi an idea to start her own after school club. Thereafter Kyon and several others find themselves dragged, literally, into the Save our world by Overloading it with fun Suzumiya Haruhi's Brigade (the S.O.S. Brigade for short).
Kyoutarou Kakei has always had an affinity towards books in hopes to find answers to his life. With a mentor's promise, he continues to search for a book with his absolute hope. However, this changes when he receives a foretelling message saying that "Today, something will happen that will change your fate. –From the Shepherd." Due to this premonition, his normal school life at Shiomoi Academy becomes entangled due to the optimistic Tsugumi Shirasaki and the Shimoi Happy Project.
References: ANN, MyAnimeList, Wiki