8 Anime Like Terror in Resonance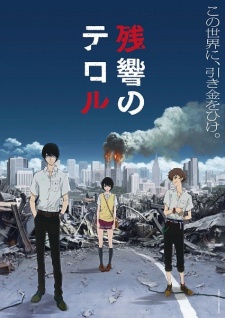 Here are my favorite picks for similar anime like Terror in Resonance. The list is in no particular order, so pick a few that you like best in terms of feel and story.
The series takes place in the near future, when it is possible to instantaneously measure and quantify a person's state of mind and personality. This information is recorded and processed, and the term "Psycho-Pass" in the anime's title refers to a standard used to measure an individual's being. The story centers around the "enforcement officer" Shinya Kōgami, who is tasked with managing crime in such a world.
Kenzou Tenma, a Japanese brain surgeon in Germany, had it all: incredible skill at his work, a rich and beautiful fiancee, and a promising career at his hospital. However, after becoming disenchanted by hospital politics, he chose to save the life of a young boy who got shot in the head over the life of the mayor. As a result he lost the support of the hospital director, as well as his position in the hospital and his fiance. A short time later, the hospital director and the doctors that replaced him were murdered, and once again he was catapulted back onto the top.
But as the chief suspect of the murders, Tenma did not get a easy life. As a matter of fact, it seems that the boy he saved was much more than he had appeared to be… Now to clear his name and to correct his past mistake, Tenma must get to the bottom of these and other murders, and investigate the truth of the Monster who is behind all of this.
Himari Takakura passes away after going out on a trip with her brothers, twins Kanba and Shōma. She was, however, miraculously saved by a spirit in a penguin-shaped hat. In return for her extended life, the twins must search for an item known as the Penguin Drum with the aid of three penguins, which are visible only to the siblings.
Ryūgamine Mikado is a boy who longs for the exciting life of the big city. At the invitation of his childhood friend Masaomi, he transfers to a school in Ikebukuro. Masaomi has warned him about people he doesn't want to cross in the city: a champion fighter, an informant, and a mysterious gang called "Dollars."
Nervous from Masaomi's stories, Mikado witnesses an urban legend on his first day in the city, the Headless Rider astride a black motorcycle. From then on, the existence of supernatural cases and a gang called the Yellow Scarves will rise to the surface, and Ikebukuro will pushed to the breaking point.
A spate of mafia assasinations occurs in America, the work of the mysterious organization named Inferno. "Phantom" is their most strongest and capable assassin, however a lone tourist witnesses Phantom's latest act of murder. He unwittingly exposes the top assassin's true identity, a young girl named Ein. Witnesses are usually killed, but the man is captured and taken to be brainwashed into "Zwei", Inferno's newest assassin, with no memory of who he is. From this point on, Zwei is drawn into a world of conspiracy, deceit and violence.
The Empire of Britannia has invaded Japan using giant robot weapons called Knightmare Frames. Japan is now referred to as Area 11, and its people the 11's. A Britannian who was living in Japan at the time, Lelouch, vowed to his Japanese friend Suzaku that he'd destroy Britannia. Years later, Lelouch is in high school, but regularly skips out of school to go play chess and gamble on himself. One day, he stumbles on terrorists 11's who've stolen a military secret and is caught by a member of the Britannian task force sent after them, who is Suzaku.
As the rest of the squad arrives, Suzaku is shot for disobeying orders, while the military secret, a young girl, gives Lelouch the power of Geass, which makes anyone obey any order. While Suzaku is secretly made the pilot of Britannia's brand new prototype Knightmare, Lancelot, Lelouch becomes the masked Zero to lead the rebellion to destroy Britannia once and for all.
Yagami Light is an ace student with great prospects, who's bored out of his mind. One day he finds the "Death Note": a notebook from the realm of the Death Gods, with the power to kill people in any way he desires. With the Death Note in hand, Light decides to create his perfect world, without crime or criminals. However, when criminals start dropping dead one by one, the authorites send the legendary detective L to track down the killer, and a battle of wits, deception and logic ensues…
Rintaro Okabe is a self-proclaimed "mad scientist" who believes that an international organization is conspiring to reshape the world according to its own interests. He and his friend Itaru Hashida inadvertently create a gadget able to send messages to the past. The discovery and experimentation of this instrument become the catalyst of fundamental alterations to the present. Oblivious of the consequences of their actions, Rintaro and his friends end up creating modifications of grievous proportions. He must then try to find a way to return as close as possible to the original timeline in order to save his precious lab members.
References: ANN, MyAnimeList, Wiki