Bakusou Kyoudai Let's & Go!! WGP Bousou Mini Yonku Daitsuiseki
Bakusou Kyoudai Let's & Go!! WGP Bousou Mini Yonku Daitsuiseki
爆走兄弟レッツ&ゴー!! WGP 暴走ミニ四駆大追跡!
(Bakusou Kyoudai Let's & Go!! WGP Bousou Mini Yonku Daitsuiseki)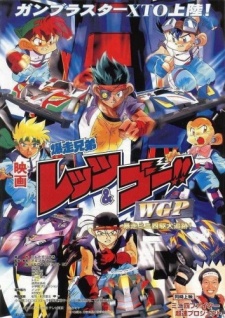 Rion gets tricked into installing a chip into his racing car called "Gun Bluster" by the mini-4wd company he was associated with. His car starts racing without control and causing various riots with fellow racers, Rion teams up with the TRF Victorys and start chasing after Gun Bluster to remove the chip. Rion, Retsu and Go Seiba along with the other TRF members, Ryo Takaba with the help of his little brother, Jiromaru, Tokichi and J are confroted with an association that is also after Gun Bluster, but what are their intentions? United along-side their trademark mini-4wd, the TRF's and Rion race together and avoid traps to safelly capture Gun Bluster!