Koe de Oshigoto!
こえでおしごと! The ANIMATION
(Koe de Oshigoto! The Animation)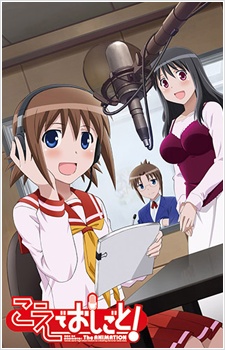 Kanna Aoyagi never really knew what her older sister Yayoi did for a living, until she turns sixteen. That's when she finds that not only does Yayoi make erotic games (eroge), but she wants Kanna to become a voice actress for her upcoming production. At first, Kanna refuses. But one guilt trip later, Kanna winds up in the recording booth anyway, learning the ropes of eroge voice acting. How can Kanna, who's too embarrassed to even say the mildest crude words, become a voice actress for Rated-18 games? To make matters worse, she has to keep her new day job a secret from her high school friends, and must perform in front of her older sister and her sister's (male!) childhood friend. Soon, Kanna learns that what she lacks in experience, she makes up for with her vivid imagination. As it turns out, she might have what it takes to success after all.