Top 6 Best 8 Inch Windows Tablet for 2016 [Review and Recommendations]
Today, we will be going over the things you should know about the Windows Tablet before heading over to retail stores to buy one. We have gathered some of the best from the market and share with you our finds.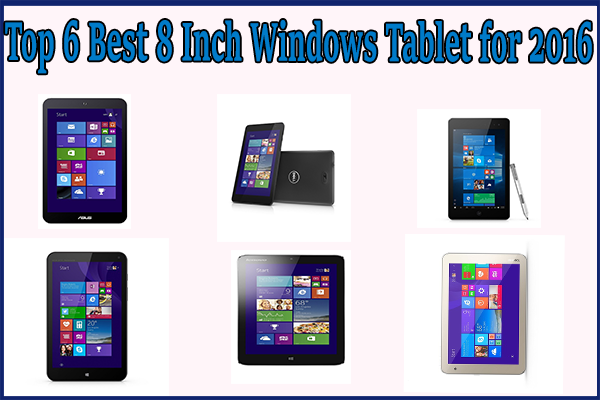 A) Operating System
Windows 8 can give you a confusing experience when you are juggling between multiple programs and apps. In the classic desktop mode, you can open floating windows that can be move around and in the Metro mode, one can pin apps such as Live Tiles that gets updated in the background. However, if you are trying to run legacy programs like Photoshop then you will have to tap at small spaces for menus and for selecting things.
Windows 10 is the newest version of windows and it makes windows more seamless than before. With Windows 10 tablet users will get large touch-friendly window controls and buttons and Tablet Mode that will expand to Start mode and fill the whole screen and numerous other touch-screen gestures. Windows 10 will get regularly updated from Microsoft and all new apps will work better in the newest version of windows. So it makes sense to opt for Windows 10.
B) Storage
Stand-alone tablets will typically come with 16 GB storage on the low end and up to 128 GB on the higher end. If you do not want to use your tablet much then you will find that a 16 GB tablet a bit too constraining for your needs. So it makes sense to pay a little more and get at least 32 GB of storage space.
C) Battery Life
Most of the tablets will get you an all-day battery life but it can still vary a bit. On an average the devices run for 8 hrs and 45 min before the batteries dry out. It is recommended that you look for tablets that run for 7 hrs at least on a single charge.
D) Screen Resolution
It is recommended that at the time of buying a tablet you settle for a large screen and a high screen resolution which will ensure an enjoyable user experience. The most common resolutions are 800 x 600, 1024 x 600, 1024 x 768, 1280 x 800 & 2048 x 1536. The diagonal screen size of the tablets is available in 2 variants – 8.4 inches and the larger 10.1 inches.
E) Speed
Processor speed is very important when you consider buying a tablet. Basically this is the chip that drives the tablet. A tablet which has a quad-core processor will definitely perform better than a tablet which runs on dual-core processor.
Best Small Window 8 Inch Tablet Recommendations
1) ASUS VivoTab 8 M81C-B1-BK 8-Inch 32GB Tab (Black)
[asa2]B00OBQ5A18[/asa2]
Asus Vivo Tab 8 is an ultra-portable windows 8 tablet. It boasts of IPS HD display and an elegant aesthetic design that immediately catches your attention. The windows 8.1 OS lets you switch seamlessly between the Modern Interface and the traditional desktop as needed. Office 365 personal is pre-installed on this tab and you also get touch enhanced versions of MS Word, Excel, PowerPoint & OneNote. The battery lasts for 8 hours and 32GB of storage space and up to 64 GB of MicroSD which gives plenty of space for your apps and files.
2) HP Stream 8 Tablet 32GB Windows 8.1 Signature Edition + Office 365 Personal
[asa2]B00NSHLUFQ[/asa2]
The tab comes in 2 variants – 7 inch and 8 inch with 4G connectivity. The Stream 8 tablet comes with a 1 year subscription to Office 365 Personal and also includes 200 MB (T-Mobile) 4 G data each month till the life of the device. It has a screen resolution of 1280 x 800, processor of 1.3 GHz Intel Atom & 1 GB DDR3L RAM.
3) Lenovo Idea Tab Mix 2 8 8-Inch 64 GB Tablet
[asa2]B00F2ENU7Y[/asa2]
The Miix is a Windows 8 tablet that has an 8" wide-view HD display well complemented by dual-core processing, 64 GB of storage and MS Office. The device is very light in weight and lets you browse the internet on the go without any hiccups. You can work and play at your own will with the help of the powerful 1.33 GHz Intel quad-core processor. The device easily delivers 10 hours of battery life and has 64 GB Flash memory.
4) HP Envy 8 Note 5002 8″ 32 GB Tablet
[asa2]B016S0W3VO[/asa2]
HP Envy 8 Note is one of the most sought after Windows tablet in the world today. The star here is the stylus. In fact, it is the best stylus you will ever get with any tablet. Windows 10 has a huge number of tools to make use of the pen text and drawing input. The high resolution screen and the gorilla glass protection makes this tablet stands out among its peers. The typing experience here is very good and is actually better than using an on-screen keyboard. You can connect your Bluetooth mouse and keyboard and use it as a full fledged PC.
5) Toshiba Encore 2 WT8-B32CN 8.0-Inch 32 GB Tablet gold
[asa2]B00KK8S1IU[/asa2]
This tablet has a front facing 2.0 MP camera which allows you to use the Skype perfectly. The back camera also has the same resolution. The screen is very bright and the response of the touch screen is superb, to say the least. You can check your emails, watch Netflix and read all your E-books. The One Drive Cloud is a huge advantage here and programs can be installed on the internal memory or on the removable microSD chip. The display is awesome and the sound from the speakers is just perfect.
6) Dell Venue 8 Pro 5000 Series 32 GB Windows 8.1 Tablet
[asa2]B00NGXW8TO[/asa2]
This 8" tablet weighs less than the iPad Mini but runs Full Windows 8.1. Can you get anything better than this? It comes in a slim plastic body that actually looks and feels good and the spiraled textured back ensures a sturdy grip. There is no SIM card slot but 1 micro-SD card slot and 1 micro-USB port. The booting time is only about 10 seconds which is yet another cool feature of this tablet. The screen brightness is much better than any other tabs in this price category and the colors are more accurate here.
You can also dim the backlight for nighttime reading. Lastly the materials and the overall quality is much superior to any other brand of tablet in the market today. People may find some uncanny similarities with the Lenovo Miix 8 and may even prefer to go for it but there are some areas where Dell scores over Lenovo comfortably. For example, in the Kindle App8 when you change the text to white on black BG you get a true black background whereas it is slightly grey in case of Lenovo.