Top 7 Best Ab Machines for Home Workouts [Review]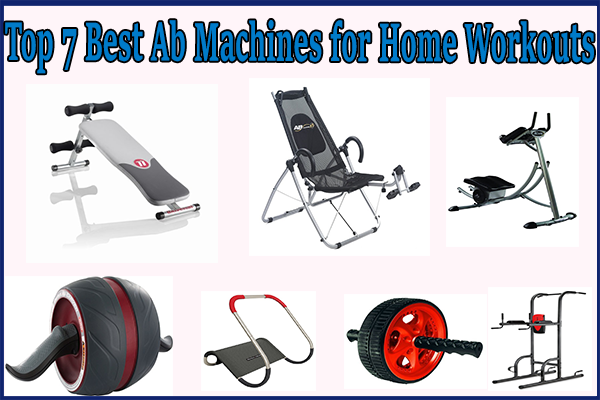 I normally do planks at sit ups at home. They do just fine, but sometimes it gets dull and having ab machines will make the workouts a bit more fun. I have tried various types of ab machines and I tend to find certain machines are more suitable for workouts at home. Let's take a look at some of these machines.
Types of Ab Machines
a) Wheels/Rollers
Simple yet remarkable tools for training your midsection, Ab wheels force you to use your body weight as you kneel down and move the wheel to and fro on the floor. It requires a strong, firm core to effectively work out the abdominal muscles, and your upper body as well while helping develop a stronger back. This equipment is easy to use, store, and bring anywhere you please.
b) Chairs
Ab Chairs help stimulate the crunch and lower muscles by means of a folding mechanism wherein you will need to use and work out your abs to lift your legs. This equipment is structured to protect the back as you perform abdominal workouts. It's ideal for beginners since it can be deemed as one of the most comfortable ways to do ab workouts for not requiring a strong core, and may not be suitable for those who regularly workout without enough resistance for their skill level.
c) Gliders
High-resistance ab workout equipment which stimulates the crunch through twisting your body in its swivel movement controlled by the self-powered machine itself. The Ab Glider lets you save time since it eliminates the need to perform a bunch of ab exercises. It does not only focus on training your entire abdominal area, but likewise trains the shoulders and the back.
d) Benches
A mainstay at the gym, Ab Benches complete a good home workout setup. This equipment is suitable for beginners and advanced trainers alike, allowing several powerful core moves. Enhanced sit up exercises strengthen core muscles, and you can also perform crunches, leg raises, and more on your comfortable, very efficient bench. The best models are adjustable, wherein the angle of the board can be customized to increase or decrease the resistance as you desire.
e) Power Tower
An abdominal exercise tool that is used for building upper body and abdominal muscle strength. Also called the captain's chair, movement mostly occurs in the hips and torso within its leg raise section, thus requiring minimal arm strength. The Power Tower serves as a workout station where you can perform different exercises such as dips, chin-ups, pull-ups, and push-ups.
My Recommendations
1) Perfect Fitness Ab Carver Pro
[asa2]B00B1N0R6C[/asa2]
Ab wheel imbued with a nice, modern design and special functions designed to activate arm and core muscles. It has an ultra wide wheel for stabilized movement when carving left, right, and center, while the kinetic engine turbo charges your abdominal and arm workouts. The non-slip, angled ergonomic grips of the Perfect Fitness Ab Carver Pro and the already included high-density foam kneepad provides sheer comfort that allows you to perform longer exercises.
Pros
-Great design lets you carve your core towards a lean, fat stomach in style.
-Simple ab equipment that produces stellar results if used correctly.
-Built with state-of-the-art "engine" that helps you get ripped abs and sculpted arms.
-High-quality device that makes working out more comfortable and enjoyable.
Cons
-Can be strenuous for first timers.
-Even with the kneepad, your knees will still hurt after prolonged pressure on it
2) Valeo VA2413RE Dual Ab Wheel – Black/Red
[asa2]B0007IS74G[/asa2]
Non-skid material of the Valeo Dual Ab Wheel grants added balance during your workout. The simple-grip handles prevent slippage and pave the way for continuous workouts. This durable equipment strengthens the abs and core muscles.
Pros
-Works on all ab sections while it supports and tones arms, shoulders, upper and lower back as well.
-Small device, yet can make a huge difference in your overall physique.
-Gives great value for your money in a highly effective ab wheel at an affordable cost.
Cons
-Hard plastic material may get uncomfortable after awhile.
-Doesn't come with knee pads
3) Ab Lounge XL
[asa2]B000OECGYU[/asa2]
This Abdominal Exerciser has an impressive range of motion which lets you go beyond 180 degrees with the jackknife while you remain assured of your safety. The Ab Lounge XL chair lets you exercise off the floor without straining your neck, head, and back. This makes way for better form and movement while you perform workouts that help tone both upper and lower abs. Say goodbye to your love handles while developing your core strength and say hello to a better you!
Pros
-Breathable mesh seat for cool and comfortable workouts.
-Jackknife motion focuses on your core stomach and back muscles in a safe and efficient workout.
-Padded ISO-Grip handles make movement easier, and gives extra comfort together with the adjustable foot pedals.
-Suitable for all fitness levels.
Cons
-Assembly can be a bit complicated.
-Not as durable as ab benches/machines
-Looks like a normal chair and makes you sit down and relax instead
4) Perfect Fitness Crunch
[asa2]B00MBEW0CO[/asa2]
An ab equipment designed to help you perform abdominal crunches to perfection, with reduced strain and support for the neck, head, and shoulders. You can do your workout comfortably and fully focus on your abdominal muscle target. For a total body workout, simply flip the Perfect Fitness Crunch over and do pushups and dips with the solid base.
Pros
-Simple and convenient one-flip feature.
-Allows you to easily alternate a core workout with a push workout for muscular balance and symmetry.
-Breathable and comfortable mesh canopy that cradles your head for a safer and more effective workout.
-Ideal for all fitness levels.
Cons
-Bulky and cannot be folded down for storage.
-Doesn't provide a floor mat
5) Ab Coaster Max
[asa2]B00IVC59DC[/asa2]
The Ab Coaster Max targets your upper and lower abs and side obliques and helps you focus on your fitness goal. It's a single machine that holds the capability to tone your entire midsection. These are common in the gym.
Pros
-Comes with a useful DVD workout and meal plan.
-Front roller wheels allow for easy and almost effortless transport.
-Heavy duty frame can support up to 300lbs.
Cons
-The elbow pads tend to feel odd and is not adjustable.
-Bulky and heavy
-Quite pricey and a significant investment just for ab exercise
6) Universal UB100 Decline Bench
[asa2]B002QJZADK[/asa2]
Featuring 2 incline positions, the Universal Decline Bench plays an essential role in defining your core area. This ab equipment can be used for sit-ups, twists, and other core-strengthening workouts.
Pros
-Presents versatility with a myriad of exercise options for good ab workouts.
-Easy to assemble, easy to use, easy to fold flat for storage.
-Great value at a great price.
Cons
-May be too small for some people.
7) Weider Power Tower
[asa2]B0098MAYNY[/asa2]
You are empowered to do perform exercises anytime with everything you need within reach right in the Weider Power Tower. The vertical knee station will help you lose unwanted inches off your waist and finally develop your dream 6-pack abs. Perform dips with the parallel horizontal handles, chin-ups and pull-ups with the pull-up bar, and Atlas or deep push-ups with the push-up handles.
Pros
-Exercise in comfort and style while enjoying its versatility.
-Helps tone your oblique and hip flexor muscles.
-Ultimate tool for fast and effective total body workouts.
Cons
-Assembly takes anywhere from 30-45 minutes
-Whole equipment takes up quite a bit of space
-Significant investment
I hope this list is able to help you decide which machine is right for you.