[Top 5] Best Air Mattress for Camping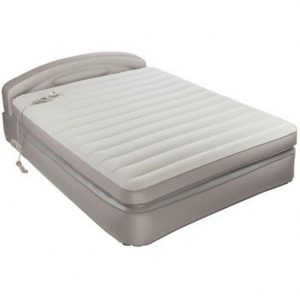 If you like spending time in the great outdoors but don't want to sacrifice the warmth and comfort of a good night sleep, then what you need is a good air mattress for camping. This article will guide you through the many different factors you need to identify when selecting air mattresses and we'll also mention 5 of the highest rated air mattresses on Amazon.
What to Look for in an Air Mattress
Before we proceed, have you determined where you will sleep? Whether you choose to sleep in a tent or the back of your SUV or truck, you need comfort; however the size of the space will dictate the type of air mattress you pick. Air mattresses tend to get a bad reputation (much like pull-out sofas) but with modern brands you can find upgrades that offer the user a good night sleep for as little as the cost of renting a hotel room.
Here are the main features for picking the right air mattress for camping:
Budget
As with any purchase, you must first determine how much you're willing to spend and the type of quality and comfort you want. Prices for good air mattresses range from anywhere between $50 and $200 and it's all a matter of finding the right item for your style. You may find some of the features to be useful and some a little over-the-top, but with each new feature the price tag goes up, so in order to minimize spending you simply have to reduce the number of additional features in the mattress.
Size & Height
Most air mattresses follow similar sizing rules as traditional mattresses but users may experience slight differences based on variations in things like firmness due to their level of inflation. This is one of the reasons why a camping air mattress may feel smaller even though it measures the same size to your bed at home. The first question to address when buying any mattress is the number of people sleeping on it. If your budget allows, and you plan to have two people sleep on the mattress, then it would be better to step up from a simple twin size to queen or king size.
There are some things to consider when buying larger sizes, such as space for storage and transportation, and also the space needed to spread the inflated bed for your guests to sleep in. But storage shouldn't be a hassle, as the mattress can be folded and stored in a fairly small space.
Light vs. Heavy
A heavy mattress tends to move less on its base, which is ideal because then it lowers the need for maintenance. And it also tends to feel more substantial and expensive, which cannot be replicated with a lighter mattress. The main advantage to buying a light mattress is enhanced portability and maneuverability when working with smaller spaces. They also cost less to ship and will fit comfortably in your trunk, which is also a good thing if you plan on stocking heavily for the trip.
Hand/Foot Pump vs. Electric Pump
A built-in air pump should be on your list when selecting an air mattress. It would take a lot of time and energy to manually inflate a full king size air mattress and even if you could do that it would serve no real purpose when you could buy a battery-operated system or simply plug it into your vehicle's energy socket to inflate.
You can save money by purchasing an air mattress that requires a hand pump or lung power to inflate but you have should prepare for the hassle every time you have to use it. With pricier models you can simply plug into an outlet and it inflates in minutes, something you will appreciate when tired and sleepy.
Tips for Using Outdoor Air Mattress
There's a possibility of over-inflating the mattress and this can cause air leaks to develop and in the more extreme cases it may cause the material to tear. When filling up air for the first time, inflate and deflate the mattress a few times before placing your weight on it, as this ensures the plastic doesn't suffer uneven expansion when you lie down.
Consider Additional Features
Some of the popular outdoor air mattresses have additional features which you may not be essential but serve a useful purpose if you can afford a few extra dollars. For instance, you can find models with a colored LED light that glows when you wake up to use the bathroom at night, and it can be useful in areas with limited light. Some models contain sensors that detect air pressure as you sleep and will automatically pump more air into the mattress if there's a drop in pressure, making sure there's no change in firmness.
Use Comfortable Beddings
While it's true that you can get a very comfortable air mattress for a few extra dollars, you'll still be sleeping in on vinyl-encased air, and with that comes the tell-tale slippery feel of bed sheets on rubber. You can avoid this by selecting a product with soft velveteen or use comfortable beddings to wrap the mattress in. Consider buying fluffy blankets and soft sheets that will improve both aesthetics and quality of sleep.
Other important features to watch out for include:
· Heavy fabric and dust seams: This is crucial for when you take the mattress out for camping.
· Ascertain that there's no air leakage: If there's any leakage, it everything else becomes irrelevant.
· Compartmentalized inflatable chambers: The more of these it has, the better comfort and support it can provide. If however you don't want to spend a lot of money on this, you can go for a cheaper version.
· Flocking on top of the mattress prevents the covers from sleeping off.
Any Disadvantage to Air Mattresses?
The only possible disadvantage to blow-up mattresses is that they tend to deflate slightly over the course of the night, and this can reduce the quality of sleep. However, the latest products are made to withstand common cause of leakage and some have additional measures to deal with this including sensors that can detect leakage and pumps that adjust the air automatically. When purchasing an outdoor air mattress, go for the waterproof types and make sure it is made tough enough to stand up to outdoor environments.
To improve comfort, you may consider purchasing a luxury pillow to go with the mattress, and if possible, include a mattress topper. This will cover the top so that you don't feel the cold air circulating inside the mattress.
Top 5 Best Air Mattresses on Amazon
1. [asa2]B008DXBTEC[/asa2]
This air mattress has all the qualities of a regular bed including a headboard design that prevents pillow-slipping and it can be covered with standard sheets that fit perfectly. It is made tough to handle virtually anything you can throw at it and would be ideal for when you're entertaining guest such as a slumber party in the living room. The added dimensions ensure that it provides maximum comfort during sleep and by making improvements in performance and material durability; you can expect to use this product for a long time.
A high-powered built-in pump inflates and deflates the mattress in less than 3 minutes, and there's no air leakage either. It is a solid purchase, particularly for people with back problems or who take regular camping trips as a family.
2.[asa2]B006OU4JF2[/asa2]
Serta is the biggest mattress manufacturer in the US and a major authority in the industry. The Serta EZ Bed comes with a Serta's NeverFlat pump feature that automatically pumps air when a sensor detects a drop in pressure. The bed has a firm but gentle top that is perfect for keeping your back straight and is also customizable for when you want to add your own style.
Do you have a problem sleeping too close to the ground, particularly in the outdoors? No problem. This bed has a smart design that makes it very easy to set up the frame (it actually self-deploys) so that you can sleep safely above the ground. Here are the full features:
· Two pumps in one, including a patented NeverFlat pump system that pumps air silently into the mattress in minutes.
· Air pressure monitors detect the slightest drop in pressure and silently refill the mattress while you sleep.
· You can select your preferred comfort level on the buttons (firm, medium, plush), and with a smart self-deploying frame, the user simply needs to plug it into an outlet and turn it on, giving it space to set itself up.
· It also comes with a flocked top that gives the user a comfortable surface that holds the beddings without slippage.
· When folding the mattress for travel, use the provided compact duffle that also comes with wheels.
The pumping mechanism includes automatic shut-off features that turn off the pump when it loads enough air into the mattress, so there's no danger of overloading or burning out the motor. It has clear dial signs to allow easy selection of features.
When camping out, this option is not necessary but when using it at home you can get the most out of the Serta EZ Bed plug it into the power outlet throughout the night in order to maintain pressure and ideal sleeping environment according to the option you've selected. The power cord is long enough to allow the pumps to be placed at the foot of the bed so there won't be any sleep interruption while the pump operates.
3. [asa2]B006JH1KES[/asa2]
This bed offers three layers of elevation so that users have ultimate comfort including a soft luxurious feeling thanks to a unique internal structure. The Coleman Double-High Quickbed comes with advanced coil construction which gives it an improved sleeping surface, minimizes the usual bulging found in cheaper air beds, and it also has a raised edge at the head the keeps pillows in check as you sleep.
An integrated storage system allows the user to roll and fold the mattress for easy storage, making it easier to clean up, and the mattress fits standard queen size bed sheets.
4. [asa2]B00FAW4O0A[/asa2]
This particular mattress is constructed with 40 air coils, which makes it one of the best in the market today. The features include an internal pump that inflates at the push of a button, with inflation and deflation happening in just 4 minutes. Internal chambers have dual construction and this gives it enhanced durability so there's no domino effect if there's a problem with one of the chambers.
It is available in queen size, which means that in average it's about the size of a regular mattress, and it includes a flocked top to prevent slipping of sheets and to add to the quality of sleep. The full features are:
· ComfortCoil technology and premium design with 40 internal air coils for maximum comfort.
· 1-click internal pump that provides quick inflation and deflation within minutes.
· It has a thick, waterproof flocked top for improved comfort, and the material is puncture-resistant, which makes it a good choice for camping.
5. [asa2]B01KIZYOS0[/asa2]
The WonderSleep Classic Series Air Mattress offers industry-leading design including WonderSoft Sleep Design that includes internal honeycomb layering and multiple air-filled columns that gives the body added support, straightening your spine throughout the night.
An internal motorized pump inflates and deflates the mattress in minutes; speeding up the process of setting up, and puncture-resistant material gives the mattress an extra-thick layer of protection against any debris on the ground and dirt. It also has an external air valve that allows the user to manually pump air into the mattress without the need to plug into a power outlet.
Here are the full specs:
· A powerful rotary pump for quick inflation and deflation. The mattress can be inflated in under 4 minutes.
· DreamCoil Technology design including strong air coils that contribute to improved stability, allowing the bed to remain flat and firm to provide better quality sleep.
· Thick, waterproof flocked top and multilayer to prevent sliding and reinforce comfort.
· It's available in Queen Size at about double the height of traditional portable air mattresses and deflates easily for packaging, with a travel bag for easy storage.