Top 6 Best Alarm Clock for Heavy Sleepers [Reviews and Recommendations]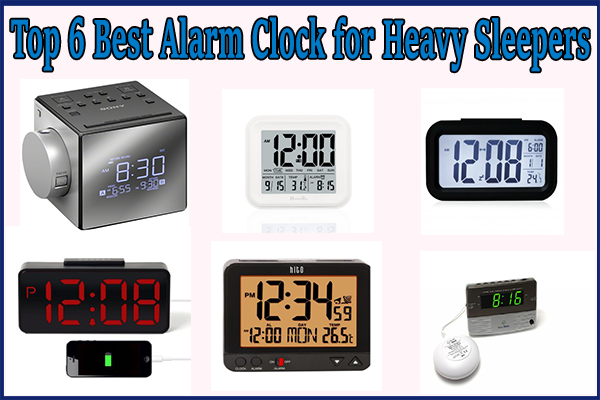 Choosing a good clock is vital to you being on time for school, work or events. This holds true for heavy sleepers and snoozers. I have compiled a list of qualities of a good clock and what you need to look for.
What Makes a Good Alarm Clock?
Although the main aim of an alarm clock is to wake you up, a good alarm clock should offer more than just an alarm. It should have features that make it more useful and versatile on top of being accurate and customizable. Today's alarm clocks come with additional useful settings such as a calendar, dates, radio and temperatures enabling you to get several services from a single unit. Some of the things that you should look out for in a good alarm clock include:
Alarm Options: Unlike traditional alarm clocks that only supported one alarm option, some of the today's alarm clocks allow you to set several alarms. You can find alarm clocks with up to 3 alarm options enabling you to set repeatable alarms for different tasks.
Sound Options: Some modern alarm clocks offer you the option to choose the ringing sound. The types of sound options that you can find in alarm clocks range from animal sounds to mp3, music, vibration, beeps and tones. You can also find a clock that lets you increase or decrease the volume depending on your preferences.
Extra Features: A good today's alarm clock can be one of your most useful home accessories due to the amazing features available. Most clocks with an alarm capability come with other features such as a calendar, date and temperatures. Some even come with a radio setting that can be put on by the alarm enabling you to wake up to your lovely radio show. Other features available include dimming display, time projection, humidity, USB charging port and color changing background among other features.
The Different Types of Alarm Clocks
There are two main types of alarm clocks that include digital alarm clocks and analog alarm clocks. However, this two main types can further be categorized based on their capabilities.
Analog Clocks: Analog clocks have a traditional clock design that features clock hands and a pin. To set the alarm on or off, you will need to pull or depress the pin in accordance with the manufacturer guide. They come with only one alarm option, but with snooze capability.
Digital Clocks: The main highlight of the digital clocks is that they display information digitally. The word digital refers to the display and not how the clock works. Therefore, it is important to note that both the digital and analog clocks can work mechanically or electronically. Digital clocks are the most popular clocks available today due to their ability to offer additional extras. The most popular extra features include a radio, calendar, date and temperature. Some of the digital alarm clocks variations include vibrating alarm clocks, sunrise alarm clocks, battery alarm clocks and natural sound alarm clocks.
The Top 6 Best Alarm Clocks for Heavy Sleepers or Snoozers
The Sony ICFC1PJ Alarm Clock with Radio
[asa2]B00IEYHMPK[/asa2]
This alarm clock by Sony comes with a large backlit LCD display that is easy to read from across the room. It also comes with a battery back-up to ensure that you will never be late. The amazing features of the ICFC1PJ alarm clock by Sony are the time projection and soothing nature sounds. The time projection feature lets you project time on your ceiling or walls for convenient reading. The alarm clock also comes with dual alarms, gradual wake alarm, programmable sleep timer, FM/AM radio, adjustable brightness control and automatic daylight savings time among others.
The HITO Atomic Bedside Desk Travel Alarm Clock
[asa2]B00R64PG9S[/asa2]
The highlight of the HITO Atomic alarm clock is the automatic radio-controlled time and date update with the Daylight Saving Time (DST). The alarm clock also comes with a jumbo big digit display that lets you easily read time zone, alarm, alarm status, 12 or 24 hour time, date, temperature and day of the week. It also comes with an attractive amber LED backlight that supports automatic dim and night light function.
DreamSky Digital Alarm Clock With 3 Set Alarms And Light Activated Nightlight
[asa2]B015FMELDO[/asa2]
This elegant alarm clock features allow to set 3 alarms program for 3 separate awake time . Alarm optional ring on 3 modes( Monday to Friday , Monday to Saturday , Monday to Sunday). With that nightlight, it is one of the best looking clocks around.
The EIALA Light-sensor Smart Alarm Clock
[asa2]B014UTONIG[/asa2]
Despite being highly affordable, the major highlight of the EIALA light-sensor alarm clock is the automatic light sensor that illuminates for a perfect reading in a dark setting. The clock does not illuminate during the day or in settings with adequate light and thus, helps save energy.
The Sonic SB200ss Alert Loud Dual Alarm Clock with a Vibrating Shaker
[asa2]B000EX7LNM[/asa2]
The major highlight of the SB200ss Sonic alert alarm clock is the vibrating shaker. The alarm clock comes with a 12-volt bed shaker, adjustable tone and volume control and a 5-level dimmer.
The HITO USB Powered Alarm Clock
[asa2]B00LFBUTPY[/asa2]
The main highlight of this alarm clock is the USB charging port that lets you easily charge your mobile devices. You can also use the port to transfer data between the clock and your computer. However, you cannot transmit data with Apple Inc devices.