21 Anime Like Code Geass R2 – Top Recommendations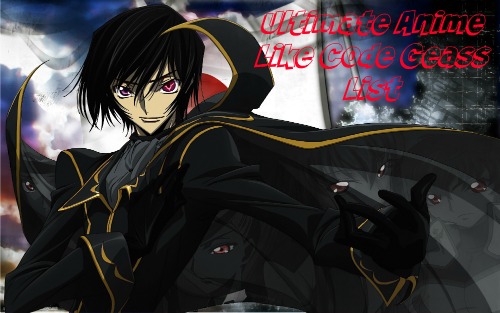 Here is a list of anime quite similar to Code Geass: Lelouch of the Rebellion and R2. We will be recommending animes with similar genres like mecha, action, drama, supernatural and psychological. Pictures and summaries are courtesy of ANN.
Yagami Light is an ace student with great prospects, who's bored out of his mind. One day he finds the "Death Note": a notebook from the realm of the Death Gods, with the power to kill people in any way he desires. With the Death Note in hand, Light decides to create his perfect world, without crime or criminals. However, when criminals start dropping dead one by one, the authorites send the legendary detective L to track down the killer, and a battle of wits, deception and logic ensues…

Shu's entire world was shattered after a meteorite crashed into Japan, unleashing the lethal Apocalypse Virus. The chaos and anarchy born of the outbreak cost Shu his family and reduced him to a timid, fearful shell of the boy he'd once been. His life took another unexpected turn after a chance encounter with the stunning pop star, Inori.
This mysterious beauty introduced Shu to the King's Right Hand: a genetic mutation that allows him to reach into hearts of mortals and turn them into weapons.Shu finds himself caught in the crossfire between those who desperately seek his newfound strength. On one side lurks a clandestine government agency, and on the other, Inori and the spirited band of rebels known as Funeral Parlour. The choice is Shu's to make – and the world is his to change.

Renton Thurston is a 14-year-old boy who lived with his mechanic grandfather in a backwater town. Every day he dreamed of being with the mercenary "Light Finding Operation (LFO)" aircraft pilot group "Gekkostate" and riding "Trapar" particle waves– a sport called "reffing"– with their charismatic leader Holland, especially when faced with his father's acclaimed past or his grandfather's desire to protect him.
When a young girl named Eureka riding the original LFO, the "Nirvash typeZERO", asks his grandfather for a tune-up, she inadvertently brings the attention of the military to the garage; as a result, the garage is destroyed and Renton is forced to deliver a new type of interface– the "Amita Drive"– to the Nirvash. After a heated fight in which the Nirvash destroys the military LFOs by unleashing an immense amount of power, Renton is invited into Gekkostate. However, he quickly realizes that behind the facade of a traveling group of mercenaries is a very bitter reality.

At the age of 14 Shinji Ikari is summoned by his father to the city of Neo Tokyo-3 after several years of separation. There he unwillingly accepts the task of becoming the pilot of a giant robot by the name EVA01 and protect the world from the enigmatic invaders known as "angels." Even though he repeatedly questions why he has accepted this mission from his estranged and cold father, his doing so helps him to gradually accept himself. However, why exactly are the angels attacking and what are his father's true intentions are yet to be unraveled.
Sousuke Sagara, a seventeen year old military specialist working for the secret organization MITHRIL, has been assigned to protect the latest "Whispered" candidate Kaname Chidori. To complete this task Sousuke will have to deal with enemies from his past as well as the occasional panty thief. Unfortunately for Sousuke, the toughest part of his mission isn't only protecting Miss Chidori but also getting used to living an average High School students life, no easy task for someone raised on the battlefield.


Kenzou Tenma, a Japanese brain surgeon in Germany, had it all: incredible skill at his work, a rich and beautiful fiancee, and a promising career at his hospital. However, after becoming disenchanted by hospital politics, he chose to save the life of a young boy who got shot in the head over the life of the mayor. As a result he lost the support of the hospital director, as well as his position in the hospital and his fiance.
A short time later, the hospital director and the doctors that replaced him were murdered, and once again he was catapulted back onto the top. But as the chief suspect of the murders, Tenma did not get a easy life. As a matter of fact, it seems that the boy he saved was much more than he had appeared to be… Now to clear his name and to correct his past mistake, Tenma must get to the bottom of these and other murders, and investigate the truth of the Monster who is behind all of this.


After losing their mother, Alphonse and Edward Elric attempt to bring her back using the forbidden science of human alchemy. However, alchemy operates on the theory of equivalent trade, and breaking the human alchemy taboo carries a heavy price. Ed loses his leg, and Al loses his body. Ed is able to seal Al's soul inside of a huge suit of armor, at the cost of his arm.
Years later, Ed (now with two mechanical limbs) and Al (still trapped in the armor) leave their childhood home, each brother concerned with the other's happiness. Ed, who has a natural talent and skill for alchemy, becomes nationally certified and is soon known everywhere as the "Fullmetal Alchemist." Their true objective is to search for any information on the fabled Philosopher's Stone, hoping it will allow them to regain their old bodies. All of their hopes rest with this mythical stone, which may not even exist at all. However, the brothers soon learn that they are not the only ones after the powerful stone.


Seventeen years ago, several meteorites carrying seven types of alien crystals landed on Earth. Given the name of Sacred Seven, these crystals withhold the power to alter DNA and cause mutations. Inheritor of overwhelming abilities from this enigmatic legacy, Alma Tandoji is an unsociable 17-year-old student feared by his schoolmates due to several rumors of his violent behavior. He is contacted by Ruri Aiba, a rich teenage girl and CEO of the powerful Aiba Foundation, who pleads him to help her fight a mysterious enemy that very recently started causing massive havoc through the land.

Ganta Igarashi has been convicted of a crime that he hasn't committed, and sent to a new, privately owned and operated prison, where the inmates are the main attraction in a modern day twist to the gladiatorial coliseums of ancient times. Throw in a healthy dose of weird little girl, some new-found super powers, and a little conspiracy theory, and you have Deadman Wonderland.


Yukiteru Amano (Yuki) is a loner who never really interact with people and prefers writing a diary on his cell phone with his only companion being an imaginary friend named Deus Ex Machina, the God of Time and Space. However, Yuki soon learns that Deus is not a figment of his imagination but real when Deus makes him a participant in a battle royale with eleven others. Within this "Diary Game", the contestants are given special diaries that can predict the future with each diary having unique features that gives them both advantages and disadvantages.

In a fantastic middle-age world where slavery is very common, there are mysterious tall towers named "Dungeon" which mysteriously appeared out of nowhere fourteen years before the story line. Someone who conquers a Dungeon becomes very powerful and wealthy. Our hero Ali Baba is a teenager who works for merchants to support himself. He dreams for conquering a lot of Dungeons and becoming a very rich person. One day, he comes across with a strange young boy named Aladdin who carries a mystical flute with supernatural powers in it. Ali Baba and Aladdin agree to travel their first Dungeon together.
Note* – More light-hearted with comedy but also contains corrupt rulers.