8 Anime Like Inuyasha – Top Recommendations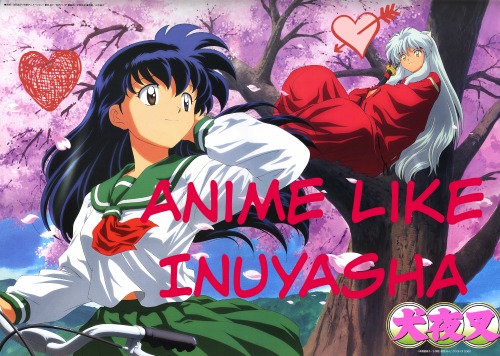 Here are some anime very similar to Inuyasha. This recommendations are based on romance and action genres. Pictures and summaries are courtesy of Anime News Network.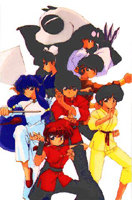 Saotome Ranma, a teenage martial artist, and his father Genma travel to the 'cursed training ground' of Jusenkyo in China. There, despite the warnings of the Chinese guard, they fall into the cursed springs. From now on, whenever Ranma is doused in cold water, he turns in to a girl, and a cute, well-built red-head at that. Hot water changes him back into a man again, but only until the next time. To make matters worse, his father engages him to Tendo Akane, a girl who hates boys.

Protected by the highest security, the Maison de Ayakashi is rumored to be haunted, where only eccentrics could live. In reality, it is a place for humans with non-human ancestors to live. The socially-inept Ririchiyo has come here to improve herself. She meets secret service bodyguard Soushi, who is assigned to protect residents. He has a request of her: "Please make me your dog."
Himura Kenshin is a vagabond with a dark past and sunny disposition. Not a ronin but a rurouni, he was never a samurai, but an assassin of utmost skill in the Meiji restoration, who in the turning point of the war simply walked away. His travels lead him to Tokyo in the 11th year of the Meiji era, where he befriends a female Kendo master, a former thief, a brawler and a doctor all with their own secrets. Together they fight off the enemies surfacing from the dark past that Kenshin cannot escape.
Sousuke Sagara, a seventeen year old military specialist working for the secret organization MITHRIL, has been assigned to protect the latest "Whispered" candidate Kaname Chidori. To complete this task Sousuke will have to deal with enemies from his past as well as the occasional panty thief. Unfortunately for Sousuke, the toughest part of his mission isn't only protecting Miss Chidori but also getting used to living an average High School students life, no easy task for someone raised on the battlefield.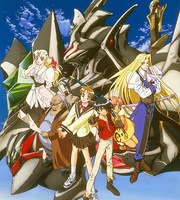 High school student Hitomi is transported from Earth to the magical world of Gaea, where she meets boy prince Van Fanel, and is caught up in his quest to unite the countries of Gaea against the ominous Zaibach empire. On the way, she discovers an hidden ability and strives to unravel layers of mystery surrounding Van, his past, and the giant machine known as Escaflowne.
Ayano is the heir to the house of Kannagi, a house with ties to the spirit of fire, whose members are all fire users. All except for her cousin, Kazuma. After he was defeated by Ayano, his father banished him from the house in disgrace. Kazuma ran off and changed his surname to Yagami. He formed a contract with the spirit of wind and becomes a powerful wind user. Four years later, he returned.
After her father having run away due to gambling debts, and being evicted from her apartment, Nanami meets Mikage, a strange man who is afraid of dogs. Nanami "saves" Mikage from a dog and tells him her story. He gives Nanami his house as a thank you for saving him. Nanami accepts the offer, due to having nowhere else to go. Mikage draws her up a map showing her where to go. Upon arriving, she finds that it is a rundown shrine.
Nanami is then almost killed by Tomoe, who was expecting Mikage to finally return after his 20 year absence. She is then greeted by both Onikiri and Kotetsu, as the new land god of the shrine. Unable to accept Nanami as the new land god, Tomoe mocks her then leaves the shrine, which, without Tomoe's power transforms back into a run-down state. Not wanting to rob Tomoe of his home and realizing that her powers as a god are too weak anyway Nanami leaves, but eventually is brought back by Tomoe after she seals a contract with him, making him her familiar.

The year is 1928 A.D. The place is New York, U.S.A. The economic prosperity brought forth after the Great War also heightened the presence of something far darker and much more sinister: the demonic Sinners. The Magdalene Order is an organization that tries to counter this force. Two of its exorcists are Rosette Christopher and her assistant, Chrono. Both appear out of place in an organization like this, and they are in a quest to find Rosette's missing brother, Joshua. Their relationships, secrets and fates can only be revealed in time…
This concludes the anime recommendations! Feel free to let me know what other anime you feel should be on this list by leaving a comment below!