10 Anime Like Akame ga Kill! – Top Recommendations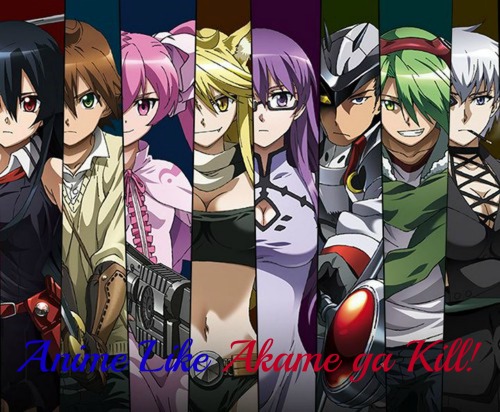 Here is my list of top recommendations for animes like Akame ga Kill!. I have taken into consideration on the genres such as psychological, fighting, survival, horror, politics and corruption. Summaries for the anime are from ANN while pictures are courtesy of Wikipedia.
Ken Kaneki is a bookworm college student who meets a girl names Rize at a cafe he frequents. They're the same age and have the same interests, so they quickly become close. Little does Kaneki know that Rize is a ghoul – a kind of monster that lives by hunting and devouring human flesh. When part of her special organ – "the red child" – is transplanted into Kaneki, he becomes a ghoul himself, trapped in a warped world where humans are not the top of the food chain.
In a world rife with deadly creatures called "youma", a young silver eyed woman, Clare, works on behalf of an organisation that trains female youma halfbreeds into warriors with the ability to destroy these creatures. Considered a rogue for picking up a stray child & almost losing herself to her youma side by "Awakening", she is constantly assigned rather dangerous missions…
Note* – Intense fights and also no mercy on the characters…

Ganta Igarashi has been convicted of a crime that he hasn't committed, and sent to a new, privately owned and operated prison, where the inmates are the main attraction in a modern day twist to the gladiatorial coliseums of ancient times. Throw in a healthy dose of weird little girl, some new-found super powers, and a little conspiracy theory, and you have Deadman Wonderland.
The players of a virtual reality MMORPG, Sword Art Online, are trapped and fighting for their very lives. After it is announced that the only way to leave the game is by beating it, Kirito—a very powerful swordsman—and his friends take on a quest to free all the minds trapped in Aincrad.


Yukiteru Amano (Yuki) is a loner who never really interact with people and prefers writing a diary on his cell phone with his only companion being an imaginary friend named Deus Ex Machina, the God of Time and Space. However, Yuki soon learns that Deus is not a figment of his imagination but real when Deus makes him a participant in a battle royale with eleven others. Within this "Diary Game", the contestants are given special diaries that can predict the future with each diary having unique features that gives them both advantages and disadvantages.