[Top 6] Best Backpacks for College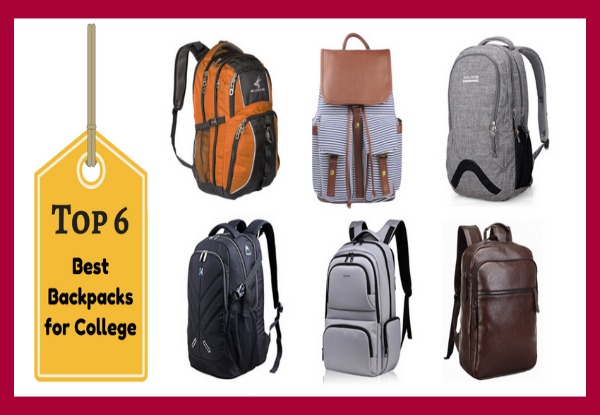 There are few items in a young person's life which serve more purposes than the backpack. While some parents or adults might argue that the primary objective of a backpack is to carry school supplies, we can safely say that is not true. A backpack is everything from a fashion statement to a life-saving accessory, and buying the wrong one can have quite an impact on college life. With the few tips and tricks we will present in this article, you will be well on your way to being able to purchase a great backpack for your college years, or if you don't want to do the research yourself, we'll even throw in a couple of ideas.
First of all, we have to talk about what makes a backpack great and what should you be looking for when making this purchase. Remember that the bag will take a lot more beating that your high school one did – you'll be using it for your short or long travels, on your daily commutes in or outside of campus, and to carry some heavy books and possibly a laptop with accessories – all while looking fashionable as well.
Here are the things you should consider when buying your backpack!
– Will it survive four years of college, and maybe more? Remember that you're buying this backpack for at least a few years of college, possibly adding a master's degree and maybe even postgraduate school. Think about how your style will evolve in the next couple of years, what gadgets you'd like to purchase and how many books or other school supplies your college requires.
Your backpack should easily be able to fit everything you need in the next four years. Also, pay close attention to the fabric of the bag and the overall sturdiness of the product. While leather bags tend to be heavier than their cotton or synthetic counterparts, they're much more resistant and age better.
Your backpack should easily be able to fit everything you need in the next four years. Also, pay close attention to the fabric of the bag and the overall sturdiness of the product. While leather bags tend to be heavier than their cotton or synthetic counterparts, they're much more resistant and age better.
– Will it have room for all the things you need?
This is hardly news, but college textbooks are rather large and heavy. Consider that you also have to carry a notebook or two, pens and markers, a smartphone and charger, possibly a laptop/tablet, some spare clothes or gym equipment, and a bunch of other small items as well. Your backpack should not only be able to carry all these items but should have individual pockets for some of them, like your smartphone, tablet, and pens.
– Can you use it for other things besides school work?
Ideally, you should also be able to use this backpack for quick trips back home, weekend getaways and/or hiking. Thus, the bag should be able to fit some clothes and the bare necessities for 2-3 days. You should think of it more as the bag you'll use for every occasion for the next four years rather than a typical school bag. Also, expect to pay a good price for it, as a $10 backpack will not survive these years.
– Is it weather-friendly?
Since you will be using it intensively, you must make sure that it can survive harsh weather conditions without damaging the things you place in it. It must be waterproof and should be able to easily withstand wind and snow issues, as well as extreme heat. Pay close attention to the fabric it's built of: while natural fibers like cotton are more eco-friendly, synthetic materials (or covers) like polyester or nylon are 100% waterproof.
– Is it comfortable?
Comfort you be one of the main things you're looking for in a backpack, and can also be checked online, contrary to popular belief. Make sure the backpack has two shoulder straps instead of one. These straps should also have a good amount of padding, just like the back of the bag should. Also, adjustable straps ensure added comfort, while a waist strap can also further secure the bag during forest hikes or bike rides. Double zippers are also a thing to look for since they make accessing your bag a lot easier.
– Will it break your bank?
No – but it won't come very cheap either. You will always see $10 or $20 backpacks, but they probably won't survive the four years you want them to. Expect to pay at least around $50 for a good backpack, and possibly more for a leather one.
That being said, here are some options you can find on Amazon and have delivered to your doorstep.
For the girls:
1. Imiflow Casual Backpack Purse School Daypacks Travel Rucksack
[asa2]B01EX5N4FK[/asa2]
Style first, comfort later, but without neglecting the latter! It's fair to say that the bag is gorgeous, and also carries some good advantages. It las lots of pockets, can easily fit some school books and a laptop as well and can be turned into a purse/weekend bag very quickly. It's also made of durable cotton which can resist some weather issues, but not all of them. Overall, an excellent choice for a girl, with 50% discount currently.
2. 
Backpack, (laptop, travel, school or business) Urban Commuter by EXOS
[asa2]B01LZJ6RH8[/asa2]
This is an all-around backpack that maybe loses in the style department but wins everywhere else. It's fully padded, has a dedicated laptop compartment, water bottle compartment, phone pocket, and many other tweaks and gimmicks. It's exceptionally comfortable due to the excellent quality of the padding, which also allows your back to breathe, and can easily be used in weekend trips and hikes as well as school work.
3. 
Bolang 8474 Water Resistant Nylon Backpack School College Laptop Bag
[asa2]B00ZR589GK[/asa2]
A 50% discount on a +$100 backpack. Water resistant, many pockets, dedicated laptop and smartphone compartments, perfect for a wide variety of activities, stylish, and comes in 7 different colors, from black and gray to pink and red. What more can you really want?
For the men:
4. OUTJOY Backpack for Laptops Shockproof Travel Bag schoolbag college 
[asa2]B01LS6F8BA[/asa2]
A backpack with a rain cover and shockproof build is a big win in our book. It also comes in a very manly dark blue, and can easily fit both your school supplies and your laptop. It also doubles as a weekend bag, is extremely comfortable due to quality padding, and won't break your bank.
5. 
Kuprine Water Resistant Slim Business Laptop Backpacks for Men
[asa2]B01EQ2JF08[/asa2]
A $90 bag with a +50% discount currently, this backpack and even fit a 15,6-inch laptop! Its interior design is perfect and can very easily fit notebooks, books, and gadgets as well as many other things, in as many as 17 different pockets. It's made from a water resistant nylon fabric and comes with very comfortable straps.
6. 
Kenox Mens Vintage PU Leather Laptop Computer Backpack
[asa2]B01IVFI5G6[/asa2]
If you're looking for more of a stylish bag, check this option out, which comes in either black or dark brown leather. You will lose some storage space and some comfort, but will surely impress with one of the most fashionable bags on campus.