Top 10 Best Baseball Anime [Recommendations]
Americans consider baseball to be the national pastime. But it's also the most popular sport in Japan, and anime reflects that.
It helps that anime tends to be set in high school, and high school baseball is among the most popular venues for the sport.
Anime "Best of" Genre List
So here are the 10 best anime featuring the baseball diamond.
Cross Game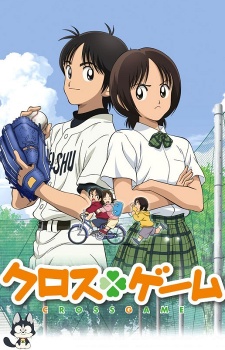 Legendary managaka Mitsuru Adachi has been drawing baseball manga for decades. Cross Game is probably his best work, and the anime adaptation doesn't disappoint.
This is a very human story about growing up and relationships as much as baseball. The love/hate relationship between Kou Kitamura and Aoba Tsukishima is one of the most unique you'll find in anime.
Ace of Diamond
One of the biggest baseball anime in history, Ace of Diamond boasts a colorful cast of characters, led by Eijun Sawamura.
Eijun swears to become the ace pitcher of one of the most prestigious baseball schools in the country. But he has plenty of competition on his own team, to say nothing of his actual opponents.
Big Windup
Ren Mihashi is ready to quit baseball after a middle school experience that basically ruined his self-confidence and will to pitch.
But his new high school's baseball team needs a pitcher, and despite what he may have thought, he might actually be suited to the role. He now has to deal with Takaya Abe, a domineering catcher who wants to help him succeed, but is difficult to work with for his own reasons.
Princess Nine
Ryo Hayakawa is the daughter of a legendary pitcher. And she leads the Kisuragi School's baseball team. A girl leading a baseball team would probably seems strange – except that all the players are girls!
This ragtag bunch is out to prove they can go head-to-head with the boys and make it to Koshien – the nation's biggest high school baseball tournament.
H2
Another Mitsuru Adachi masterpiece, H2 follows Hiro Kunimi, who is ready to give up baseball and join the soccer team after an elbow injury. Despite a promising start as a pitcher, he joins a high school with no baseball team, just a fledgling club of baseball enthusiasts.
After being disgusted with the soccer club's arrogance, he switches up and works to build up the baseball club. And now he faces his lifetime friend, now a monstrous power hitter on another team. In the midst of their rivalry is a love triangle – the girl they both grew up with is now the girl they both like.
Taishou Yakyuu Musume
Another anime about girls starting a baseball team, but this one is set in 1925, when baseball was still relatively new to the country.
In response to a baseball player telling Akiko Ogasawara that women should basically stay in the kitchen and be housewives, she decides to start a baseball team to prove him wrong. But in an era when a girl running was considered a vulgarity, it's hard to get enough members together.
And besides, baseball's a new sport in Japan. Does anybody even know how to play the game yet?
One Outs
Toua Tokuchi is a gambler by trade and an athlete when it suits him. He specializes in a game called "One Outs," a simplified, gambling-infused version of baseball between a pitcher and batter and nobody else. As the pitcher, he has earned 499 wins, due largely to his ability to out-think his opponents.
Toua is scouted by a professional team, and appeals to his gambling nature with an unusual contract. For every out he earns, he gets five million yen. But for every run he gives up, he loses fifty million yen.
Major
Major is one of the longest-running and most respected baseball anime of all time, and is the only anime on the list that heavily includes Major League Baseball in America (hence the name).
It is about a father-and son duo. The father is a rising star in MLB, the son plays in Little League, and together, they deal with triumphs and heartbreak both on and off the diamond.
Touch
This is by far the oldest anime on the list – it finished its run in 1987. And yes, it's another Mitsuru Adachi classic.
And like H2, this involves a close trio of people – two of which are rivals in baseball and love. But in this case, the two in question are twin brothers.
Shippu! Iron Leaguer
ROBOT BASEBALL YEAH!
Soccer is also involved, but regardless, this is about robots playing sports. It's a baseball anime with extra anime. You know, because robots.