[Top 5] Best Bluetooth Car Kits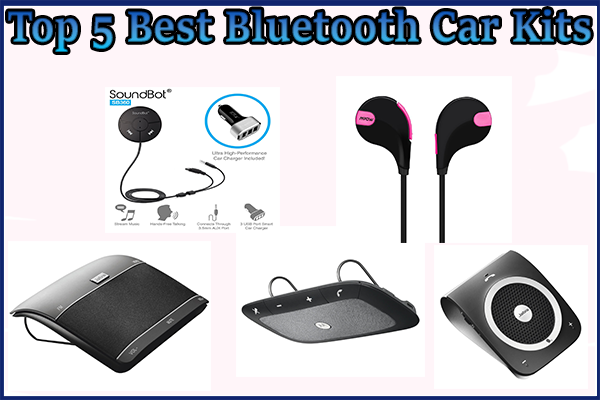 Bluetooth Car Kits are considered a driving staple because they enable you to remain in contact with the world without taking your eyes off the road. This means that purchasing a Bluetooth car kit is more or less mandatory when you have a car, and a phone that you use on a regular basis.
So, what do you need to look for in a Bluetooth Car Kit?
First, this depends on why you need the Bluetooth car kit. If you are simply interested in being able to receive calls while driving, you will have to look for a Bluetooth car kit that has a microphone in it. Most of the Bluetooth car kits are built for streaming music so they may not readily have the built-in microphone for hands-free calls.
Another important point to note is the volume of the kit's built-in speaker. In most cases, the volume of your call will depend on how loud the kit's speaker can get.
This means that if your Bluetooth car kit has a low volume, you will not be able to pick calls while on a loud road. For phone calls, you may not need an extremely powerful speaker but it should be audible enough to hear over the loudness of a freeway. If your Bluetooth car kit is for streaming music, you can rely on the AUX-in or FM transmitter to stream the music through your car's speakers. If your car has the auxiliary input option, this would be a better choice since the FM transmitter always compromises the quality of the audio.
The level of ambient noise in the Bluetooth car kit also determines whether it will be effective or not. Most Bluetooth car kits have some alterations to the call quality when compared to a hands-on call. However, some Bluetooth car kits provide a higher sound quality than others, meaning that you must look out for a kit that has the lowest amount of ambient noise.
An ideal Bluetooth car kit should also enable multipoint pairing. This is because if you are streaming music from another device, you may still need to pick calls from your phone.
Here is a list of the top 5 best Bluetooth Car Kits you can choose from:
1. Jabra Freeway Bluetooth In-Car Speakerphone
[asa2]B004XZHY34[/asa2]
This device has a simple user interface that means you do not have to take your eyes off the road to operate it. It has only three control buttons and it connects automatically to your smartphone whenever it's on. It is also an FM transmitter type so you do not have to worry about having the auxiliary input in your car.
The battery life is over 12 hours and it comes with its own car charger. Other than giving a really good sound quality on both sides of the call, the unit also comes with three speakers meaning that you get a high-enough call volume whenever necessary. For effect, you can place one of the speakers directly above the driver's seat.
2. Motorola Sonic Rider Bluetooth In-Car Speakerphone
[asa2]B00BP8WLAS[/asa2]
This device has an impressive noise-cancellation and echo-cancellation, meaning that whoever is on the other side of the call will not struggle to hear what you're saying even when you are in a noisy environment. It also has a powerful 2-Watt speaker which is loud enough for your calls even when on the noisy roads. The 45-hour talk time then means you don' have to worry about running out of charge.
Also, the device has audible voice prompts that can alert you in case you have not connected your phone. This is to prevent you from fumbling with your phone in case an important call comes in while you are on a busy road. The device can also take calls from two different lines simultaneously meaning that you can be on two calls at once if you want to.
3. Jabra Tour Bluetooth In-Car Speakerphone
[asa2]B008VOPF8O[/asa2]
As the name suggests, this device is built for the road. It has one large 3-watt speaker that is easy to use hands-free. The three buttons are also easy to master, with two for volume and one to enable voice activation. Its hands-free profile enables voice recognition dialing, meaning you get to make calls or send texts without having to handle your phone.
Ideally, the Bluetooth kit should be placed on your sun visor so that it can easily pick up your voice for the calls and for voice control. The voice control will however only work if you have activated it on your phone as well. The device has a motion sensor which allows it to turn itself on or off as needed. It also comes with its own car charger and up to 20 hours talk time. It has effective noise cancellation and a really good sound quality.
4. SoundBot
[asa2]B00RH29CJO[/asa2]
The one thing that stands out about this device is that it is universal in that you can connect it to any Bluetooth enabled device. It also has an impeccable noise and echo cancellation that enables you to make very clear calls. This device does not require batteries since it plugs directly into your car charger, meaning that it will always be adequately charged.
Another point to note is that the device is very affordable if you are looking for a Bluetooth kit that you can use to stream music. The auxiliary cable means that you can use your car speakers with utmost clarity since there is no FM-based alterations as is common in FM transmitter devices.
5. Mpow
[asa2]B01JGIAQ78[/asa2]
This device has a large Bluetooth range of up to 30 feet but it does not power itself automatically. It can connect more than one Bluetooth device, and its talk time is up to 10 hours. You only need about 90 minutes to fully charge it. The in-built microphone is also strong enough to enable clear voice calls.
I also noticed that the noise and echo cancellation is just enough to give you the desired clarity on the other end of your calls. This may not be the very best Bluetooth car kit but it certainly is a good bang for your buck considering it will only cost you a little less than $20. It will not take you much time to set up if you have an auxiliary cord. If you only intend to use it for streaming music, the auxiliary cord is not necessary since you can plug the device directly into the AUX-in port.