Top 8 Best Laptops Under $300 [Chromebooks Included]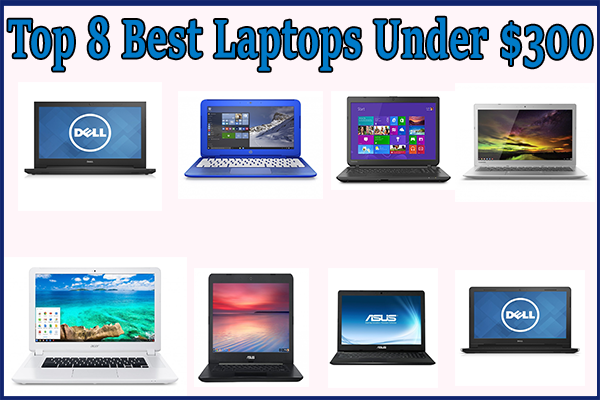 Are you looking for a budget-friendly but decent laptop to perform basic computer tasks from the comfort of your home or office? Here's a review of top 8 laptops under $300 to help you find the right machine for your needs.
HP Stream 13.3 Inch Laptop (Intel Celeron, 2 GB, 32 GB SSD, Horizon Blue) Includes Office 365 Personal for One Year- Free Upgrade to Windows 10
[asa2]B015CQ8PNA[/asa2]
If you need a colorful, durable, lightweight, efficient and cheap laptop that you can use for your daily computing needs, then you should consider the HP Stream 13.3 Inch Laptop. It runs on Windows 8.1 operating system, and weighs only 3.42 pounds, making it suitable for students and other people who are always travelling. Its Intel Celeron 2.16 GHz processor, along with a 2GB RAM handles basic tasks such as YouTube streaming, editing word files and browsing the web with ease. The inbuilt 32 GB storage is enough for most users to store their documents, but you can always buy an external hard drive if you have large video files to store.
The laptop's chassis is very sturdy and stays cool, thanks to its innovative fanless design. It also comes with more than 7 hours of battery life, which is enough to take you through the rest of your day if there's a power blackout. As if that's not enough, this laptop has a large keyboard with well-spaced keys to ensure that you're comfortable while working. When you purchase this laptop, you'll also get 1TB of OneDrive cloud storage to store and share your files, videos, photos and more for a whole year. You'll also get the full version of Office 365 Personal for one year.
Dell Inspiron i3541-2001BLK 15.6-Inch Laptop (2.4 GHz AMD A6-6310 Quad-Core Processor, 4GB DDR3, 500GB HDD, Windows 8.1) Black
[asa2]B00IB04M5K[/asa2]
Dell Inspiron i3541-2001BLK is a reliable laptop that is built solidly to satisfy the needs of the average computer user. It's configured with an AMD A6-6310 Quad-Core, 4GB RAM and 500 GB HDD and Windows 8.1, all of which make handling light to moderate tasks easily. You'll also be happy to know that light gaming is possible on this laptop, thanks to its integrated Radeon R4 Graphics.
It has a black plastic case with a subtle textured finish, which gives it a distinctive look. The laptop is thin, lightweight, and has a 1366 x 768 pixel display to provide you with clear viewing. And if you want to connect multiple devices on this machine, there are enough USB ports for you to use. Its 5-hour battery life may not be exceptional, but it's enough to finish up small amount of work. Overall, this laptop is guaranteed to provide you with a reliable daily performance at a very affordable price.
ASUS X551MA-RCLN03 15.6-Inch Laptop (Black)
[asa2]B00IC5M2L0[/asa2]
ASUS X551MA-RCLN03 is an all-round laptop for working and playing. Its compact and sleek design makes it very portable. This entry-level machine comes equipped with an Intel Celeron N2815 1.86GHz processor, 4 GB RAM, Windows 8 Operating System and 500 GB HDD, which makes it very efficient at performing light computing tasks and storing files. Its SonicMaster technology as well as ASUS AudioWizard is guaranteed to provide you with outstanding hi-fi audio.
The included HMDI port allows you to view your photos and videos on your HDTV, while the USB ports allow fast data transfer. The laptop also comes with a built-in webcam with microphone to help you stay in touch with your loved ones through voice and video messaging.
Dell Inspiron 14 3000 14 Inch Laptop (Intel Celeron, 2GB, 500GB, Black)
[asa2]B00SIJH3TG[/asa2]
Dell Inspiron 14 3000 is a simple, but reliable laptop that's designed to help budget-conscious users to perform their daily computing tasks with ease. It's packed with an Intel Celeron N2840 processor and 2 GB RAM, which offer great performance for simple tasks like web browsing with ease. However, if you like opening multiple tabs at once when browsing, the installed 2 GB RAM may not be enough, so consider upgrading to 4 GB. Just like other laptops in these price range, Dell Inspiron 14 3000 comes with a resolution of 1366 x 768 pixels which is clear enough for basic viewing.
This laptop boots up very fast and operates quietly without getting excessively hot. Because it's made using hard plastic and has very lightweight hardware components, it's very thin and light, making it ideal for travelling. It also has standard connectivity ports (HDMI port, USB ports and Ethernet ports), as well as Bluetooth which most of its competitors have left out. The laptop's battery can last for up to 5 hours without charge, which is reasonable considering its price.
Toshiba Satellite C55-B5100 Laptop Notebook Windows 8 – – 4GB RAM – 500GB HD – 15.6 inch Display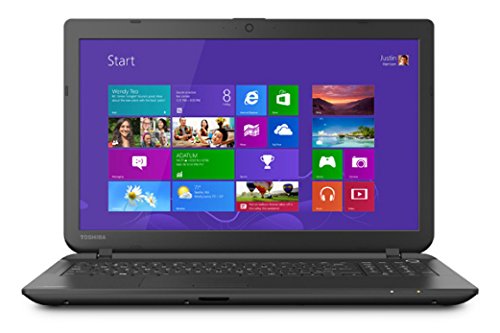 This Toshiba Satellite C55-B5100 Notebook continues to receive decent reviews from satisfied users for its battery life, incredibly low price, portable design and quality display. It has a basic Intel Celeron N2840 processor that comfortably performs general daily applications without breaking a sweat. It's backed by a 4 GB RAM and 500 GB inbuilt memory, which are more than enough for storing your documents. The laptop also has a wide HD screen, DVD±RW/CD-RW drive, Bluetooth, as well as a HD webcam with a microphone, which are all meant to make you enjoy using this machine.
Acer Chromebook 15 CB5-571-C1DZ (15.6-Inch Full HD IPS, 4GB RAM, 16GB SSD)
[asa2]B00TU7U4PU[/asa2]
If you're fine with running just Google applications on your laptop, then you should take a look at Acer Chromebook 15. The Chrome OS is very minimalistic and easy to learn, so you shouldn't have trouble using it. It comes with an android-like interface that includes a menu button, settings, clock, Wi-Fi and app launcher displayed at the bottom right. Its 1.5-GHz dual-core Intel Celeron 3205U CPU plus the 4GB RAM delivers an impressive performance on basic daily computing tasks. If you're a medium to heavy media user, the 16 GB inbuilt storage may not be enough for you. However, you can buy a high capacity SD card to insert on its card reader slot. Its battery lasts for up to 9 hours, which enables you to stay connected even without electricity.
It also comes with several connectivity options including, 2 USB ports, a HDMI port, as well as a Kensington lock slot. In addition, it has a large and sturdy keyboard with black keys that complement the laptop's white look. With its loud speakers, you may not need external speakers to listen to your music or watch movies.
Toshiba CB35-B3340 13.3 Inch Chromebook (Intel Celeron, 4GB, 16GB SSD, Silver) Full HD-Screen
[asa2]B00Y4WKKXW[/asa2]
The Toshiba Chromebook 2 is thinner, lighter and more durable than most Chromebooks of its size and price. It's equipped with an Intel Celeron N2830 processor and 4 GB RAM, which is enough to perform basic tasks. Like other chromebooks, Toshiba CB35-B3340 has a small storage capacity of just 16 GB, so you should consider buying an external HDD if you have more things to store.
This Chromebook also has a bright HD-screen and good viewing angles for easy and clear viewing. It also comes with 2 USB ports, an HDMI port, as well as an SD card slot for multiple connections. If your current laptop is very slow, you'll be happy to know that Toshiba Chromebook 2 is capable of opening multiple tabs without lag, even when you're streaming audio. And just like other previous models, you'll get 100 GB free storage on Google Drive for 2 years. As if that's not enough, this Chromebook's battery can last for up to 12 hours.
ASUS Chromebook 13-Inch HD with Gigabit WiFi, 16GB Storage & 4GB RAM (Black)
[asa2]B00O5VX2KK[/asa2]
This Chromebook from ASUS is praised by many users for its incredible battery life, quality display, fast speed and affordable price. Its Intel Dual-Core 2.16 GHz processor, together with 4 GB RAM provide fast performance, while its 13-Inch HD LED display enables you to see the screen more clearly. Like other laptops, it comes with multiple connectivity ports, as well as Bluetooth and an SD card reader. It's also equipped with 16 GB local flash storage, super-fast Wi-Fi, HD webcam and up to 10 hours of battery life. On top of that, you'll get 100 GB free storage on Google Drive for 2 years when you buy this ASUS Chromebook.