[Top 5] Best Car Battery Chargers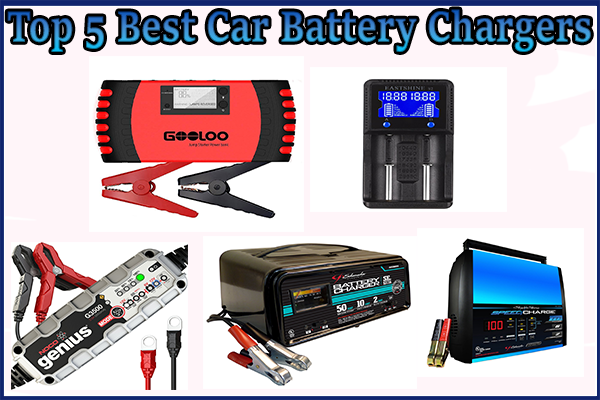 We've all had those days when we turn the key in the ignition and nothing happens. Who has time for that? It is really irritating. A damaged or flat battery charger can really ruin your day. As such, it is really important to learn about the best battery chargers available in today's market. Nobody likes being in such a situation but armed with the right information, you can avoid such let downs.
What to Look For In a Car Battery Charger
So as to pick out the best car battery chargers, you need to first know some few very important details. These include: choosing a charger based on the type of battery, determining the size of the battery and also, based on the desired results or outcomes.
1. Choosing A Car Battery Charger Based On The Type Of Battery
Whether your car battery is free from any kind of maintenance, flooded or wet celled, Absorbed Glass Mat (AGM), and value regulated lead acid (VRLA); all battery chargers are sure to give you the desirable results. However, it is not all car battery chargers that work best with any type of car battery.
Some gel cell batteries are rather picky and work best with specific chargers. It is, therefore, important to first identify your type of car battery before choosing the corresponding charger to use. You may not want to purchase a car battery only to realize later that it cannot charge your car battery. This is not only discouraging but also leads to wastage of money!
2. Determining The Size Of Battery
Note here that we don't mean the physical size of the battery but how long it stores its amp hours. Let's take the example of a typical full-sized car battery. If it stores fifty amp hours, choose a ten amp charger that would ultimately charge such a car battery for close to six hours if the battery had completely run out of charge.
There are a number of people who prefer a charger that performs much faster. For such individuals, we recommend looking for a car battery charger with more amps. However, for those who are not in such a hurry, it is advisable to pick out a smaller' charger.
In the end, the most important factor is to ensure that you have the right amount of power in your charger. This will help you to carry out the required job within the required time frame!
3. Choosing A Battery Charger Based On The Desired Results Or Outcomes
There are also quite a number of people who prefer to maintain their automobiles fully charged during the off season. In such cases, a simple, low current, car battery charger will be very ideal. Others require a car battery charger that charges the battery quickly so as to immediately restore fully the motor functions of any automobile.
There are also a variety of car battery chargers that may suit your needs. They include:
• Multi-Voltage chargers
• Waterproof chargers
• Chargers that double in power supplies
• Multi-bank chargers
Top Five Best Car Battery Chargers
1. NOCO GENIUS G3500 6V/12V 3.5A ULTRASAFE SMART BATTERY CHARGER
[asa2]B01M18LKB2[/asa2]
This car battery charger offers a lot to anyone who chooses to use it. Here are some of the key functions it offers any user:
· It charges empty lead-acid and also lithium-ion batteries to up to 120Ah. This includes lawn mowers, motorcycles, ATVs, and cars. Besides, it also maintains all types of automotive, RV, marine, power sports, and lawn and garden deep-cycle batteries.
· Its top-notch technology delivers superior performances – the battery charger works two times faster, and can even repair worn out or damaged batteries.
· It also provides a streamlined design that is portable, light and ultra compact.
· It ensures car batteries stay safely connected all day and all week.
2. SCHUMACHER SE-5212A 2/10/50 AMP AUTOMATIC HANDHELD BATTERY CHARGER
[asa2]B0009IBJCQ[/asa2]
This type of battery charger is highly rated due to some key factors. These include:
· It is a handheld car battery charger with complete automatic twelve voltage battery charging system
· It prevents the overcharging of batteries which can be very detrimental
· It can quickly charge car batteries in a span of three to five hours. This goes a long way in saving time for those who may be in a hurry.
· LED helps in keeping the driver informed on how the charger is operating
· Works well with fifty, ten, and two-amp applications
3. SCHUMACHER SSC-1000A SPEEDCHARGE 2/6/10 AMP BATTERY CHARGER AND MAINTAINER WITH 50-AMP BATTERY CLIPS
[asa2]B0009IBJE4[/asa2]
The features of this car battery charger are rather exciting. You are likely to enjoy the following perks.
· It has an electronic push button to select the display mode, the battery or rate of charging
· Presence of a digital meter that helps in the displaying of the status of the battery charger and also its test results
· The systems test helps to diagnose any problems associated with the battery or charging system
· It also has a ten-amp fast charging system that adjusts the rate of charging and monitors the condition of the battery.
4. GOOLOO 700A PORTABLE CAR JUMP STARTER 18000MAH
[asa2]B01HPCB2FW[/asa2]
Some of the features of the features of this battery charger are as follows:
· It is so powerful to the extent that it can charge your car battery up to thirty times with seven hundred amps of peak heavy and current duty cables and clamps.
· It goes on to help users in quite a number of activities such as adventure, travel, daily, emergency and also in temperature regulation.
5. UNIVERSAL BATTERY CHARGER, EASTSHINE S2 LCD DISPLAY SPEEDY SMART CHARGER FOR RECHARGEABLE BATTERIES
[asa2]B01N4NS31O[/asa2]
Key features include:
· It ensures safety above all other aspects of fire retardant elements, worldwide insurance, and intelligent circuits
· It is a universal charger. It is therefore capable of charging all car batteries.
· It is also a fast and smart charger. This helps users to automatically detect the status of the battery, to select the mode of charging, and also cut off power at either overtime or full-time basis.
· Other features include happy card containing twenty-four hours warm services, and lifetime of maintenance