[Top 5] Best Car Seat Covers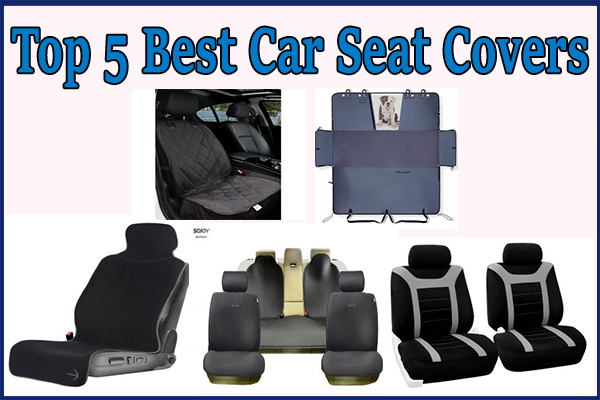 Everybody yearns for quality car seat covers to keep the original car interior fabric to last long enough. This can seem to be a little challenging for you with the wide range of similar products in the market and with little information provided for them. We have therefore prepared a few tips to help you choose the ideal car seat covers for your car.
How to Pick the Right Car Seat Cover?
It is always advisable to know the exact qualities to look for in any product before going out to buy it. This can be done through online research, from articles such as this or a visit (in this case) to some of the car accessory dealers in your area to see what they currently have in stock. When looking for the right car seat cover, it is good to look out for the below qualities.
1. Leak-Proof – Ensure that the material that used on your choice of the seat cover is leak-proof. This will ensure that should something spill in your car; it does not leak to the original car seat material.
2. Easy to clean – Ensure that the cover you settle on is easy to clean and can be easily wiped off of stubborn marks from any spillage made. It should also be easy to get off any lint or unwanted hairs from the cover fabric.
3. Easy to fix – Since you may need to remove your seat cover frequently for cleaning, it is advisable to get one that you can easily fix back without asking for assistance or going back to the shop for fixing.
4. Long-lasting – The vehicle seat cover you choose should be able to withstand normal crease pressure from sitting, a few scratches especially if with a blunt object and should not easily fade.
5. Comfortable – Comfort is of paramount importance when choosing car seat covers. This can be confirmed by ensuring that it does not sit out of place and does not take up much car space by being too bulky. It should also not inconsiderably adjust the temperature of the vehicle.
6. Cost effective – After you have settled on the perfect car seat cover with the above qualities, it should not cause a dip in your pocket to purchase it. Since it is only a car accessory and not part of the car it should not cost you more than 5% of the original vehicle cost.
7. Non-slip – The seat cover you choose should stay firmly in place even after the passengers have left the seat and should not need constant adjusting as this may make the car look quite untidy.
The qualities to look for in the car seat protector can be a bottomless pit but the most important for any car owners have been covered above. The rest may include color, designs and patterns and other additional features.
Since we have covered the all-important topic of how to pick the right car seat cover, let us now go ahead and give our top 5 recommended car seat covers.
a) Universal Waterproof Car seat Cover, Protector
[asa2 align="center"]B01ETU3PTY[/asa2]
This car seat is universal and thus it is easy to fix and clean stays in place and is made of very good pad-like fabric. It is also recommended for active travelers like sportsmen as it is leak-proof and thus protects the car seats from damage.
b) Sojoy Universal Four Seasons Full Set of Car Seat Cover and Cushiont
[asa2]B019J8MQGE[/asa2]
One comes highly recommended for its great comfort and amazingly low price without compromise on quality. It comes in a variety of colors to choose from and is easy to put in place. It is non-slip and the material is machine washable making it ideal for most households. It also comes as a set for all your vehicle seats and has an odor-free gel to help keep the strong odors from active hikers and sportsmen in your car under control.
c) Gray Front Airbag Ready Sports Bucket Seat Cover, Set of 2
[asa2]B01E4DO17G[/asa2]
They are universal and easy to fit and even have an adjustment strap to set up your car seat cover firmly as desired. They also have room for the airbag to inflate in case of impact which has been officially tested. They also come in very decent colors and make the car look very presentable. They are machine-friendly and air dried. The most common customer reviews for this car seat covers were the fair pricing, easy fit with the adjustment option and the airbag option. They have also been recommended for comfort and aesthetic value, making an ordinary car feel like the latest sports car.
d) Barksbar Pet Front Seat Cover for Cars
[asa2]B01GDGGC6A[/asa2]
This pet car seat cover had to make it to our top 5 best covers review. It is universal thus can be used on different car models. It is for the front seat and thus is ideal for those who love to have their dog sit beside them at the front. It's best qualities as per the feedback that was given is the fact that it is both non-slip, waterproof and very easy to clean.
e) Car Seat Cover for Dogs by Drive Auto Products
[asa2]B01LVWANLP[/asa2]
Drive Auto Products has created a car seat cover that is worthy of a look. It's best customer reviews are based on the see through net which lets the dog and owner see each other through the journey. It can also be used with a passenger in the backseat. The center fabric where the dog sits, as well as the connection points, are made of very strong fabric. It is very easy to clean, fix and remove, is leak-proof and comes at a great price.