Top 5 Best [Cheap] Basketball Shoes for Men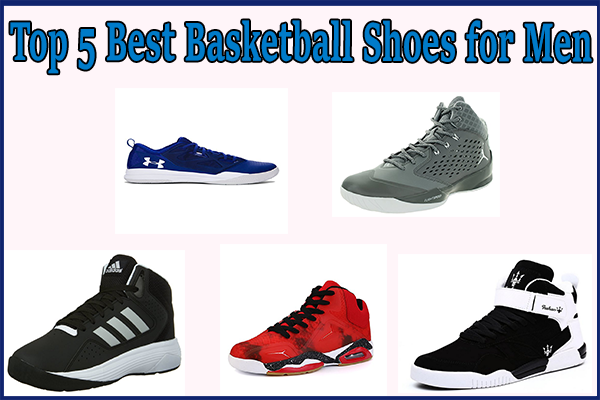 Basketball shoes should offer protection for your feet, ankles and traction for swift movement on the court. Now, a combination of all these at a lower price is what most players yarn for. However, today's market has lots of shoes that cost way over $100. But if you know where to look and what to look for, you can get some cool sneakers barely cost $100 and they perform much better all the pricy models out there. Here are some quick tips on how to choose the cheap but high quality basket ball shoes
How to Pick Cheap and Good Basketball Shoes
Cheap is a relative term; what might be cheap to you may not be necessarily cheap to the next buyer. So the first thing you want to do is to set you budget. Generally, quality basketball shoes that are considered to be cheap range from $35 to $100; anything less may compromise quality, and anything more may do a disservice to your tight budget.
After setting your budget range, find out what makes up a quality basketball shoe. Essentially, you should factor in all the following aspects;
Durability
Durability is a very important factor. You do not want a sneaker that will fall off on you in as little as 1 week, or worse still, fall apart in the middle of a game. In as much as a light sneaker will give you the flexibility to sweep around the court, it may not necessarily be durable. So you need to do some homework and find your balance.
Materials
Your choice of material will typically dictate the durability of your sneaker. For instance, if you choose plastic-based synthetic, the upper part is likely to withstand some abuse. On the other hand, raw materials may give you the nicest feel, but will get worn out real quick. The good news is there are plenty of options out there and everyone will always get something.
Fit
Sneakers today are shaped and constructed in a narrow design that perfectly fits the normal and narrow footed individuals, not so kind for wide footed ones though. If you choose narrow durable plastic-based synthetic shoe if you have a wide foot, be prepared for some painful experience. If you are wide footed, you may want to go with shoe designs made with raw materials such as suede or leather, as these will stretch and break-in over time.
Cushion
It's hard to pick a shoe that doesn't have some kind of modern technology. However, different cushion sources come with various attributes whose choice will largely depend on your preferences. The main choices available are air-based cushioning and foam cushioning whose main difference is their responsiveness. Air based cushioning is typically more responsive compared to foam cushioning. So if you buy a pair once a year, you may want to go for the air-based cushioning as this will last longer, but if you upgrade your sneaker every after a few months, foam cushioning may do for you.
Of course there are many other factors to consider when choosing your new basketball sneakers, but we decided to focus on the above main ones. Now, after you have decided what you want in your basketball shoe, it's time to head to the market. The best place to shop for cheap quality basketball shoes is on online stores.
Look out for retailers offering relatively low prices, discounted prices or those currently doing a clearance sale. The best thing about online shoe shopping is that most platforms like Amazon.com have an option that lets you set your budget and filter through your price range. So go ahead and look around the internet for your best fit. In the meantime, here are our top 5 Best Cheap Basketball Shoes from Amazon that we thought you might like.
The Top 5 Picks from Amazon
Performance Men's Cloudfoam Ilation Mid Basketball Shoe
[asa2]B010N5XSSC[/asa2]
This comes with a springy cloud foam cushioning and modern basketball style that is great for everyday's wear. They have contrasting 3-strips and a leather upper that is both durable and comfortable.
Main features
• Collar and rear quarter, air mesh tongue and comfortable textile lining
• Full grain leather upper
• Cloudfoam sockliner for lightweight and comfortable cushioning.
• Printed and debossed 3-strips
• Cloudfoam midsole for superior cushioning and step-in comfort.
• Rubber outsole
• Mid-cut design for extra ankle stability
• Lace-up closure
Under Armour Men's UA Jet Low Basketball Shoes
[asa2]B0182ND5YO[/asa2]
The Under Armour Jet takes good care of your feet and your pocket. It has a unique design and model that protects your ankle up to 5 centimeters above. As the name suggests, the shoe is determined in providing real amour to your feet and ankle.
Main features
• Rubber sole
• Synthetic
• Enhanced ventilation facilitated by a mesh tongue and engineered performance
• Full length EVA sockliner
• Full-length EVA midsole
• Solid rubber outsole with traction pattern that offer linear and lateral movement and control.
No.66 Town Men's Performance Air Shock Absorption Running Shoes Sneaker Basketball Shoes
[asa2]B01I0ZVZJG[/asa2]
If it makes you feel good, No. 66 are made of environmentally friendly materials that won't harm you body. They offer sufficient ankle protection coupled with unrivaled comfort. Other features include;
• Synthetic sole
• Durable, non-slip, rubber sole the air cushioning
• Breathable synthetic fabric mesh
• Synthetic
• Soft liner with fashionable ventilation perforation
• Flexible and comfortable ankle protection
Leader Show (Tm) Fashion Sneakers
[asa2]B017CNWIO8[/asa2]
Another perfect low lying ankle selection.
Main features include:
• Rubber sole
• Non-slip rubber outsole with wearable cushioning
• Cotton
• PU stripes upper, high-top with good sense of fashion
• Comfortable Cotton lining and comfort
• Suitable for basketball as well as parties, outdoor sports and casual outdoor adventures
• Upper side made of leather
Nike Jordan RISING HIGH Men's Basketball Shoes
[asa2]B015HKRB40[/asa2]
The Jordan brand has been rising for the last few years and it keep reaching new heights each year. The design emphasizes on excellence, comfort and ultimate functionality. Here are the some specific features.
• Rubber sole
• Synthetic-And-Leather
• Responsive foam cushioning of FlightPlate technology
• Diamond-shaped perforations
• Breathable upper
• No-sew construction for flexibility in the forefoot
• Diamond tread pattern for multidirectional traction