[Top 5] Best Cheap Car Seats for Toddlers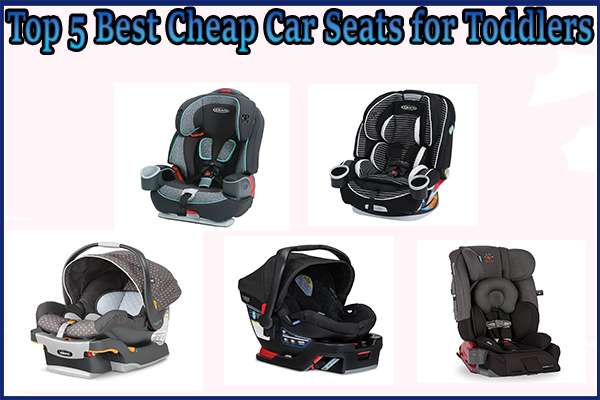 Cars add a great value when it comes to mobility. There is however, the issue of safety especially for toddlers. Toddlers are usually of small builds and may not fit appropriately into stock car seats. As a standard, special car seats are required to ensure that toddlers are secure and comfortable at all times in cars.
What To Look For in a Car Seat for Toddlers
Before starting your buying journey, you need to know the laws of your country or the laws which will apply to you like state laws and the like. Most laws usually require the use of a car seat for toddlers under 12 year of age or children under 135 cm tall, whichever comes first. Here's a few things to look for in a car seat for toddlers;
The Type of Car Seat and Size of Your Child
Children grow really fast and as a result, you will need to pick the right type of car seat based on your child's size. The main types include;
1. Infant car seats which are designed for newborn babies, they provide maximum comfort for small children weighing between 4 to 40 pounds and are mostly rear facing.
2. Convertible seats which are usually the most common type of car seat, they are ideal for children just under 1 year old and above and weighing between 20 to 50 pounds.
3. Booster seats are designed for when your child outgrows the size limit for a forward facing seat harness. It helps to secure children by propping them up so that they may be secured using the car's seat belt.
4. All-In-One Car Seats are usually one of the greatest money savers, they are appropriate right after birth all the way up to booster seats. However, since they try to accommodate all sizes, they end up being somewhat inefficient.
The Car Seat Features
This is an especially important aspect to look out for when buying car seats. Examples of such features include; type of latch connectors (whether push on, hook type or rigid anchor type), type of harness (whether it is adjustable or not), recline indication and lastly presence of covers pads or cushions. These features play a big part in determining whether a particular car seat is compatible with your car.
Safety Features
The first and main reason for using car seats for toddlers is so that they can be safe while in the car at all times. With this in mind, you need to look out for extra safety measures that your car seat manufacturer adds to your car seat. Restriction of movement is a great place to start and manufacturers usually achieve this by using a top tether located at the back.
What you need to know is that babies grow really fast and this usually means that the kind of car set you end up using may vary from time to time. We sampled some popular brands and based on our observations, here are the ones we recommend;
a) Chicco Keyfit 30 Infant Car Seat and Base
[asa2]B00MS9VTG0[/asa2]
This is one of the most highly rated infant seats in the market today. It features a 5 point harness that can be adjusted using one hand only. It has body inserts that maximize comfort, making it ideal for newly born babies. It has a spring powered level foot, a "Center Pull" adjustment (used in installation) and bubble levels to measure how reclined the seat is. A caddy frame is available for use outside the car on walks.
b) Britax B-Safe 35 Infant Car Seat
[asa2]B0107CZ5U0[/asa2]
If you are looking for extra surety about the safety of your toddler as you travel, this is one of the best options for you. It offers great impact protection with the help of an extra deep protective shell. An impact stabilizing steel framing also adds great rigidity to the connection between the vehicle and car seat ensuring maximum strength at impact, this kind of protection is unmatched. Like the Chicco mentioned earlier, it can be connected to a caddy for use outside a car.
c) Diono Radian RXT All-In-One Convertible Car Seat
[asa2]B01CL9GBJG[/asa2]
This car seat is the only all-in-one seat that has a full steel frame. It has great safety features thanks mostly to the steel framing. It has adjustable harnesses that makes it grow with your child right from birth to booster. While positioned facing the rear, it carries 5 to 45 pounds and 20 to 80 pounds while facing forward. In addition to this, its 5 point harness and booster mode can carry up to 120 pounds. Cushions are added for comfort and prevention of possible damage in accidents.
d) Graco Nautilus 65 3-in-1 Harness Booster Car Seat
[asa2]B00Y285W8G[/asa2]
As the name suggests this is a 3-in-1 harness booster. It helps to protect your child right from being a toddler to when he or she is about 12 years old. It is designed to be fitted facing the front as it needs to be secured at the back using a top tether. The harness and headrest can be adjusted using a safe adjust system using one motion. This ensures that your child is always secured properly and with the help of a recliner, your child is always comfortable.
e) Graco 4ever All-in-One Convertible Car Seat
[asa2]B00Y286A0U[/asa2]
This is one of the best car seats in the market today. It combine several features allowing maximum flexibility to how you can secure your child in your car. The 4-in-1 feature enables you to use it for at least 10 years. This is the most pricey option among the car seats that we recommend and having tested it, it is worth the money. It can carry from 4 to 120 pounds as follows; 4 to 40 pounds in the rear facing position, 20 to 65 pounds in the forward facing position, 30 to 100 pounds as booster seats in high back mode and 40 to 120 pounds in backless mode. AN easy latch system also allows quick and easy installation.