[Top 5] Best Cooling Tower Fans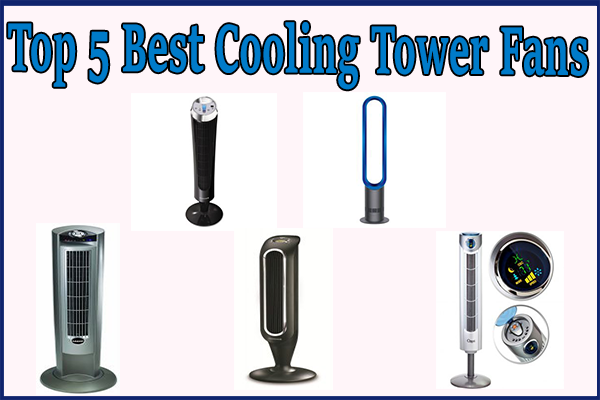 Cooling tower fans are a cheaper alternative to air conditioners for people living in hot climates. They are also more eco-friendly, lighter, highly portable and compact. But these compact and lightweight household gadgets can pack quite a lot of cooling power. Some of the best tower fans can cool down large living rooms.
What to Look for in a Tower Fan
There are quite a few popular cooling tower fans available. Remember, these oscillating fans don't raise the temperature. They only cool the room by circulating the air around you, effectively creating a comfortable breeze. It will support evaporative cooling and make a room with a hot stagnant air more comfortable by moving it around and evaporating sweat from your skin.
When shopping for a cooling fan, look for the following features:
· Good airflow: Whether you want a fan with a wide angle of airflow to sweep a large room or a tall fan that can blow on you as you sleep in bed, you definitely must consider how strong the air flow is. A lot of people like a gentle breeze while other hot sleepers may prefer a strong air flow.
· Noiseless or Low Noise Operation: The last thing you want to have to listen to on a hot night is the buzzing blades of your fan. Many people don't mind the standard white-noise level sounds that some tower fans make. In fact, some people sleep better with white noise. Others may prefer the low noise operation that some models offer.
· Ease of Cleaning: The fan should be easy to clean without having to fully dismantle. Simply vacuuming the aperture or blades and giving the body a wipe should be enough to keep the fan dust-free and operating efficiently.
· Speed Levels & Timers: Most fans have two to three different speed levels. Some have a timer function that shuts the fan off after one to twelve hours of use, which is useful if you want to save energy.
· Air Purifying Features: Some fans have pollen or dust filters and ionizers to help provide relief from allergies to some extent.
· Remote Control: It's always useful to have a fan that can be remote controlled. Remote storage option on the body is a bonus.
· Body Design for Portability: How portable is the fan? Does it have a handle or some kind of hand-holds that you can use to pull the fan to another place or carry it to another room? The taller the fan, the more you should pay attention to the ergonomic design.
· Controls on the Body: Does the fan have touch-button controls? Is there a digital display? These are some features that may affect your choice.
· Thermostat: Some models come with an adjustable thermostat that can be used to set the temperature at which you want your fan to automatically start. Note that oscillatory fans cannot lower the temperature. Fans with a thermostat will also show you the current temperature.
Recommended 5 Cooling Fans from Amazon
Now we can go on and take a look at the top 5 best cooling tower fans you can buy on Amazon.
1. Honeywell HY-280 QuietSet Whole Room Tower Fan
[asa2]B00B4BJZ9G[/asa2]
The QuietSet tower from Honeywell has lots of technology embedded in the fan. It has eight different speeds of oscillation, so you can effectively enjoy eight levels of air flow and corresponding levels of quietness. These levels range from Sleep (which is the quietest) to Power Cool at number 8, which offers the strongest air flow. During the day, you may not notice the fan blowing with all the ambient noise. This tower by Honeywell comes in four colors. It has a nice circular control panel at the top, with an LED display, a 1 to 8-hour timer, and a remote control. The fan's thermostat generally shows the current room temperature, but you can set it to the temperature at which you want the fan to turn on. It stands at around 40 inches tall and is quite popular for its quiet operation.
2. Lasko 2551 42″ Wind Curve Platinum Cooling Fan
[asa2]B000RL3UJA[/asa2]
The Lasko 2551 tower stands at 42.5 inches, which makes it taller than most tower fans around. It has three-speed settings, and you get good air flow in all three setting levels. You can turn on the oscillation option if you want the fan to rotate and offer a wider field of comfort. It comes with a detached base that you can assemble by just screwing on to the tower. It is not noisy and features an ionizer-type air purifier that doesn't need a filter change. The only caveat is a blue LED that some people may not like in their bedroom at night.
3. Dyson Air Multiplier AM07 Tower Fan, Blue
[asa2]B00I8R4XI2[/asa2]
The Air Multiplier tower by Dyson is higher-priced than all the other fans on this list. But if you're willing to spend a little over $350 for it, you'll enjoy a very safe, high-tech, attractive, effective fan with near-silent operation. It looks like a work of art since it's simply an open elliptical shape mounted on a pedestal. The best thing about the fan is that it doesn't have any blades. At least, none that you can see or that your pet can put their nose into. The blades are hidden in the pedestal and works with a powerful electrical motor that produces airflow as powerful as a vacuum cleaner. The Dyson fan produces a steady stream at 10 different airflow levels. It comes with a remote control that can be stored on the magnetic body. The fan is incredibly quiet and also has a timer. It's easy to clean – just give the body a wipe-down, no grilles or blades to tackle.
4. Honeywell Fresh Breeze Tower Fan with Remote Control, HY-048BP, Black
[asa2]B000E13ERQ[/asa2]
Another recommended offering by Honeywell is this popular and affordable tower with three speeds and a 1 to 12-hour shut-off timer. The fan can be oscillated and works with a remote control. It has an LCD display, a programmable thermostat, and touch button controls. A unique feature is an ionizer and the dust and pollen filter, which you can wash and reuse. The tower stands at around 40.5 inches. It has small lights that are not too distracting in the dark.
5. Ozeri Ultra 42 inch Wind Fan – Adjustable Oscillating Tower Fan with Noise Reduction Technology
[asa2]B00410BTXC[/asa2]
The Ozeri 42-inch fan is an offering from a company known for its high-tech tower fans. This particular model uses a passive noise-reduction technology that makes for quiet operation. The fan produces good, powerful airflow in three patterns for better sleep, relaxation and comfort. It also has three quietness settings, 90 degree oscillations and a sleep timer. It is compact and stylish, comes with a remote control and is height-adjustable. The fan is also easy to put together, without any tools needed.