Top 10 Hottest Korean Female Models [Of 2016]
Korea is one of the most tremendously progressing countries in terms of fashion and entertainment. The women of Korea are not just very hot, but are also very beautiful and unbelievably talented. That in mind, here's a list of under the age of 30 top 10 hottest Korean models 2016.
10. Baek Ji Won
As one of the new entrants, Baek Ji Won has an amazing future ahead of her. The 26-year-old is not only contracted to one of the best modeling agencies in Seoul by the name Esteem, but has also made appearances in various magazine covers including, Z-zin, Bling, Vogue Korea, Allure, Sure, ELLE Girl Korea , Vogue Korea, J Look and many more.
She's traveled the world appearing on various runways while still modeling for international brands such as Samsung Smart All-in, Basic House China, Uniqlo, InnerB, Charlotte Card and others.
9. Choi A Ra
Choi A Ra is without a doubt the youngest model on the list. Born in 1993, Choi has brushed shoulders with the best in the modeling industry. Contracted to Aile Modeling Agency in Seoul, Choi has recently graced the covers of various magazines including Vogue Girl Korea, Vogue Korea, Nylon Korea, Singles, ELLE Korea, Marie Claire Korea, Confused Korea and many more.
As well as appearing on various modeling shows all over the world, Choi is currently modeling for major brands such as Adidas, MLBer, Holika Holika, Demi Soda, Skin Food, Buckaroo Jeans, Gleigh, Shu Uemura, Low Classic and many more.
8. Jinri Park
Even though she currently stays in Philippines, Jinri Park is a well-recognized South Korean model who also doubles up as a magazine columnist and a radio disc jockey. The 28-year-old model has in the past graced the covers of FHM magazine, Philippines edition. As recent as of 2015, Jinri was ranked at number seven on the list of 'Top 100 Sexiest Women in the World' by Summit Media. The sexy model is very active on Instagram and gives fans a glimpse of her life in what she terms as "The Jinri Experience".
7. Kang Seung-hyun
Kang Seung-hyun is a fully-fledged model who began her career in 2008 when she debuted as a model at the Phillip Lim runway in New York. On top of being a model, the 29-year-old beauty is also a designer, a television director and a TV show host. She is contracted to a host of modeling agencies including Ford in New York, KPlus in Seoul and Elite in Milan and Paris.
Kang has graced the covers of numerous magazines such as Vogue Korea, Teen Vogue US, Marie Claire US, Harper's Bazaar Korea and many more. She's also modeled for international brands such as Victoria's Secret Catalog, American Eagle, Tommy Hilfiger, Lacoste, DKNY, Benetton and more.
6. Park Shin-Hye
Born in Gwangju, Park Shin-Hye was raised in Songpa District in Seoul, where she forged a career in music, acting and modeling. Shin-Hye began her career as early as in the sixth grade but her major breakthrough was delayed until 2009 when she starred in Korean drama series "You're Beautiful". The 26-year-old has also had success appearing in various Japanese television series.
Apart from being a highly acclaimed model, Shin-Hye is also a South Korean Goodwill Ambassador and has carried out many charity activities in Nepal, Ghana and other places around the world. As of recent, Shin-Hye was inaugurated into the Korea Food for the Hungry International Philanthropy Club for her contributions towards the fight against hunger across the world. It is said that the beauty has in the past contributed more than 100 million Won (around $85,000) to the charity organization. It's no wonder Forbes lists her among '40 most powerful celebrities in Korea'.
5. Shin Se-kyung
Shin Se-kyung is one of the few names on this list that began their careers early. At the age of eight, Shin had begun making appearances on covers and posters, but her major breakthrough came in 2009 in her housemaid role in the hugely successful sitcom, "High Kick through the Roof". Since then, the 26-year-old model has never looked back. She's not only appeared in numerous television series, but has also released a hugely popular digital single "You Were Sweet" as a modeling part of a coffee franchise.
4. Yoon Bora
Yoon Bora undoubtedly epitomizes the fact that South Korean women are amazingly beautiful. Going by her stage name Bora, the 26-year old is a model, an actress and an idol singer. She is a group member of "Sistar", a popular South Korean girl band. Having been in the entertainment scene for the past five years, Bora has done numerous television series, most notably "Invincible Youth".
Above all, she's appeared as a leading model for some of the world's top brands including; Adidas, Hyundai Turbo, Clarisonic, Haemoramin and many more.
3. Nana
Im Jin-ah is widely recognized by her stage name Nana. The 25-year-old beauty is a model, singer and actress. She's a member of South Korean girl group "After School" and has been on the modeling scene since 2009. She has appeared in a host of television series including "Good Wife" and "High Kick". In 2014, Nana was ranked number one on the list of 100 Most Beautiful Face' by The Independent Critics List.
Of her modeling career, Nana has appeared on the cover of various magazines and always looks awesome in whatever attire she decides to don.
2. Kim Hyuna
Kim Hyuna is definitely one of the most beautiful models on this list. The 24-year-old is commonly known by her stage name HyunA. She's not just a model, but also a singer, rapper, songwriter and dancer. HyunA is a member of a South Korean girl group "4Minute", as well as being part of a popular musical duo, "Trouble Maker".
1. Go Ara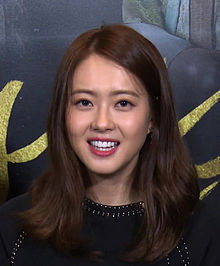 One of the well-known names on the list, Go Ara was born in February 11, 1990. She is one of the most recognized faces in the South Korean entertainment and fashion industry. As a model and an actress, Go Ara is famous with her screen name Ara and has appeared in Korean television dramas "Sharp" and "Snow Flower". As one of the most acclaimed Korean commercial models, Ara has in the past won SM Entertainment Teen Model Contest in 2003. She currently works for major brands such as Uniforms, Etude House and has appeared on the covers of various magazines. Her soft nature and humble personality appeals to a lot of fans.