[Top 5] Best Electric Knives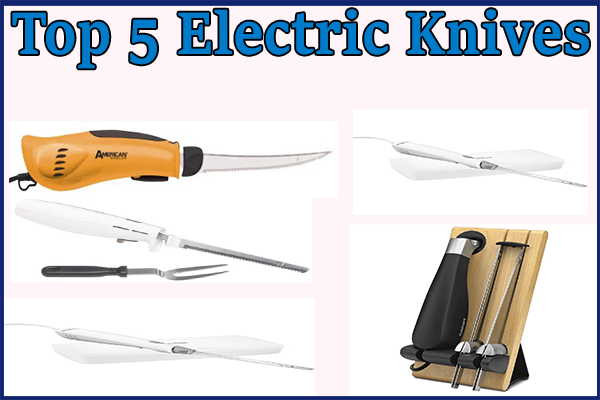 A good electric knife is more efficient than a traditional one, and it makes the process of prepping your foods quicker, easier and more enjoyable.
If you are fed up with all your dull knives ending up shredding the chicken every single time or just simply want to save time while cooking, you should consider having an electric knife in your kitchen. The question is how do you find the best electric knife for your needs?
What to Look For When Purchasing An Electric Knife?
No matter what type of slicing you need to do, there are a few basic criteria you need to keep in mind when purchasing an electric knife. The length, material, safety features and ergonomics are all important factors.
Electric knives are available for nearly any task, and you'll need to carefully evaluate your options and think about how you intend to use the knife.
A. The Blade Length
As you might expect, electric knives come in several different sizes. The biggest knife isn't going to be the best option for most tasks.
Turkey, chicken and roast beef will require the larger knife with blade in the range of 9 to 10 inches long. Keep in mind that the longer your knife is, the more different types of meat you can slice.
However, process of filleting a fish requires a smaller electric knife that is capable of getting around the tissue to perform small cuts. You'll want to choose a small knife for fish.
B. The Blade Material
Stainless steel is a basic requirement for any electric knife. If the blade isn't made of stainless steel, just keep looking. You may be able to find some that are made out of synthetic material, but these won't have the same level of durability.
Choosing stainless steel is a smart decision because:
· The blade won't corrode, rust or tarnish over time.
· Stainless steel is also extremely easy to clean.
· The knife can be sharpened more easily.
C. Safety Features
There are a host of safety features that are available to help ensure you get a quality product that won't injure you. The best safety feature is you since you're the one who has to make sure you don't injure yourself or others.
However, you can't always watch the knife to make sure your children don't get hurt. Look for a knife that has a locking or double trigger. This can make it more difficult for children to accidentally turn on the knife. It's also important to store an electric knife in a safe place where it can't be dropped or accessed easily.
Top 5 Electric Knives From Amazon
5.Toastmaster 6116S Electric Knife
[asa2]B000063XGU[/asa2]
We love this knife because it fulfils all of the criteria that we expect from a knife. It has a fast blade, comes with a compact storage space, and effortlessly carves through bread, roasts, ham, turkey and vegetables.
It comes with an 8-inch serrated blade, and the fork is 10.5 inches. The fork is also dishwasher-safe, but you'll want to hand-wash the blade. The knife is fairly lightweight for such a big knife, and it comes in at just 2.6 pounds.
It also rests easily in the hand, and it uses two serrated blades to cut just the right thickness for your favourite foods. This knife won't work for filleting a fish, but you can cut just about anything else with this blade.
4.Cuisinart CEK-40 Electric Knife
[asa2]B00004WKI3[/asa2]
Cuisinart is a name we trust, as this company continually produces high-quality products for the home cook.
This knife is made of brilliant stainless steel, and it can be placed in the washer for easy cleaning. It comes with a traditional and quaint wood block storage tray so that you can proudly display it.
The tray also provides a safety lock to make it difficult for children to get their hands on the knife. There are two separate blades for carving bread and meats. This knife is comfortable to hold and easy to use, and it boasts a simple design that won't disappoint. It's also designed so that both left- and right-handed people can use it.
3.Hamilton Beach 74375N Electric Knife
[asa2]B0029E9BM8[/asa2]
Sometimes the simplest design provides the most utility. This is the case with the Hamilton Beach electric knife.
It has a multipurpose blade that is suitable for cutting a range of foods, and it is an exceptionally durable knife for its price range. The knife feels sturdy in the hand, and many customers have enjoyed more than a decade of use out of this versatile tool. It has a storage case that helps to save some space. The bread guide makes it possible to cut perfect slices every time, and the electric knife is powerful enough for carving and slicing. You won't be cutting through dense bone with this knife, but it's more than capable of handling your Thanksgiving dinner for years to come. It's also an extremely lightweight knife, which makes it easy to use and maneuver.
2.Proctor Silex Stainless Steel Electric Knife
[asa2]B00PB27ANC[/asa2]
The Proctor Silex Stainless Steel Electric Knife is capable of cutting through all types of meats, and it can also cut bread evenly. There are two stainless steel blades that are durable and long-lasting.
The unit must be connected via a cord, but it's very lightweight and easy to use. It has a one-touch button control to make it easy to cut, and both left- and right-handed people will enjoy using this electric knife. The handle is made with vinyl for extra comfort and stability. The blades are also dishwasher safe, which makes it easy to clean up after your event.
This knife is great for slicing through any vegetable or fruit as well, and pineapple is no match for its power and speed. You'll be able to save time cutting bread since the knife is designed to cut single and multiple slices of bread.
1.American Angler Pro Electric Fillet Knife
[asa2]B00EJC4Z10[/asa2]
When it comes to slicing any type of meat and filleting a fish, this knife simply can't be beat.
It features a powerful motor that is able to provide outstanding torque. It uses a powerful blade action that is able to provide a consistent cut every time. The ergonomic design is a welcome addition, and it can help prevent fatigue when cutting for an extended period of time.
This electric knife also comes with five different blades so you can manage any job with a single tool. The largest blade is a heavy-duty 10-inch blade while the smallest is a 5.5-inch blade. It also comes with a carrying case and a glove