The Top 5 Best Flameless Candles For Your House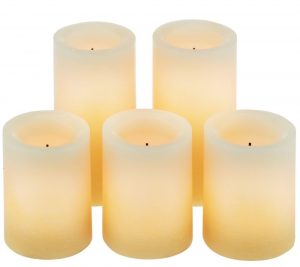 Flameless candles have got so many advantages. And ever since they took the market by storm, most people use them as air fresheners, insect repellents, in addition to being sources of light.
Because of the wave of information overload over the internet with many different types of flameless candles of which some of them do not even match up with the quality standards, today ,we have hand-picked and reviewed the top 5 best flameless Candles for your home in different colors and sizes so as to help you while making an informed and conscious purchase decision.
First of all, what are Flameless Candles?
Flameless candles are the alternative candles to the traditional candles (ones that require an ignitable wick embedded in a flammable substance) that use a small light bulb for illumination.
What to look for in a flameless candle for your home?
Precisely, a flameless candle is meant to be safer than its open flame tradition counterpart. Because if it is not, then it would impose a potential threat of burning and damaging a house. But because flameless candles are powered by light bulbs, then this is not most likely to happen.
Whereas it is true that flameless candles can also get hot and maybe at some point cause a possibility of damage, practically this damage can be controlled. These candles have got fixed timers which shut off automatically after a fixed amount of time which is unlikely to be the case with their danger dripping wax traditional counterparts .So, that said, here is what to consider while looking for a flameless candle for your home.
..
The presence of timer- A flameless candle with a timer will save you the burden of being worried about putting it on or off. They are typically wired candles or come with power cords to switch them on or off after a fixed amount of time. So, if you're looking for one it is important that you inspect the functionality of the timer.
Glow hours or longevity – A flameless candle must be able to glow for hundreds of hours while using it. This means that you don't have to replace it constantly, which creates less waste.
Shapes & Sizes
Because there are different shapes and sizes to chose from, sometimes some shapes and sizes are designed to serve specific purposes. For example, the Votive candles are known to be prayer candles and therefore are ideal for religious ceremonies. Similarly, taper candles have got a sleek and lengthy design which can suitably be used as floating candles in water.
Battery or Wired candles
Battery powered candles are convenient to use.Their power source is completely not visible. However, for the wired candles, you must connect to a power outlet for it to function.Meaning everything is displayed.So, the wired candle would be a good choice if you're looking for a large display for your home or store.
Multipurpose
By multipurpose I mean – the candle should at least be able to survive in a wide range of environments such as outdoor or indoor without blowing off. Technically, LED flameless candles are environmentally safe. And on the other hand, LED flameless candles do not release toxins and oils into the air. Also if you're looking for candles that give multiple colors and scents, then many LED flameless candle to have the ability to change the colors of the flame
The Top 5 Best Flameless Candles
1. [asa2]B010EXXJNC[/asa2]
This remote control votive candle is convenient for both indoors and outdoors like Christmas, weddings and other banquets. Depending on whether you want dimmer or brighter light, the LED made bulbs of this candle are safe and energy –efficient and it is easy to have them with different light intensities just by the mere use of a remote control.
Additionally, this candle is battery powered and the candle can last for 10,000 hours per battery which is perfect for a whole night when you want to relax.
More to that is the functionality of the remote control which gives the comfort to be used even in hard to reach areas like behind the shelves.
However, there are some downsides with this flameless candle. For instance, the battery cannot last forever. Meaning you've to keep investing in additional money in order to maintain them.
PROS:
• Variation in light intensity and flickering mode
• Comes with batteries
• Convenient while using the remote control to turn the candles on and off.
• Weatherproof
CONS:
• The possibility of other device's wavelengths interfering with that of the candle control.
• Batteries run down faster
2. [asa2]B00AAXYJ3Q[/asa2]
The company behind this brand of flameless candles is called LampLust which is an innovative technology company known for its consistency in producing quality decors
These flameless pillar candles include a function remote that allows you to turn your candles on and off from a distance.
You can set a 4/8hr timer and personalize the candles to grow in your preference. Not only will they provide amber glows which spill through each candle, they're also elegant.
The one downside about them is that they can easily be scratched.
But overall, the golden color that comes through the wax makes them a high-end quality product.
PROS:
• Uses LED which gives multiple colors and doesn't melt
• Looks more elegant
• Can be remotely controlled
CONS:
• The candles are susceptible to scratching
• The timer doesn't work regularly
3 . [asa2]B00VAFQYCM[/asa2]
A set of 5 of these candles is included with a real ombre color design which transitions from dark at the bottom to bright at the top.
Their flashing light bulbs which sticks out of the top of the candle makes the most realistic flicker.
These candles have the longest battery run times that will give you 1000 hour glow per each pair which allows enjoying candlelight throughout your entire home.
The only downside of these candles is that they sometimes lack built-in LED-timer.
PROS:
• Textured real wax ombre color design gives them a special touch of candle realness
• Come in different colors
• Durable and high- quality candles
CONS:
• At times they lack LED timers.
4. [asa2]B01IRKRP0C[/asa2]
These candles come in a set of 6 vanilla scented real wax flameless pillar candles.
The dual 5-hour and 10-hour feature allow the candles to be set at the same time each day. And can provide up to 500 hours of glow per a pair of batteries giving you an opportunity to experience warm and pleasurable moments at any time
The light scent of vanilla adds a relaxing atmosphere which allows you to enjoy the warm light throughout your entire home.
The bad side of these candles is that the vanilla scent doesn't last for a long time and the flicker is a little bit unrealistic
PROS:
• Has a dual timer
• Comes in different sizes giving you the freedom to arrange them differently
CONS:
• The remote does not always control the candles the way you want them
• The scent doesn't last for a long time
5. [asa2]B00R4YFNEI[/asa2]
With their natural colored wax exterior, this set of 8 candles gives an impression of dripping melted, real wax and natural faux flicker. Which is great for any home decor. They are pretty slim and include an 8 function remote for ambiance control from a distance for your convenience.
In comparison to other flameless candles, they are a great addition to any home with children or pets because of the high quality and smooth wax coupled with a soft glow that makes them feel like the authentic traditional candle.,
Their color temperature is at 2700 Kelvin, which makes the candle to look realistic and feel pretty cool to touch.
However, the candles usually don't come with batteries.
PROS:
• Look more realistic
• Comes with a multipurpose remote
• They have a sleek design and can fit in lanterns and candelabrums
CONS:
• Don't come with batteries