Top 7 Best Movie Streaming Sites [Free]
With the proliferation of tablets and large screen smartphones, viewing movies and other multimedia content on the go has never been easier. However, many of us are still left scratching our heads when it comes to finding a trustworthy, quality and free movie streaming site. If you have been searching for places to watch movies for free then read on to find out and bookmark the top 7 free movie streaming sites.
1. Vumoo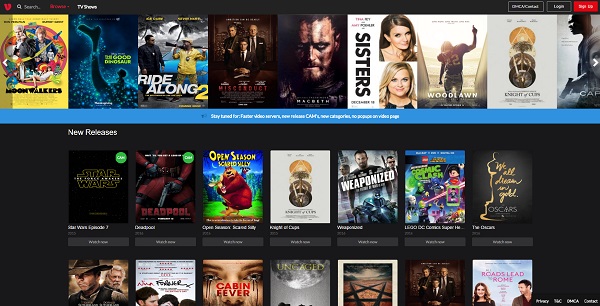 Although a recent entrant in the online streaming business, Vumoo has quickly established itself as a favorite among viewers. The reasons are not hard to find. Unlike a vast majority of online streaming sites, Vumoo sports a clean, uncluttered look that immediately makes you think of Netflix. It has an impressive library of 60,000 movies which keeps growing daily. The interface on the site is superbly intuitive with a lot of nifty features such as automatic filtering and infinite scroll. Similarly, their useful search feature allows users to sort movies by genre, actors, and titles. The movies themselves load without any annoying and intrusive pop up ads. Overall, a top destination for those who want to enjoy movies for free. As a bonus, Vumoo is also optimized for handheld devices.
2. SolarMovie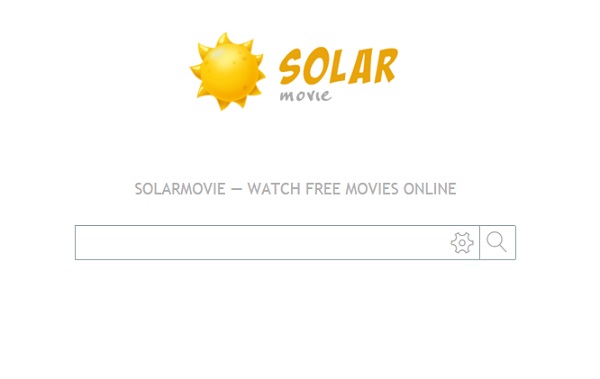 SolarMovie has been for long a venerable presence in the online streaming sites. Boasting of an impressive library of both movies and TV shows, SolarMovie has a beautifully laid out website that is easy to navigate. For users looking to find movies of their choice, SolarMovie provides the option of using their search box or use various tabs such as "latest movies", "HD movies", "most watched" and "coming soon". In addition, users can click on the genre tab to further refine their search. It should be noted, however, that while this site is free, users are required to register themselves before they can enjoy movies of their choice. Ease of navigation, useful search function, an extensive library and relative lack of intrusive pop-ups ads makes this site a favorite for streaming free movies online.
3. Viewster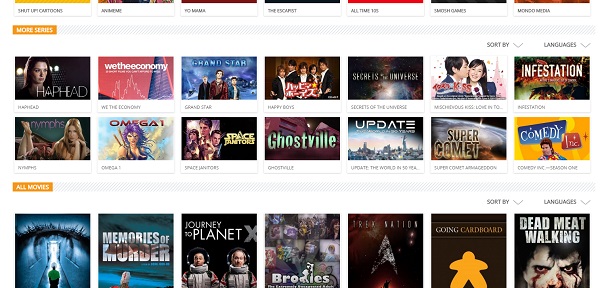 Unlike SolarMovie and a few other popular streaming sites, Viewster does not require any registration for users to enjoy the movies. You can simply visit the website and start watching your favorite flick. One of the big reason Viewster stands out from the usual crowd is due to its generous and ever expanding choice of genres. Aside from their impressive Hollywood fare, Viewster offers television shows, kid friendly shows and movies, anime and even Bollywood. In addition, Viewster also offers snippets of celebrity news from popular entertainment sites as well as trailers from latest and soon-to-be-released movies.
4. PopcornFlix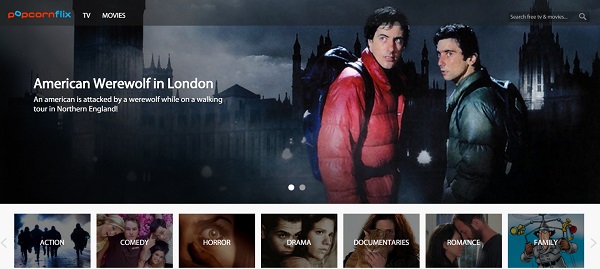 As you would have guessed, in curating our list, we have looked at factors such as lack of intrusive ads and absence of registration process that tend to heavily impact your online movie viewing experience. PopcornFlix, another recent entrant into the online streaming niche, pleasantly surprised us with its user friendly and intuitive site layout, an impressive library of 15,000 titles that is growing everyday, and an excellent overall viewing experience. One of the best part about this site is that they have included documentaries as a separate genre which includes some stunning and classic titles.
5. Crackle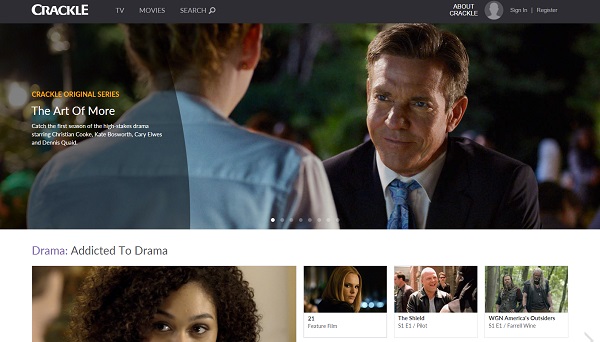 Crackle deviates from our criteria of streaming sites that require no registration but it offers a host of other benefits which made us include it in our exclusive list. To begin with, Crackle is a multi-platform enabled site which means you can view content on a variety of devices including good old PC and Roku 3. The registration process itself is quick, easy and free. Crackle excels when it comes to providing a user friendly layout and an impressive library of movies and TV shows that is growing by the day.
6. LosMovies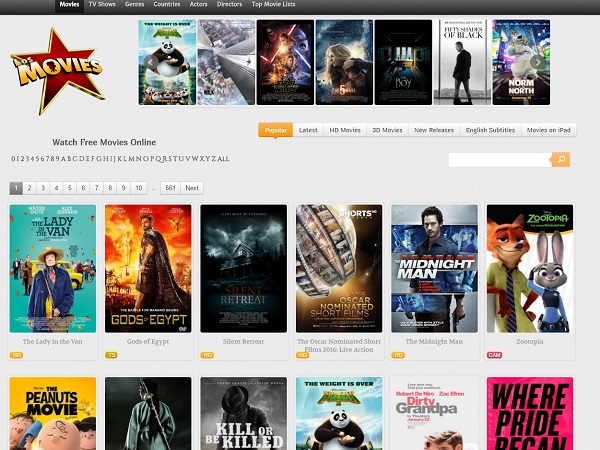 LosMovies knows exactly what users looking for movies online want, and delivers them in a fuss free manner. There is no requirement of registration, users can simply arrive at the site and start streaming. The site provides a host of different filters, including country, through which users can search for their favorite flicks. LosMovies arguably has one of the most extensive libraries of all streaming sites which keeps expanding on a daily basis. Last but not the least, users can enjoy their movies without intrusive and annoying ads pestering them.
7. PrimeWire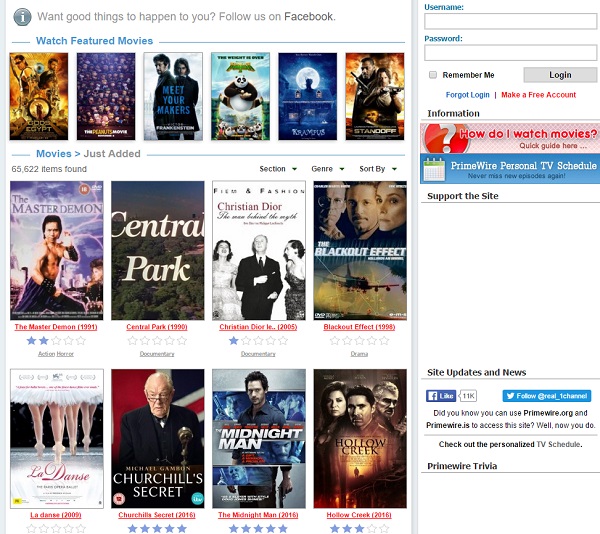 PrimeWire has been an old favorite among users due to its massive library of movie titles, TV shows, anime, foreign movies and documentaries. The best part about this site, aside from the fact that it is free, is that it is updated by the minute. No matter how recent the movie or TV show, you are likely to find it streaming on PrimeWire before any other streaming site.