Top 7 Best Free Standing Pull Up Bars for Home Use [Review]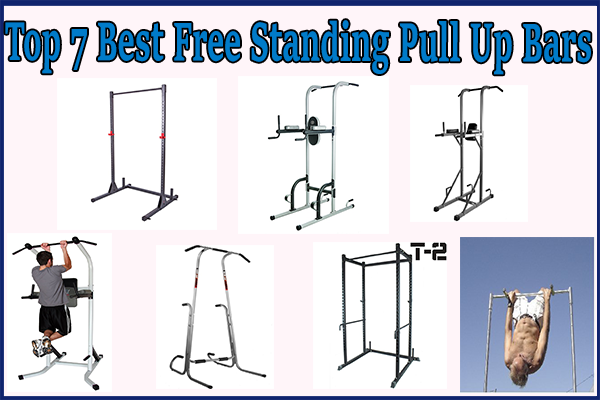 When I started out doing pull ups, I was using pull up bar that required I put a hole on the door. It was not the best idea since it will damage the sides with a hole. But the damage is done. Now, I prefer standard pull up bars. If you have a spare room in your house, then a free standing pull up bar would be the best bet.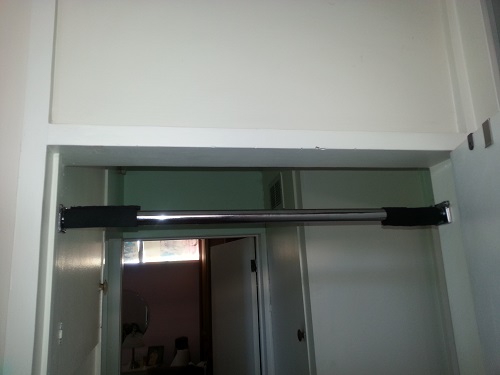 In my opinion, there are four things that make a good free standing pull up bar.
Stability – Far too often free standing bars do not measure up because they have been made with too little base to support. The movement and the weight that they are subjected to during a serious workout causes stress on a frame that is flimsy. Without stability, free standing pull up bars are just an accident waiting to happen.
Quality – Materials matter! A great design can fall far short of a great product if the materials used are cheap or are cheaply assembled. Free standing pull up bars that are made of thin tube metal (without solid welds) can lead to catastrophic failure of the unit and injury to its user.
Thought Into Design – A good free standing pull up bar should include more than just two uprights and a horizontal piece of bar for the user to do pull ups. A great pull up bar should combine strength with ingenuity. It should be built to enable the user to target several if not the majority of the muscle groups.
Size – For me, a good free standing pull up bar has to have some bulk and size to it. A unit with some heft gives me the confidence that I need to use it to its capacity. Without this solid bulk I wonder, "Will it really stand up to the punishment of my weight and movement?"
There are several other things that are important to think about when you are looking to buy a free standing pull up bar for the home.
Price Compared to Use – We all have big plans when it comes to exercise. If you are just getting into or just getting back into an exercise routine, it is not necessary to buy the most expensive unit out there. You won't use it any more just because it is expensive, and it likely will not do a better job for you when you do use it. If you are beginning or beginning again, find one with the features that you want that sits somewhere in the middle of the pack in regard to price.
Space Taken Up – We all have limited space in our homes. Before you buy the unit you are considering, be sure to check out how much floor space it covers. After this, consider how much more space you will need around the unit in your home to actually use it effectively.
Frame – What the unit is actually made of will often determine how it functions for you, and how it holds up to the stresses of use over time. If the manufacturer is not proud enough of the materials he used to tell you how good they are, beware.
Padding – Not all padding is created equal. Different densities of foam and contours of the molded plastic that the foam sits on top of make a real difference when using the unit every day. If you are looking at units with padding, choose a unit with high density or memory foam and contoured arm rests.
Height – Although an eight foot ceiling is standard, houses can vary a lot in ceiling height. Be sure that you can not only fit your unit into the room you want it in, but that you can also use it without the ceiling being a limitation.
My Recommendations
Stamina 1690 Power Tower
[asa2]B002Y2SUU4[/asa2]
Price: ~$92 USD
Measuring 50 x 81.5 x 41.5 inches (W x H x D), this unit is simple but tough. It does give the user the flexibility of working several different muscle groups, and because of its slim design can be brought into most any home. For its price, I think it is the best starter equipment that doesn't take up too much space.
Body Vision PT600 Power Tower
[asa2]B000M29CCI[/asa2]
Price: ~$130 USD
With the Body Vision PT600 we move into a higher level because of its square tube construction, padded back, and arm cushions. The other advantage with this model that I like is that it is height adjustable.
XMark Power Tower with Dip Station and Pull Up Bar XM-4434
[asa2]B007RQ0F8W[/asa2]
Price: $161 USD
This product is designed with the more serious user in mind. Its large footprint and solid 2 by 2 inch 14 gauge construction shows that it is up to the job and built to last. These type of machines are also good for dips and abs. You can also get quite creative with it. Assembling it is actually quite easy despite it being roughly 70 pounds when they ship them to you.
Gold's Gym XR 10.9 Power Tower
[asa2]B00M1N76YC[/asa2]
The Gold's Gym XR 10.9 is a sturdy unit with more features than one would expect for the price. It needs at least an eight foot ceiling as the unit itself sits at seven feet tall. It comes in two colors black and silver. This and the XMark are common equipment you see in your regular gym near your house. Now, these are very heavy at about 100 pounds. Assembling is easy though, but it will take roughly 30-40 minutes to get it up and running.
Titan Power Rack Squat Deadlift HD Lift Cage Bench Racks stand cross fit pull up
[asa2]B00P9WLFMG[/asa2]
Price: ~$319 USD
The Power Rack by Titan is different than those previously mentioned. This is because it is more utilitarian, takes up more floor space, and is more like a cage in its construction. Having said that, the design of the Titan Power Rack gives it amazing stability and the ability to handle just about anything the serious user throws at it. It has a height of eighty-three inches and can handle a capacity of seven hundred pounds. You can also incorporate dead lifts, good mornings and squats provided that you get a standard 45 pound bar. However, that would take up way more space at your house. Keep that in mind.
Cap Barbell Power Rack Exercise Stand
[asa2]B00HYQP72O[/asa2]
Price: ~$100 USD
At this price point there is no better unit for rugged simplicity. Once assembled this exercise stand measures 46-Inches x50-Inches x85-Inches (D x W x H). Its simple, no whistles design appeals to the beginner and holds up to 300 pounds. If you are looking for wide grip pull ups, then you might want to go with the previous Gold Gym Power Tower.
Trapeze All-in-one Stand Alone Pull up Bar
[asa2]B001KUURTS[/asa2]
Price: ~$250 USD
This unit is about as basic as they come. It weighs in at 23 pounds and needing no tools to assemble. It adjusts up to seven feet high in increments of four inches. One advantage of this unit is that the combination of portability and aluminum construction makes it a great travel and outdoor unit.