Best Heat Press Machine Guide for Beginners [Review]
Heat Press machines has always been a popular method to get garments printed. However, not too many people know that they can do it themselves easily just by getting the machine itself. It is great if you want to make your own custom garments for your business, church or charity.
A heat press is a machine engineered to imprint a design or graphic on a substrate, such as a t-shirt, with the application of heat and pressure for a preset period of time. While heat presses are often used to apply designs to fabrics, they can also be used to imprint designs on mugs, plates, jigsaw puzzles, and other products.
Things You Should Know Before Purchasing One
A) Purpose of the Machine
Are you using it for your own local business? Do you just want to print your own company logo onto the t-shirts for your employees to wear? How often are you going to use it? These are just some questions that you might ask yourself.
I only recommend you get a heat press machine if:
You want to print your own garments and do everything yourself
You want to start a business of selling garments(mostly t-shirts)
You don't want to outsource garment printing to other companies
B) Price And Durability
Now, the best heat press machines are the super heavy ones that go over 100 lbs. The reason is because if you use cheap materials to make the heat platen that is used to put the design onto your garment, it needs to be durable. Light platens are much easier to wear and tear. However, that doesn't mean you shouldn't buy machines that are much lighter. Some people like to carry with them to trade shows, charity events so that they could show case their designs on the spot.
If you do get a lighter and cheaper machine, it is more likely break down easily. There is pros and cons to both sides. Get a lighter machine which is cheaper but less durable or get a bulkier machine that is durable and more expensive, but it is not easily portable to different places. Take your pick.
I would recommend that you go with the lighter machines. The reason is simple. Most starter heat press machines are about $200-300 USD. Since most businesses don't make money within the first year, it doesn't make any sense to get a $1000 machine when you can't make money yet. It would be better to spend less on the machine and focus on getting customers first, especially if you are a brand new business with zero clients. Later on, you can always upgrade your machine.
C) Quality of The Prints using Heat Transfers
Screen printing obviously will be the superior choice when it comes to quality, but the Heat Transfers used on the Heat Press machines aren't too far off in terms of quality. Here are 2 t-shirts that I printed using my own machine and this is what they look like a year or so. Mind you, I wear them quite often.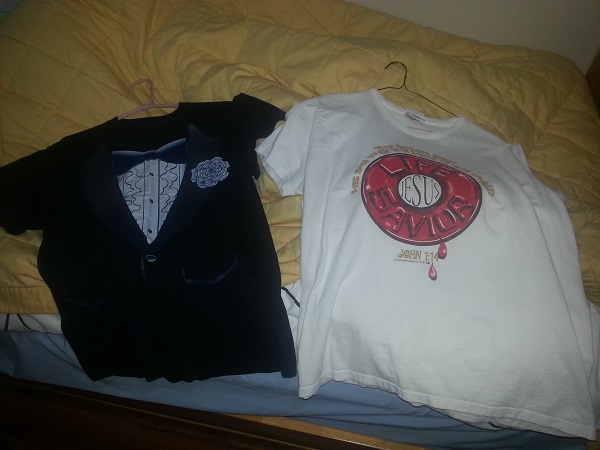 Heat Transfers can be gotten from various places. If you ever need custom heat transfers, get them for Ace Transco. I get mine from there so I highly recommend it. I am not sure about the others but there are more out there.
D) Types of Heat Press Machines
There are quite a few types, but I will cover the 2 most common ones.
Auto Clam – These are the ones where you apply pressure downwards to print your garment. They are my preferred choice as they are faster if you want to print more in less time(15+ shirts or garments). They do require a bit more force as you need to apply pressure. They also have slightly less precision compared to the following type, the swinger.
Swinger – These are more precise and is suitable for people that love 100% precision. They work better if you print less than 15 shirts/garments. However, they do take 1 more step to print a garment, so it slows down the whole process by just a bit. They work great if you are looking to print rhinestones or glitter, which generally require precision compared to a regular design.
Which one you choose is entirely up to you. Below are 2 recommendations I have for you. They are both auto clam heat press machines. Since I don't own a swinger, I can't tell you how good or bad they are.
Gecko 15×15 Heat Press
[asa2]B00R93BV2M[/asa2]
Price: ~$250 – $400
This is one of the best starter machines around. It is rather light weight at 64 lbs. That means if you want to carry them around to trade shows or special events, it won't break your back. It also comes at a decent price of around $350, which isn't too expensive that it would break your bank, especially if you are starting your business on a budget. It alerts you when the machine is heated up and also lets you know when the machine is done printing on your garment based on the time you set.
The instructions are pretty straight forward. Just be careful with printing garments on it when the heat platen on the top is very hot. If you touch it, it will burn your skin. That is the only downside of the machine. I have burnt t-shirts before but I have not hurt myself. Just always be alert and you will be fine. There is also a bigger version of 16×20. However, I don't think you will need that unless you are printing large garments like hoodies or XXL t-shirts. 15×15 is more than enough work space for standard heat transfer.
Powerpress Heat Press Machine Industrial Quality 15×15
[asa2]B009CCVS4E[/asa2]
Price: $200 – $500
This one currently is one of the more popular options for beginners. It can heat up to as high as 500 degrees. To be honest, you will only ever need to get it up to about 400 degrees max, which is more than enough for 99% of the garments you print on. At the time of writing, it is on sale at $229.99, which is a great deal if you are looking to get one.
This one is also lighter than the Gecko one. It weighs 53 lbs. Remember what I said about lighter machines? They are easily portable but they don't last as long as heavier machines. Keep that in mind if you do choose to go with this.
Other Useful Things You Need
Aside from the machine, here are some essential tools you need:
A Table That Is Suitable For Your Height – You want one that is just right for you. Using a table that isn't the right height equates to back pain. You will most likely be standing for at least 15 minutes if you are printing at least 10 garments. Keep that in mind.
Teflon Paper – These are useful to keep your prints from sticking on the heat platen and the bottom pad. It is also used if you are trying to print both sides of the t-shirt.
Square Trade Protection Plan – Get these if you got the cheaper machines. The odds of them breaking down after a year is quite high. For about $15 to $30, it saves you from a lot of trouble and stress.
That is about it! I hope my experience was able to help you out here. Thanks for reading!