[Top 5] Best Home Office Laser Printers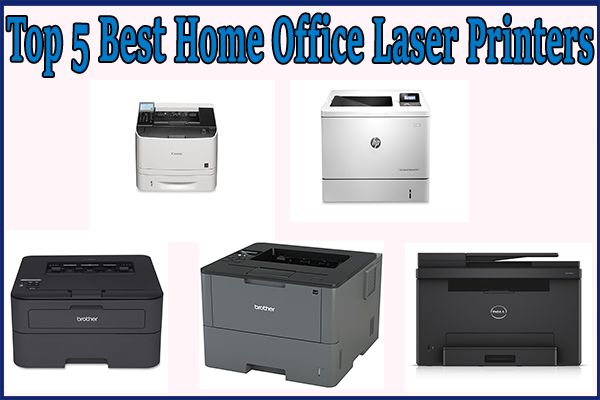 A laser printer is a popular type of personal computer printer that uses laser beams to print high quality texts and graphics. Laser printers use the same technology as photo copiers with the only difference being that they have to write out the entire document from scratch since there is no original page to copy from. Laser printers offers many advantages over inkjet printers such as better printing speed, better print quality and cost effectiveness.
Things To Know Before Buying.
The common belief that laser printers are costly is a thing of the past. However, laser printers with different specifications and corresponding different prices are available in the market. Hence, care must be taken to choose the right laser printer for your home office based on your business requirements. Knowledge of the following properties can come in handy while making your selection.
Printing Capacity
Printing capacity shows the maximum number of pages that can be printed before the printer fails. This can vary from 200 pages per Week for low end laser printers to 50,000 or more pages per Week delivered by production printers. The printing capacity also varies with the size of the papers being printed. Most laser printers support letter size or A4 size papers. High end printers use continuous paper sheets.
Speed
The low end personal laser printers can sufficiently print pages at the speed of 8 ppm (pages per minute). Since they are low end, they cost around $100 or more. If more than 1000 pages need to be printed per week, a workgroup printer would be required. These printers can print around 24 ppm and cost anything between $1000 and $5000. The high end production printers used by publications can print over 200 ppm. They cost around $100,000 or more. Choosing the printer with right speed can save time while not being too heavy on pocket.
Handling
Laser printers can be used to print on transparencies, labels as well as thin and lightweight cards. A laser printer with auto duplex printing can print on one side of the paper, turn it over and print on the other side as well. Most printers, however, use single sided printing with manual duplex printing. Manual duplex printing can be done either by changing options for the print or by taking out a printed paper and inserting it again for printing on the other side.
Memory
Laser printers come with a certain volume of RAM memory which can be expanded via the expansion slots provided. The memory is directly proportional to the maximum resolution that the printer can provide successfully. In order to print a monochromatic image with a resolution of 300 dpi (dots per inch), a minimum of 1 MB of memory would be required. In case of colored images, the requirement is increased 4 times. Hence, for the same image to be printed in color, a minimum of 4 MB of memory would be required.
Warm-up Time
When a printer is turned ON or is started from standby, it will need time to warm the fuser module up before it gets ready for printing. Further, when a printer receives command from the computer to start printing, it takes about 5 to 30 seconds to get the printer ready for printing in addition to the time it actually takes to print.
The larger a printer is, the longer its warm up time would be. This delay can hinder production. Hence, warm up time must be checked before getting a new laser printer.
Apart from these, there are other features such as scanning that can come in handy. There are many laser printers that can also double as copiers thereby giving the functionality of printing, scanning as well as copying. Keeping the above features in mind, here is our list of Top 5 Home Office Laser Printers.
1. Brother HL-L6200DW Business Laser Printer
[asa2]B01824JTWK[/asa2]
Brother HL-L6200DW is a monochrome laser printer. It gives great a printing speed of 48 ppm and automatic duplex printing. With a resolution of 1200X1200, it can print professional reports and other important documents for your business. It comes with a 570 sheet paper tray which can be expanded to 1610 using optional trays. It also offers wireless connectivity. Priced at around $200, it can provide perfect low cost printing solution for your home office.
2. Dell E525W Color Laser All-in-one Printer
[asa2]B00YBZE1M8[/asa2]
Dell E525W is a multipurpose color laser printer that has other functionalities such as scanning, copying and fax along with printing. It can print both monochrome and color images at the speed of 18 ppm with a resolution of 600X600 dpi. Duplex printing would have to be done manually.
It can scan with a resolution of 1200 dpi. The paper tray has capacity of 150 sheets. It supports wireless operation. Priced at $145.00, this printer can be a great addition for your home office if the speed of 18 ppm is acceptable to you because you will love its multiple functions.
3. HP Color LaserJet Enterprise M553n
[asa2]B00UL4RNMS[/asa2]
HP Color LaserJet Enterprise is a beast when comes to specifications. It has got first page out time from OFF position in just 8.5 seconds. It has the great speed of 40 ppm for both monochrome and color printing with automatic duplex printing. It has the paper handling input tray capacity of 1200 sheets.
It offers wireless connectivity options as well as several security features to prevent unauthorized access. With a price tag of $449.00, it is one of the costlier options. However, if you need very high quality prints in both monochrome and color, this printer would be the perfect choice for you.
4. Canon Lasers imageCLASS LBP251dw
[asa2]B0188WLLVI[/asa2]
Canon's ImageCLASS LBP251dw is a monochromatic, single function laser printer. It has got a warm up time of just 6 seconds, it has a decent printing speed of 30 ppm with automatic duplex printing. The built in paper tray has the capacity of 300 sheets but can be increased to 800 sheets with the optional paper tray. It supports wireless printing. Priced at just $199.99, this printer from Canon will be ideal for your home office if you don't need color prints.
5. Brother HL-L2340DW Compact Laser Printer
[asa2]B00LZS5EEI[/asa2]
Brother HL-L 2340DW is a low cost, monochromatic laser printer with automatic duplex printing. It has a decent printing speed of up to 27 ppm. It prints sharp black and white pages at the resolution of 2400X600 dpi.
It has a paper handling capacity of 250 sheets and a manual feed slot for straight through printing. It supports wireless printing. It is priced at just $95,85. If you are in the market for a low cost printer that can provide monochrome prints at decent speeds, this is the one for you.
Printing requirements vary from user to user but irrespective of the budget, you can always find the perfect printer for your home office if you look for it systematically.