Top 10 Best Jennifer Aniston Movie List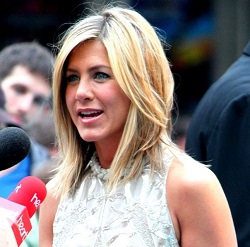 Source: Wikicommons
Here are my top 10 picks for Jennifer Aniston's movies. This list is in no particular order.
Just Go with It (2011)
In this romantic comedy, Jennifer Aniston plays Katherine, an assistant to Danny, a successful plastic surgeon (Adam Sandler). Once Danny meets Palmer (Brooklyn Decker), a sixth grade math teacher who seems to be the girl of his dreams, he asks Catherine to pretend to be his wife. That one lie soon gets Danny into a world of trouble, as his made-up story threatens to go off the rails at any moment.
The Good Girl (2002)
In The Good Girl, Justine Last (Jennifer Aniston) is a married thirty-year old woman battling with depression. She soon takes a liking to an oddball stock boy named Holden (Jake Gylenhall) who seems to be convinced he is the reincarnation of Holden Caulfield, the main character of The Catcher in the Rye. As the two begin a passionate relationship, her marriage starts falling apart at the seams.
Derailed (2005)
In this British-American thriller, Jennifer Aniston plays Lucinda, a married financial adviser. She meets Charles (Clive Owen), an advertising executive with whom she quickly begins an adulterous relationship. During a rendezvous in a hotel, their room is invaded by a thief who rapes Lucinda and beats Charles. Not long after that, the thief starts blackmailing the couple. You can watch this on Netflix.
The Switch (2010)
The Switch is a romantic comedy starring Jennifer Aniston and Patrick Bateman as the two best friends, Kassie and Wally. Seven years after Kassie had decided to have a child by way of artificial insemination, the two meet again. As Wally notices the similarities between himself and Kassie's son Sebastian, he starts to recall how drunk he got at Kassie's artificial insemination party, as well as the events that followed.
Along Came Polly (2004)
When Reuben (Ben Stiller) discovers his wife is cheating on him, he travels home in the hope of getting his life together. During a visit to an art gallery with his friend Sandy (Phillip Seymour Hoffman), he reacquaints himself with Polly (Jennifer Aniston), a girl he once went to junior high with. They instantly click and start dating, despite having two very different personalities.
The Iron Giant (1999)
The Iron Giant is an animated science fiction movie about a boy called Hogarth (voiced by Eli Marienthal) who discovers and instantly befriends a huge, but harmless alien robot that fell from the sky. Soon enough, the government takes interest and Hogarth, being the robot's only friend on Earth, is determined to protect him at all costs. Jennifer Aniston voices Annie, Hogarth's mother.
We're the Millers (2013)
We're the Millers is a comedy about David (Jason Sudeikis), a small-time drug dealer who is forced to go to Mexico and smuggle some marijuana in order to clear his debts. Knowing he would seem less suspicious with a family by his side, he hires a stripper called Rose (Jennifer Aniston) to be his wife and asks his neighbor Kenny (Will Poulter) and a runaway called Casey (Emma Roberts) to play their children. The gang then gets into an RV and heads for the border.
Bruce Almighty (2003)
In Bruce Almighty, Bruce Nolan (Jim Carrey) blames God (Morgan Freeman) for everything going wrong with his life, until God himself responds by giving him divine powers and daring him to do better. However, Bruce ignores his advice and starts using the powers for personal gain. In the process, he starts ignoring his girlfriend Grace (Jennifer Aniston), who is not happy with the man he's becoming.
Office Space (1999)
A cult comedy classic, Office Space is a story about three computer programmers (Livingston, Herman, Naidu) who've had enough of their mundane jobs and terrible boss. The trio decide to plant a virus in the system in hopes of stealing a small sum of money, but their plan backfires when they end up with a much larger amount. Jennifer Aniston plays Joanna, a waitress who starts dating one of the programmers.
Horrible Bosses (2011)
In this black comedy, Jennifer Aniston stars as one of the three titular bosses, Dr. Julia Harris. Together with David Harken (Kevin Spacey) and Bobby Pellet (Colin Farrell), she is the main antagonist of the movie. One night, their employees (Bateman, Day, Sudeikis) have too much to drink and start telling each other of their troubles with the bosses. As quitting their jobs isn't an option in this economy, they turn to the only other viable option they see – murder.
Picture Reference: Wikipedia