[Top 5] Best Kid's Scooter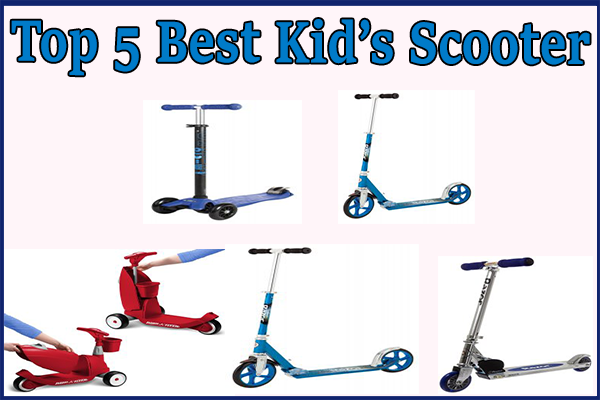 Getting the best scooter for your child on the market today requires a lot of research because there is a variety of them. Given it belongs to kids, you need to be very keen since it does not only need to be cool, but also slow enough for their age. Ensure that you can be able to chase them downhill on foot with a lot of ease. This one will guarantee the safety of your child even when they are riding. Micro scooters, stunt scooters, electric scooters and razor scooters: this clearly shows you that you have much to consider before purchasing the right one for your kid.
What to look for in a kid's scooter
It might be just recently that you celebrated seeing your child make their first tiny steps. Now they want you to buy them a scooter and though it is making you happy, you are clueless on the best choice. Supermarkets, shops, and markets are making your eyes diverge as you are spoilt for choice. With the information below, you will no longer have to suffer from the problem of choice. This is because you will learn what you are supposed to look for when buying a scooter for your kid. You will also get a list of the top 5 best kid's scooter.
Age
One thing to consider is the age of your child. Children from 2 years of age can be able to ride a scooter. However, all they need to do is learn to ride it. Wheels are an important factor that is determined by the age of your child. The best scooter for kids should have 2 to 4 wheels. The more the wheels of a scooter the more stable the scooter is. For kids between 2-3 years old, the best scooter for them is that which has 3 or 4 wheels.
This type of scooter will help your kid to learn how to ride a scooter as well as manage the balance. The best 3 wheeled scooter is that which has two wheels in front and one at the back. However, the 4 wheeled scooter is heavy and slow and so you better avoid it as it will not give much to your child. A scooter that comes with 3 wheels, where one is at the front and two at the back is not a good one for your kid. This is because the kid will always ride the scooter with only one leg and thus can make your child to stumble.
For children who are at the age of 3 to 3.5 years old, you need to buy them a scooter that has 3 wheels in case it is their firs experience. If they have had a scooter before, buy them one that has two wheels. For your child, buy a scooter that has a wide platform to boost the balance of your child while riding.
For a child with 3.5 -5 years of age, buy them a scooter with two wheels, wide platform and breaks. This one will help you kids to gain speed to break and control the scooter. If you have a child between age 6-8, the best scooter for them is the one with two wheels narrow platform and less weight. From 10 years of age, you should consider buying your child a bike instead of riding a scooter. Other factors to consider include;
The material
Brakes
The handlebar
The platform construction
Top 5 Best Kid's Scooter
#5. Radio flyer ride to glide on scooter
[asa2]B00E5UKNCQ[/asa2]
This is one of the top 5 best kid's scooter on the market today. It is ideal for young children. It has two wheels at the front and one at the back and the right platform for them to enjoy riding a scooter. With this scooter, your child will experience fun riding to high-speed gliding. The best thing about this scooter is that it grows with your child. Therefore, you can buy it when they are very young and as they grow, the only thing you need to do is adjust the height of the scooter. This makes it ideal for your young child. You can also easily transform this scooter from a ride-on to a scooter without the need for tools. Buy it today for your kid at a pocket-friendly price.
#4. Micro Mini Original Kick Scooter
[asa2]B0026H1J1Y[/asa2]
This is one of the best top 5 kid's scooters. It has been the best for children between the age of 2-5 years old. It offers children great fun and this is why you should consider buying it for your child. It comes with a safe lean to steer make and so your child will be well protected while riding it. This scooter will give your child a smooth and quiet ride without marking the ground with the wheels.
#3. Micro Maxi Kick Scooter with T-bar
[asa2]B004ZKYQBA[/asa2]
This is another one of the best top 5 kid's scooters that you can buy your kid as a perfect birthday gift. It features a swiss design, where the scooter is constructed and engineered for premium durability. This means that it will serve your child for a prolonged period of time. The best thing about this scooter is that each and every part of it is replaceable. It is the great performing and highest quality scooter for children between the age of 5-12.
#2. Razor A5 Lux Scooter
[asa2]B01EM42B60[/asa2]
Are you looking for a super-strong scooter for your kid? This is the perfect one you can buy them. It features an aircraft grade aluminum deck and t-tube. This implies that this scooter is highly durable and it will serve your child for a prolonged period of time. For easy and quick storage, this scooter is easy to fold. This means you do not need much space to accommodate it because it can fit in limited spaces after the folding. It is also highly portable as you can easily fold it and carry it. It comes with a rear fender brake that is patented. It is also easy for you to adjust the handlebars of this scooter to the height of your child.
#1. Razor A Kick Scooter
[asa2]B00008X32C[/asa2]
This is the original kick scooter which has been made of super strong aircraft grade aluminum material. It is a scooter that has been recommended for kids between the age of 5 and above. It features a rear fender brake system. This means that your child can be able to stop urgently in case of an emergency. For convenient transport, this scooter features patented deck and t-tube design for folding. Buy it today and give your child a brand new riding experience that they will thank you for.